Blog & Business Goals I'm Prioritising this 2020
My blog & business goals for 2020.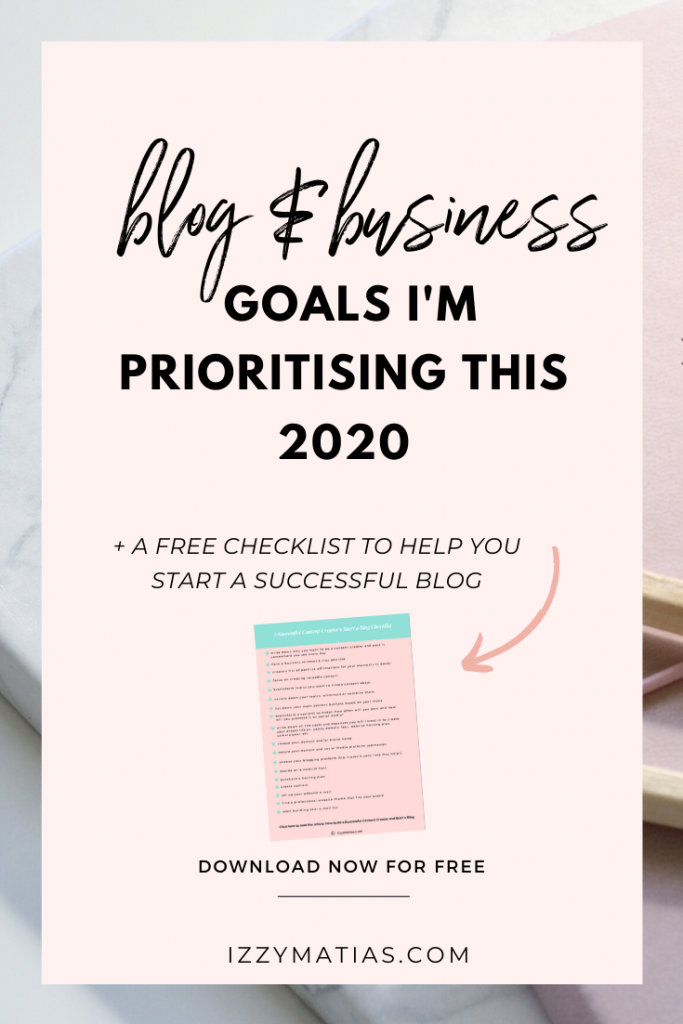 It's never too late to set goals or create a plan of action. 

While most people decide on their goals in January, if you feel the pull to create something or start a new habit, go ahead and do so. 

There is no wrong time to pursue something you've always wanted to do.

Your dreams have no expiration date. 

January is known as the month for goal-setting and organization, but for me, I decided to do something unconventional for someone who has just gone full-time with her blog & creative biz. 

I took a break. 

You read that right. 

Instead of going head-on with my blog and biz, I let myself enjoy the freedom of time and the freedom of choosing what I wanted to do. 

There were days I was tempted to do blog things. And some days, I did give in to that pull. After all, if I felt the inspiration strike, then why not indulge? 

And so I wrote a post about my blog and biz milestones in 2019 and I did do a little goal-setting, though I did not go into the details. Rather, I mapped out my year at a glance to see what I wanted to focus on per quarter.

Though I was on a self-imposed break, I did a couple of productive things like clean the energy in my life and joined various online trainings. Because learning never stops!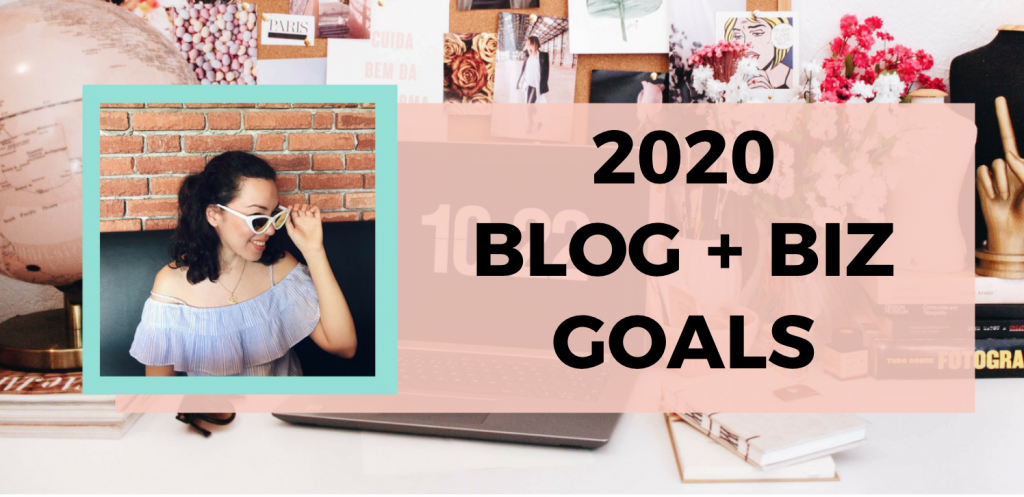 When February 1 hit, I felt like January went by fast. 

On the first Monday of February, I sat down, opened my digital content calendar and The Content Planner and started planning. 

While I love planning, planning a year's worth of content can be a daunting task. After a few hours of planning, my mind felt like it was going to explode, but at the same time, I was comforted that I had made a few big decisions. 

Most of the challenges I encountered during this planning were what to focus on because I felt like I really want to grow this year, but I had to remind myself of the importance of focus. 

There was no need to rush, so I had to narrow down the things that made sense for my first year of business.

I decided on my target profit for the year and broke it down month by month.

The Content Planner's Business Goals worksheet helped with this. 

Before I dive into my business goals for 2020, I want to share my theme and phrase for the year–my rallying cry. 

"Thrive in pursuit of passion & purpose" 

I chose this theme because it's a daily reminder to be grateful for where I am today: that I chose my dreams over worrying about others' opinions and a reminder to focus on what's important in my business. The tasks that will allow me to scale and stabilize my monthly income.  

Let's now move on to my blog and business goals for 2020. 

The first thing I did was to list out my big goals for 2020:

Launch a digital product per quarter
Create & stick to a Pinterest strategy that drives 25,000 monthly pageviews
Implement a content strategy where I publish at least once a week & drives consistent sales 
If I think about it, all three big goals are connected to each other. By implementing a consistent content strategy, I am building my brand and increase my chances of attracting more readers.
The more content I put out, the more content I can publish on Pinterest & can add to a consistent pinning strategy to drive more blog traffic.
The more pageviews my blog gets, the more people are aware of my products.
Of course, it's vital to attract the right kind of traffic and build trust in order to make a sale. 

Just because you have thousands of page views is not a guarantee that you will make a sale. So many factors come into play like having an abundant wealth mindset, creating a sales funnel and building trust. 

People buy from people they trust. 

After I identified my big business goals, I then plotted them into my calendar to get an overview of my timeline. From there, I mapped out my content strategy.
For example, in the month that I will be launching one of my digital products, the content I'll be publishing will be related to the product. I'll also be making more noise online by showcasing behind the scenes snippets of the product creation.

When planning out my content calendars (both my digital one and The Content Planner), I refer to the monthly themes and marketing dates from The Content Planner. It's been useful to know when to schedule a certain post so that it's relevant and aligned with important events and marketing activities. 

The Content Planner is one of the tools I invested in this 2020 to help me with my goals. I'll be sharing the rest in a separate blog post. 

There are other goals I set for my blog & biz this year are:
Fix & optimise my SEO errors based on the findings from my SEO plug-ins
Consistently post on Instagram monthly
Have a consistent email marketing schedule
Grow my email list to 1,000 subscribers by December 31
Grow my Instagram to 10,000 followers by December 31 because I want the "Swipe Up" feature so I can link my blog posts 
During my goal-setting process, I've also written down my rewards for when I hit my milestones. Because I can't say this enough: it's vital to celebrate your wins! 

Some of my rewards include booking a trip to the UK (I've been dreaming of going back to Oxford and going on the Harry Potter studio tour in London once again!).
Rewards are a good way to also keep your motivation up and remind you why you want to hit those goals.
I mentioned that my big goals for this year include launching multiple digital products. Some of the digital products I have in store for this year have been products I've been wanting to offer for a while now.  

What are your blog + business goals for 2020? Let me know and let's cheer each other on! 🙂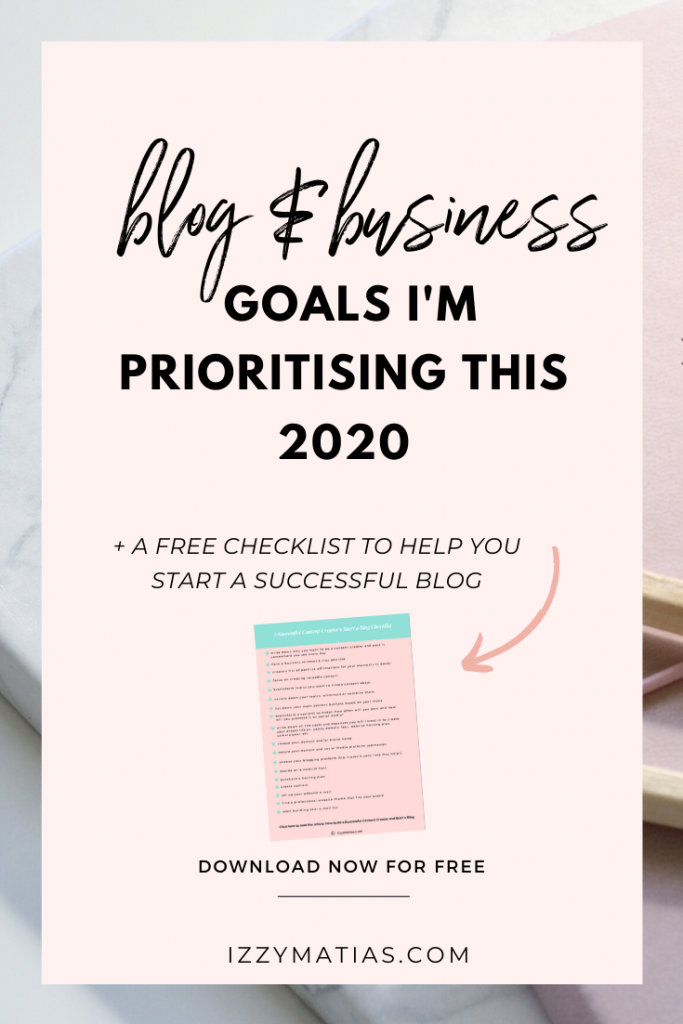 RECOMMENDED: