Affiliate Marketing For Beginners + Free Platform to Help You Start
A quick guide to affiliate marketing for beginners & free affiliate marketing platform to help you get into affiliate marketing
Last Updated on February 27, 2022
The first time you make money online is a glorious moment.

It can feel like a turning point.

Like anything is possible.

Imagine you wake up one morning to find an unusual email.

One that says that someone bought something.

You might be wondering, "Huh? I don't own that product. Why did I get an email?"

And so you click the email and you realise that you made your first sale online.

Virtual high five!

For me, it was this email:


In case you're wondering what the product was, it's one of the journals from The Purposeful Creative.

I've been a long time supporter of Arriane Serafico's courses and I have always been vocal about this.

To date, I've taken more than three of her courses and participated in countless Instagram challenges that she hosts, and I always learn something new.

Not only that, I meet amazing women who share the same vision of creating a purposeful and why-driven brand.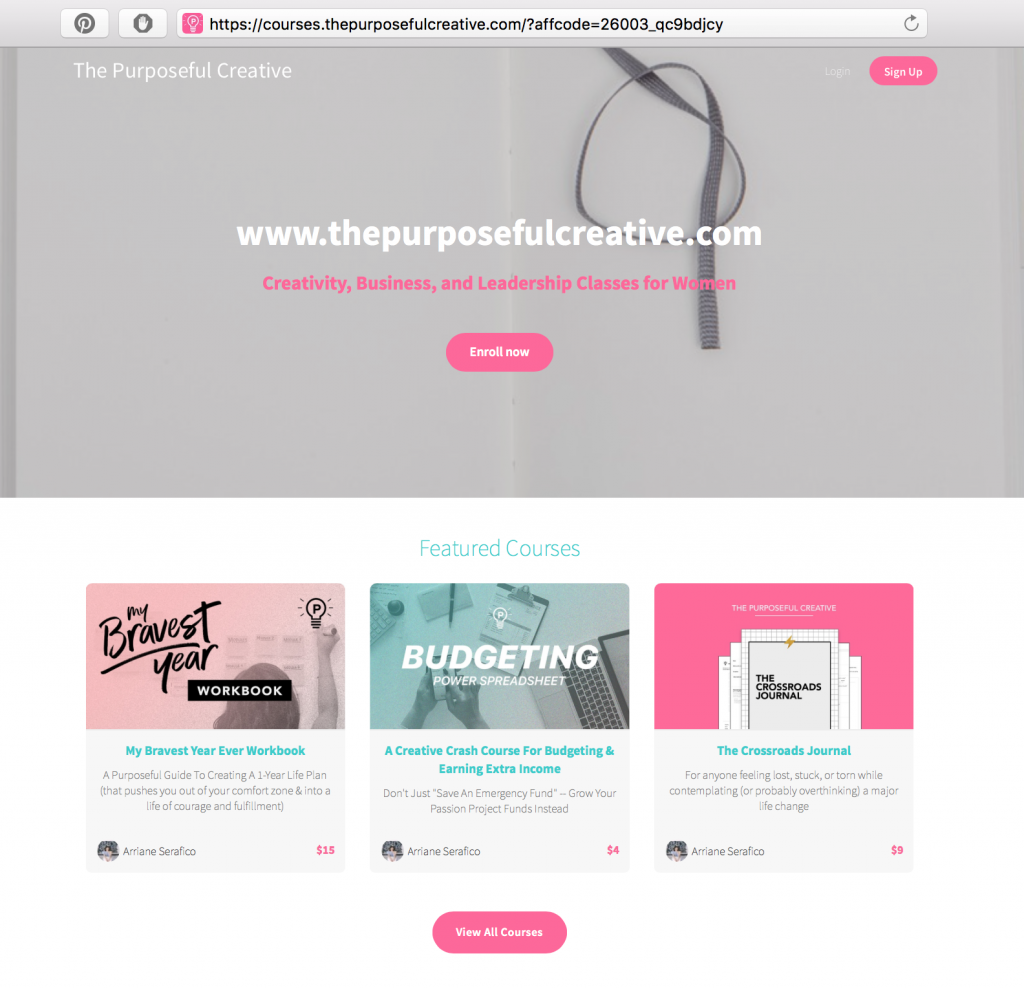 I've been blogging for more than a decade and it was only a couple of years into blogging that I knew I wanted to start making money online.

It took me so long to make my first ever sale, but it only strengthened my belief that making money online is possible when I made my first affiliate sale.

The first sale is only the beginning.

Even if it's not a huge amount, I am so grateful that it happened.

So how much did I make?

I made $1.80!

…in my local currency that's P99!

I can buy a meal with that amount.

That sale is my first affiliate sale.
And my first time making money through affiliate marketing.
Looking back, it is with this blog that I have made the most progress in working toward the goal of being a full-time content creator who can travel the world.

I made my first affiliate sale within six months since I launched this blog.

Though within my first month of launching this blog, I earned back all the money I invested through a paid sponsored package. Note that this is isn't my first blog, and that when I launched this blog, I'd been a blogger for more than 10 years already.
Let me know if working with brands through paid collaborations is something you're interested in learning more about, and I can write a post about that too.
I wanted to share this with you to let you know that while you see other newer bloggers blowing up or making so much $$$ within their first year of blogging, there is no set timeline for blogging success.
Hard work pays off even when you feel like you're talking to a void or even when you haven't made a single sale this month.
Keep going and I believe you'll find that success eventually!
Breaking even within my first month of blogging was already a good sign for this blogging business.

It's also because before I launched, I knew why this blog was important to me and I approached my blog with a business mindset. This meant I took my blog more seriously.
It wasn't just a hobby. It was something I wanted to turn into my career.
And also I knew I wanted one of my income streams to be through affiliate marketing.
I had learned a lot over the years with my previous blogs, so I applied the things I've learned to this creative business.

Some of you might be thinking "Why is she making such a big deal of out making $1.80?"

It's a small amount, right?

But even if it's a small amount it still matters because imagine when you're able to make ten affiliate sales or fifty…or even a hundred.

There's so much potential in earning and that made me excited.

Before I go on, I'd like to explain what affiliate marketing is for beginners. Later in this post, I'll discuss a free affiliate marketing tool that will make it easy for you to include affiliate links across your blog and social platforms. And a platform I wish I knew when I started blogging!

Affiliate Marketing For Beginners
What is affiliate marketing?

Affiliate marketing is when you earn a commission from a product that you've promoted.

This can be done through link sharing, meaning you give the link as is to someone directly or you insert the link in one of your posts online.
And you don't need a blog or a website to dive into affiliate marketing.
Some affiliate marketing programs don't require that you have a blog or website to start promoting their product.

What affiliate marketing sites do I use?
One of the biggest and trusted affiliate sites is ShareASale.
I tried applying to this site when I just started this blog but got rejected.
Maybe it was because my blog was super new, but I'll definitely be re-applying again.

What I did was to apply to the affiliate programs of specific products and services and I had to apply through a different site.

Here's a list of some of the products & sites that I am an affiliate for:
Flodesk for email marketing service
The Content Planner for the physical planner that I use for my blog and social media
Legal templates to protect me and my blog
These 2 eBooks to help you start monetising your blog
Podia to host my blog shop & online courses
Styled Stock Society for beautiful stock photos to create blog graphics and Pinterest pins
Hearten Made for beautiful feminine WordPress themes
DreamHost for web hosting
You can check out my other favorite blogging resources here.
The difference between signing up to be an affiliate through different sites and going with a site that partners with multiple brands such as ShareASale is that each time you sign up to be an affiliate for a specific product through a different site, you have to read their terms & conditions.
Each affiliate site has its own rules especially when it comes to paying the commission.
For example, a site may only pay you once you reach a certain amount of sales while another could pay you every end of the month, so be sure to read the terms & conditions to understand what you're signing up for.
But what if there was an easier way that didn't require you to apply for every single affiliate program out there?
Affiliate marketing for beginners free platform
Every since I started using Skimlinks, it's made it easier to do affiliate marketing because I don't need to apply for every affiliate program out there. If you install their code into your blog, it turns existing links into affiliate links (so as long as that brand has an existing affiliate program and is a partner merchant of Skimlinks).
All you have to do is to sign-up for an account on Skimlinks.
If you're not able to install their code on your blog, Skimlinks provides you with a manual way to turn ordinary links into affiliate links.
This feature only applies to brands that are a part of their merchant list. For example, Amazon used to be a part of their merchant list, but as of March 2020, Amazon isn't in that list anymore, which means you have to apply for Amazon's affiliate program if you want to monetise your Amazon links.
That's how I did it with Canva. I applied for Canva's affiliate program before but never heard back. However, I used Skimlinks' toolbox feature and now have an affiliate link for Canva.
Pretty cool, huh?
Even if I have Skimlinks, I still also have retained the other stand-alone affiliate programs especially those that are not available on Skimlinks.
If you need more help in affiliate marketing such as learning the process of applying for an affiliate marketing program, how to use Skimlinks, as well as the best ways to promote your affiliate links, you can find this inside The Content Chest.

Have you made your first affiliate sale or are you looking into earning through affiliate links?