In this post, I'll be sharing with you the marketing tools, podcasts, technology, websites and even the people that have helped me grow my brand and online business.
These tools and resources have helped me save time and make my content creation process easier, and more efficient.
Blogging resources to help you set up your dream blog and online business

One of the first things you do when setting up your blog is to secure web hosting! I've tried a number of web hosting platforms and DreamHost is my current hosting provider.
DreamHost offers a discount for you if it's your first time purchasing a hosting plan from them. You can get started for as low as $2.59/month (special deal as of July 10, 2021 but it could change so please double check the website). This is great if you're testing out the blogging waters.
Take the guesswork out of building a profitable blog. Go from feeling confused, frustrated, and overwhelmed to getting clear on establishing your dream blog and how to monetise it!
The How to Start a Money-Making Blog course contains:
15+ lessons that contain the elements of a profitable blog
the Blogging Business Plan workbook to apply what you learn
A list of tools you need to help you build a money-making blog
Learn the 7 different ways you can start monetising your blog
Ultimate blog post formula so that you never forget what to include in a blog post again
Blogging Tasks Timeline on how to prioritise your tasks from set up to launch
Step-by-step guide on how to set up a self-hosted WordPress blog
Did you know that there are certain pages in your blog that you are legally required to have?
These are the Privacy Policy, Disclaimer, Disclosure and Terms & Conditions.
It can be confusing and frustrating when you don't know what sort of terms to use and what exactly to write in these pages.
How do you know if it's accurate and complete?
In order to take out the confusion, overwhelm and frustration, I purchased these legal templates from Amira, a lawyer who is also a blogger.
Her templates were easy to use and takes less than an hour to set up.
It was such a relief knowing that my blog–my online business–is legally protected.
Since I see my blog as a business, I also opted to invest in the Genesis framework, a WordPress Theme.
I did a lot of research on themes because I love a beautiful theme, but only wanted to invest in a quality theme.

Genesis framework is like the foundation of a house, in this case, your blog.
It needs a child theme to go with it for the design of your blog. Going back to the house comparison, a child theme is like the design of your house.

You can read more about it here.
Boss Pro
Boss Pro is my child theme.
I chose it because I had a specific look that I wanted for my website.
I wanted a design that focused on growing my email list while looking feminine and professional.
The home page was crucial for me because I wanted to customize it and have that landing page look.
For content creation
A membership service that provides you with high-quality, beautiful, feminine stock photos and done-for-you, editable Canva templates for your blog, social media, and online business needs.
If shooting or creating photos for your blog is something that hinders you from being consisten, then you'll want to check out Styled Stock Society.
They update their photo stock library monthly with beautiful and quality photos with a theme.
I also love how they have editable Canva templates, which make creating graphics for my blog and business such a breeze!
Google Sheets
I love using Google Sheets to plan & map out my content.
This is one of my favourite tools as I created an editorial calendar template that helps me stay on top of my content strategy.
I also like to keep most of my blog content in one place, so I use Google Sheets for my editorial calendar and then I use Google Docs to write out my posts.
Whenever I need to refer back to something on my calendar, I toggle between tabs.
Canva

I never studied graphic design, so creating blog post headers or in-post collages and even Pinterest pins was a constant struggle.
Canva is a website that has templates designed depending on what you need.
They've got template for websites, Instagram posts and even stories!
I no longer have to stress about how to create good graphics since Canva really helps me with this.
There's a free version of this, but the premium version has more features.
What I do to save time especially when I have a certain template for my pins is to duplicate the design and all I have to do is tweak the copy and photo.
Adobe Lightroom
Presets. With a preset, you can save all the edits you make on one photo, and apply it to another photo in just a few clicks.
Adobe Lightroom has this feature, which I love. It has also saved me so much editing time.
Before the world of presets and Adobe Lightroom, I used to use Photoshop to edit every photo.
Can you imagine how much time I would spend on one photo set? Hours!

With Adobe Lightroom, when you buy or create your own presets, all you have to do is select the photos and sync them.
I still check each photo and do a couple of tweaks like adjusting the contrast or exposure until I'm happy with the image.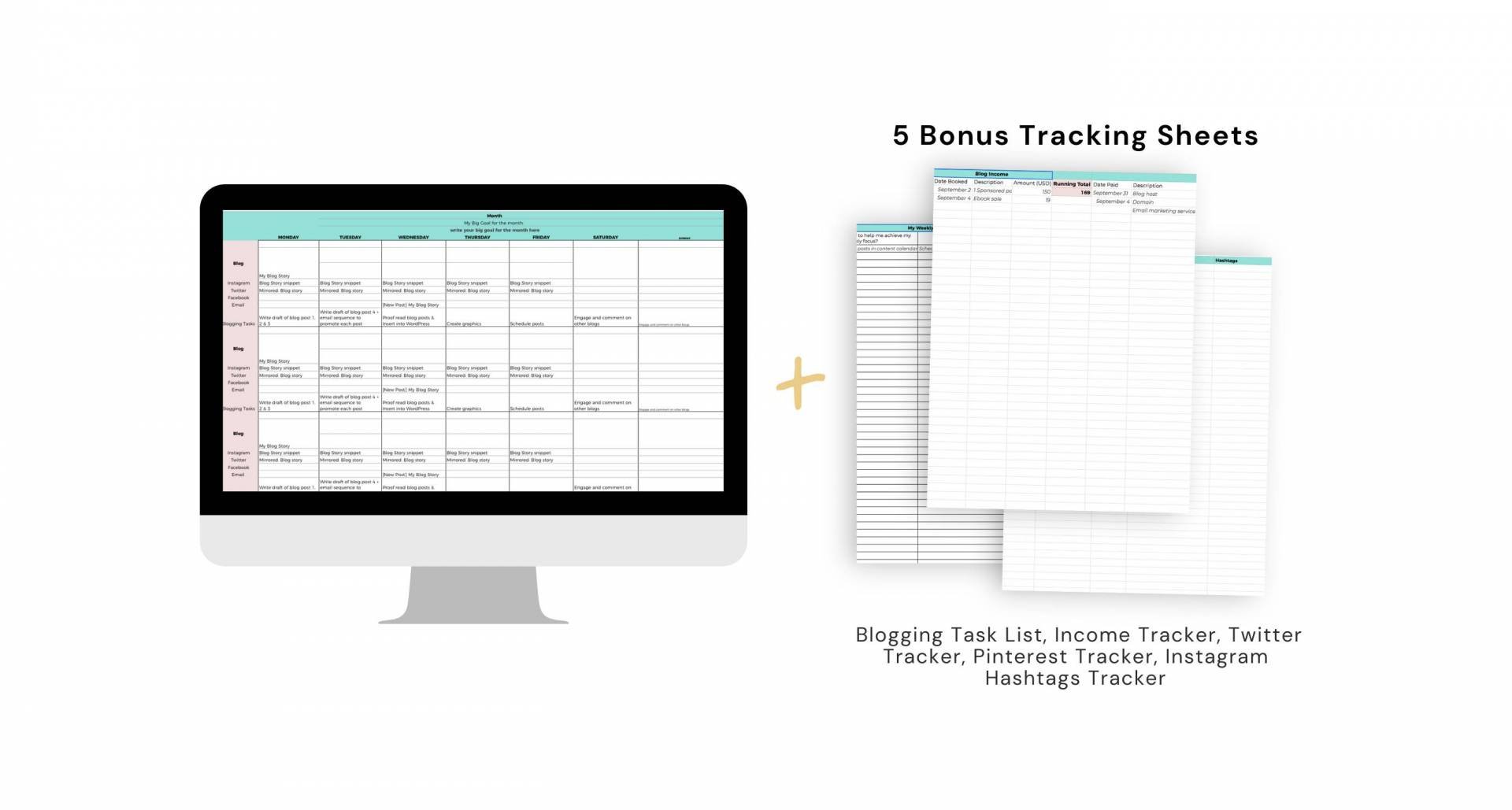 Consistency is one of the biggest struggles any blogger, content creator, and writer faces.
But the secret to cracking the consistency code is to plan ahead and having a content calendar is key to be able to plan, track and execute your content and promotion strategies.
This editable, digital content calendar is designed to make blogging easier.
RELATED: 5 Days to Consistency Challenge
Mobile apps
If you want to work on the go, installing mobile apps are the best way to go. These are the apps I have:
WordPress – to respond to comments and update posts
Google docs – to write content
Google sheets – to view my content calendar
Pinterest – to schedule posts
PIN THIS!
CoSchedule Headline analyzer
This free tool studies your blog post headline and gives it a grade depending length, emotional impact, as well as the type of headline.
It's a great tool to use when learning how to craft headlines that stand out.
Unsplash
One of my biggest challenges when it comes to blogging and staying consistent is not having enough photos for Instagram and my posts.
Did you know that because I wouldn't have an image to go with a post, I wouldn't post at all?
I think that was one of the reasons why my previous blogs didn't grow the way I wanted them to.
With Unsplash, I have access to beautiful, high-quality stock photography.
It's helped me during the days I can't go out and shoot new photos.
I even use the photos from there to create pins and blog post headers.
For planning and scheduling content
Facebook Creator Studio
I've switched from using a scheduling tool for Instagram and Facebook posts to Facebook's own scheduling tool called "Facebook Creator Studio".
One thing to note when using this to schedule your Instagram posts is to make sure you upload the correct dimensions for Instagram.
Otherwise your posts may end up looking like this:
View this post on Instagram

South Korea was never on my travel bucket list until I started watching Korean dramas (Kdramas). My first foray into the Kdrama world was with the hit show Goblin (also known as Guardian). I didn't know I would love Kdrama this much, but I'm glad I got sucked into the Kdrama world. It's opened my eyes to a new culture and lots of feel-good shows. Albeit, it's not a Kdrama without the drama and of course the occasional cry-fests when emotional scenes punch you in the gut. And so, after watching countless Kdramas, I'd been longing to go mainly to visit filming locations and try authentic Korean cuisine. If there's one thing you'll notice about Kdramas, it's that the characters are always eating…and it makes you hungry too! Finally, in October of 2019, I was able to travel with my two close friends Kelsey and Teddy and even got to meet up with my cousin who lived there. In truth, this trip wasn't something we'd been planning a year or many months ahead. The decision to travel to South Korea was a spontaneous one. But I'm so glad we got a chance to travel before the pandemic broke out. South Korea has become one of my favourite places to visit and I am already dreaming of the time when I can go visit (when it's safe to, of course!) In the meantime, you can read a comprehensive travel guide and detailed narrative of my first-time in the land of kimchi, soju & K-dramas at izzymatias.com/blog ✨ #visit_korea #visitkorea #Travelgram_korea #digitalnomadgirls #travelgirlshub #dametravel #journeyofgirls #koreatravel #hustlewithease #buildalifeyoulove #hellokorea #thecaptionclub #personalblog #lifestylebloggers #travelblogging #travelgirlsgo #koreabyme #borntotravel #traveltheglobe #travelpreneur #travelwithme #imagineyourkorea #ilovetravel #instatravelling #digitalnomad #southkorea #seoul #visitseoul @seoul.southkorea @visitseoul_official
For promoting your work online
Facebook groups
I've listed Facebook groups as a resource because I've seen how sharing my posts on those groups have helped.
Facebook groups are also a great platform to do research.
If you're a travel blogger, join a travel blogging Facebook group.
Chances are you'll see fellow bloggers post about what they need help with. You can use this information as inspiration for a blog post topic or social media caption.
For example, someone asks about how to use Pinterest. You can then create a post on your blog or on social media answering this question.
Aside from research and promotion, you get to connect with people who are on the same journey as you are.
It's fun to connect with fellow content creators and help one another grow.
Pinterest
Pinterest has been getting a lot of traction and for good reason.
Many bloggers have claimed that the majority of their blog traffic comes from this platform.
As mentioned in my previous blog post, Pinterest is a visual search engine.
I'm still studying how to use it effectively and to really understand what works and doesn't work for me, but so far I've grown my Pinterest account reach to over 20,000 views in three months.
At the moment, I'm figuring out how to translate the majority of those Pinterest views into blog traffic, but I do see that people check out my blog from Pinterest.
It's a start and I'm excited to see the number grow.
For inspiration and learning
Amazing Content Creators
There are a lot of content creators, bloggers, YouTubers that I follow that have taught me a lot about blogging.
Here are some creators you should check out as they provide such valuable content:

Podcasts
I've only listened to a number of podcasts since I'm still exploring that avenue, but these are my favourites:

Swipe Up is a podcast that gives bloggers a better understanding of how to work with brands.
The Purposeful Creative podcast is for creative entrepreneurs and talks about how to grow their business with purpose.
Positive Affirmations
Mindset is such a huge factor in growing your brand online.
Being a creative entrepreneur, you face a lot of challenges and at times it can feel lonely if you don't have a community or a tribe you can go to for encouragement and support.
I have a list of positive affirmations that I tell myself that help me get excited and switch from a place of negativity to gratitude.
I also have a vision board where I have positive affirmations printed and I remind myself of these especially on the hard days.
For analysing your content
Google Analytics
Ah, yes, Google Analytics. If you're a blogger, I'm sure you've heard about this resource at one point.
One of my goals is to take a course that specialises in understanding the ins and outs of this tool.
Last year I took an online digital marketing course that helped me understand the basics and how to set up things like a goal (tracking how many email sign-ups or conversions I get) and how to track the time an average reader stays on my blog.
I highly recommend you sign up for this one (as it's free!) and you get a better understanding of who are reading your blog and the type of content that they like.
And there you have it!
A list of blogging resources and tools I use to grow my creative business online. What tools do you use?
PIN THIS!