This is What I Did During My First Month as a Full-time Blogger
How I Spent My First Month as a full-time blogger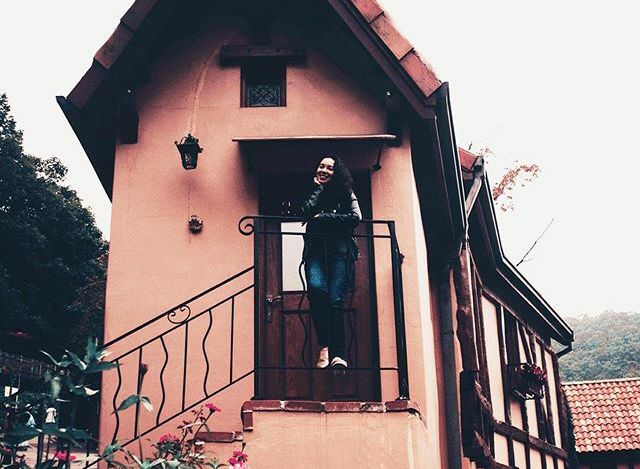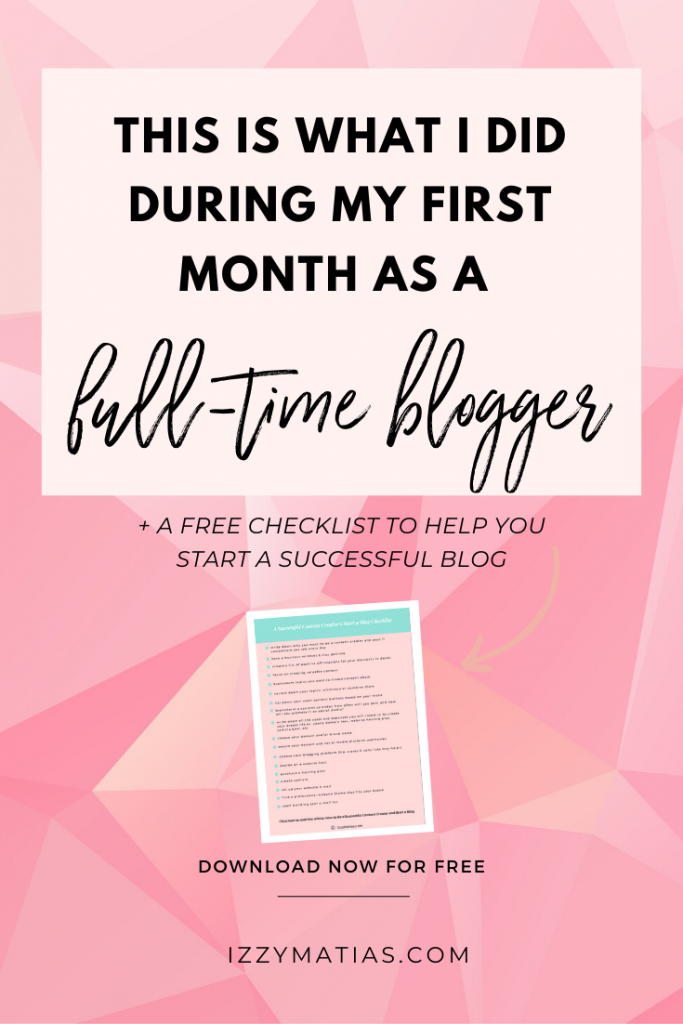 There are moments when I still can't believe that I get to call myself a full-time blogger and creative entrepreneur.

I'm so grateful that this is my reality now.

I get to choose what I do in a day.

I have complete control of my time.

And for once, I don't feel one bit ashamed or guilty that I've chosen this path.

But many moons ago, when I first tried going full-time with a freelance writing career, I felt guilty.

Who was I to be here at home while so many people out there are working so hard at a nine-to-five?
Was it even possible to earn a steady income from writing?
Did I truly deserve these dreams?

The answer is yes.

Yes, I deserve anything I desire and I don't have to prove to anyone–not even myself–that I am worthy of these dreams.
I deserve to manifest the creative goals and dreams that are on my vision board no matter how big of a dream that is.
I deserve to be a successful full-time blogger.

And this realisation is a key takeaway from one of the many online training sessions I attended last month.

But more about that later.

People who go full-time with their biz or become full-time bloggers normally get things going right away.

Like they dive right into the hustle full speed ahead, but I did the exact opposite.

I slowed down.

Because truth be told I was burnt out.

Like really, really burnt out.

Yes, I was excited to start creating content but I did not want to start from a place where I'd just be pushing myself too much.

I'd been craving for a break with the constant hustle of managing a day job and building my online biz.

And so my first month I focused on resting and recharging.

You think it would have been easy to do this, but for someone who was used to the whole, "go, go, go" and "let's get this done" mentality, it was a struggle at times.

There would be moments that I would think "oh I should start planning out a whole year's worth of content now that I have time" or "I need to get started on writing blog posts again" or "I need to plan out my Instagram feed".

I had to force myself to not work on blog + biz things.

Though I did cave in twice (once to reflect on the blogging wins that helped me decide to become a full-time blogger and the second to do a short goal-setting session).

But other than that I allowed myself to take a break from everything.

The break didn't mean I was binge-watching Netflix 24/7 (though I did spend a couple of days finally finishing Gilmore Girls!)

This is how I spent my first month as a full-time blogger.

I GAVE MYSELF PERMISSION TO TAKE MY TIME

For years I was juggling two jobs: my day job and my blog. It always felt like I had a never-ending to-do list. There was never enough time to get things done. It honestly had me stressing out to the max and triggering my anxiety.

So now that I had a month off, I allowed myself to wake up a little later than usual.

It felt glorious to not have to wake up to an alarm and find the natural waking time of my body.

I allowed myself the luxury of time and finally set a proper morning routine.

No more rushing.

I would say my prayers, write in my gratitude journal, meditate and read my daily affirmations and intentions.

And I loved the feeling of having a whole day to myself. To be able to spend each minute the way I wanted to.

If I wanted to spend a few hours playing a mobile or computer game, I would.

If I wanted to watch a movie on Netflix, I watched a movie.

Or if I wanted to binge-watch a series on Netflix, I watched back-to-back episodes.

This was a time to unwind and enjoy and so that's what I did.
I INCORPORATED MOVEMENT INTO MY LIFESTYLE

Exercise is something I never looked forward to.

But I knew that I'd been neglecting that part of my health for a long time and wanted to change this.

My first intention for exercising was to be healthier.

And I reframed exercising for me as something to show my body that I love it instead of seeing it as a punishment.

Since shifting my perspective I have been able to exercise at least once a week for a month.

This is something I'm proud of.

Lately, I also am excited to see my body transform because a few days ago I realised just how much weight I'd gained from eating lunch out almost every working day for a year.

Right now I've been doing beginner HIIT home exercises from Emi Wong's channel and have been really enjoying them so far.

My goal in terms of movement is to be able to exercise 3x a week.
Once I have that routine in place, then I'll switch it up to a more challenging routine. For now, I'm focused on building that consistency.
I WORKED ON MY MINDSET

A strong mindset is vital to my success this year.

Time and time again, I noticed that whenever I'd get into a funk–especially at the height of having a huge workload–that was when my anxiety, self-doubt, and negative mindset would creep back in.

Years ago, I read The Secret and even implemented the principles of The Magic and saw a transformation in my life.

And one of my favourite books to date is Kathrin Zenkina's Unleash Your Inner Money Babe Uplevel Your Money Mindset and Manifest $1000 in 21 Days: because it focuses on cultivating a stronger and abundant money mindset.

The first time I'd read and implemented the principles in the book was when I saw a massive shift for my creative biz–that was when most of the opportunities that helped me decide to go full-time manifested.

And you bet I was so amazed.

However, after finishing the book that first time, I was unable to implement her principles on a daily basis.

And I knew I had to get my groove back with implementing these principles.

I read the book again late last year and then this January once again.

Earlier I'd mentioned that it was hard for me to let go of the hustle and to let go of the "go, go, go" mentality.

I realised that that mentality was a form of fear and because of a scarcity mindset. I was afraid that I would miss out on opportunities to grow and make sales.

This was not the case though.

I was still able to make sales during my month off.

*Insert happy dance*

Realizing I still had money blocks, I set out to work on my mindset.

I had to release my blocks and reframe my limiting beliefs.

And so, I joined Kathrin Zenkina's 5-day live training on Instagram.

I also joined Milana Sarenac's Abundance Re-Code Training on Facebook.

Yes, I am serious about shifting my mindset.
I REVIEWED MY EXPENSES & INVESTMENTS

One of the daily tasks in the book Unleash Your Inner Money Babe was to review one's flow of money.

So I sat down one afternoon to review where my money was going and which investments I had made.

It was hard at first to have to go through and fix everything.

But it was so important for me to do because it helped me fix the admin side of my biz. I reviewed the monthly subscriptions for my biz tools and terminated those that were no longer serving my biz.
I TESTED OUT INSTAGRAM STORY ADS ONCE MORE

In an attempt to grow my blog in a passive way, I invested in Instagram Story ads again.

This is the same strategy that I used last year that doubled my email list.

I wanted to see if it would yield similar results.

And it did!

For me, advertising via Instagram Story was more efficient than simply boosting a post.

Sure, if you boost a post, you'll get more likes and comments. But my goal with my Instagram Story ad was for people to go to my Instagram account. If this was something they'd be interested in, then they could give me a follow. If not, then they could just leave my page.

One thing I was happy about with this was that not only were people following me, but they would also subscribe to my email list.

Huzzah!

So, yes, this is a strategy that I will continue to do this year.

I'm really going to allot a portion of my sales for an advertising budget.

Of course, I've got plans on how to further test this out.

My next goal with this is to test if running an Instagram Story ad is efficient in converting leads for my class, "How to Start a Money-Making Blog (Your Creative Business)"
And there you have it.

A rundown of what I did during my first month as a full-time blogger.

I've got lots of plans this year and one of them is to release another digital product soon. It's a workbook that will help you set up your creative business with your blog whether you've been wanting to start a blog or already have one.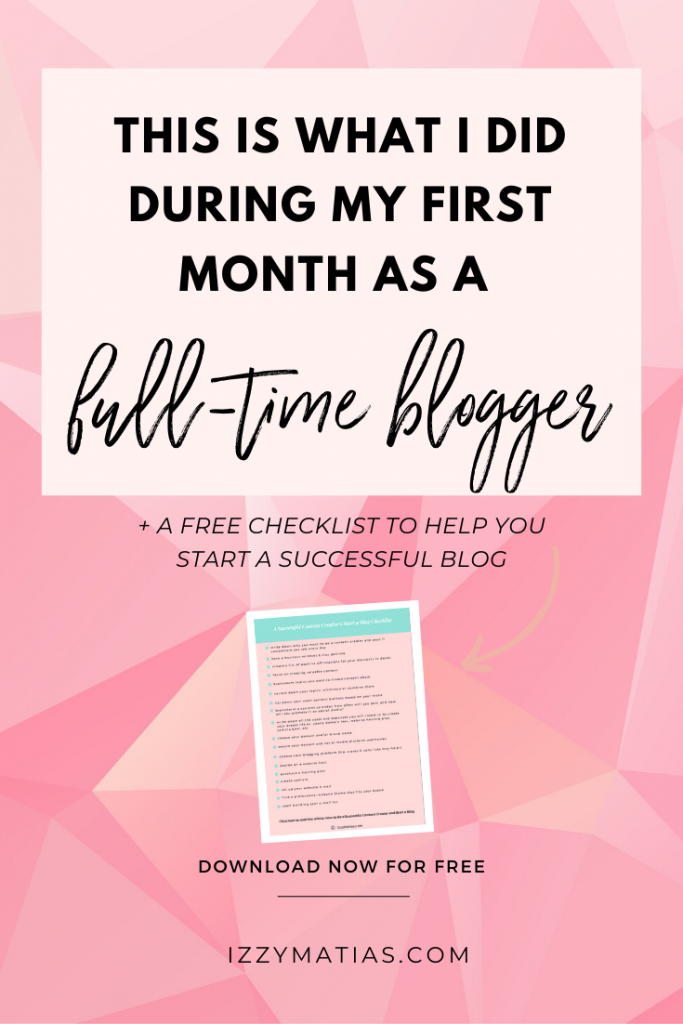 RECOMMENDED:
My first month as a full-time blogger and creative entrepreneur