What You Can Learn From KPop: Consistency Is Key
KPop teaches you that consistency is key to your growth as a blogger and creator. Find out how to be more consistent through KPop examples
Consistency is key when it comes to your growth. 
But it's something you have struggled with at one point in your blogging or content creation journey. 
Or maybe something it's something you're still struggling with. 
If it is, then this is why I've created this post. 
One: to let you know you're not alone. 
And two: to share with you how you can learn how to be more consistent with the help of KPop because consistency is key.
Yes, KPop! 
There are many KPop marketing strategies you can learn from to help you improve as a blogger and content creator.
So much so that I created a whole series dedicated to it. 
And they're topics I enjoy geeking out about: KPop, blogging and the art of content creation. 
It's all so fascinating too when I realised that you can learn so many things from KPop about marketing that can also be applied to growing one's blog and as a content creator.
I was intrigued and so excited!
So as part of the What KPop Can Teach You series, this post is about how consistency is key to your growth.
Yes. That "C" word.
Being consistent doesn't mean that you have to post every single day. 
Nah, that could lead to burnout if you don't have a plan. 
And if posting every day is too much of a workload for you especially if you have a 9-5 job or other major things going on in your life. 
So I'll start off with sharing examples of how KPop idols are able to stay consistent. 
By doing so, I'm hoping to give you an idea of what you could do as well. 
KPop artists are consistent in showing up. 
And it's not just their selfies or going live on the VLive app or Instagram, but it's the content from the reality shows or Korean dramas or radio guest appearances or magazine interviews. 
There is just so much content online. SO, SO MUCH. 
Of course, one big advantage is that a KPop group or artist has a marketing team and other staff members to help them out. 
The KPop artists may be the star of the content, but they have people helping them out to post, edit and come up with content ideas, concepts and what activities they should participate in to promote their brand further. 
Aside from that, the company (entertainment company as they are referred to in KPop) usually has events planned for birthdays, anniversaries, and announcements of projects. 
For example, when it's a KPop idol's birthday, they hold a birthday event wherein they can ask fans to send in questions or birthday greetings. 
And then the KPop idol will record a video answering these questions or do an activity for his/her birthday, and this content will be uploaded on said birthday. 
Aside from that, sometimes these KPop artists go live on the eve of their birthday to celebrate the first few minutes of their birthday with their fans. 
They'll usually have a simple activity, read and answer the comments from the live broadcast, blow out their candles and eat their cake. 
This makes the fans feel like they celebrated with their idol. 
Aside from events organised by the company or maybe even initiated by the Kpop artists themselves, there are also fan-made events like cup sleeve events. 
There are fan meet-ups to celebrate their birthdays, and anniversaries. And this just adds to the amount of content online. 
Fans also create video and photo edits, memes and other fun, relatable content that keeps the community so active and engaged. 
I think part of why there's so much content is because I learned that if a KPop artist or group doesn't update regularly or put out a lot of content, they lose fans. 
This was such a new concept for me, especially as a band fan where we don't get that much content. And we're lucky if we get new music once a year. 
And if you don't update regularly, you'll lose loyal fans. 
I've read stories where when a group stops posting for months, their fans leave them. This is a little sad, but it happens. 
Now, I'm not saying that you shouldn't take a break or else you'll lose your community or followers. 
You absolutely need to recharge, rest and take breaks. And come back when you're ready. 
What's important is to keep going (yes, while pausing and taking breaks). 
Your voice is important. You are enough just as you are. 
The point I wanted to make is that KPop groups have built such a loyal fan base because of their consistency. 
Consistency and the amount of content online keep them top of mind. 
Like I mentioned in the post about how to build a strong digital presence, consistency also builds that trust factor with their fans. 
And with KPop idols, at least from my experience with Astro,  you can feel how genuine they are with their fans too! 
In the same sense, as content creators, I'm sure you've heard about consistency. And how consistency helps you become successful. 
Think about it this way: the more you show up, and the more consistent you are in showing up, the closer you are to that milestone as a creator: your first 1,000 Instagram followers, your first sponsored collaboration or your first sale. 
How can you apply consistency in your life as a creator? 
The secret is to plan. 
Planning will remove the stress of not knowing what to post and when, it will also help you stay accountable when you have deadlines. 
This is where the importance of having a content calendar comes in. A content calendar helps you with consistency.
I created my own content calendar where I not only plot my blog post schedules, but also social media posts, as well as a place to track my statistics, income and expenses, keyword research and brain dump all blog post ideas.
THE CONSISTENT CREATOR'S CONTENT CALENDAR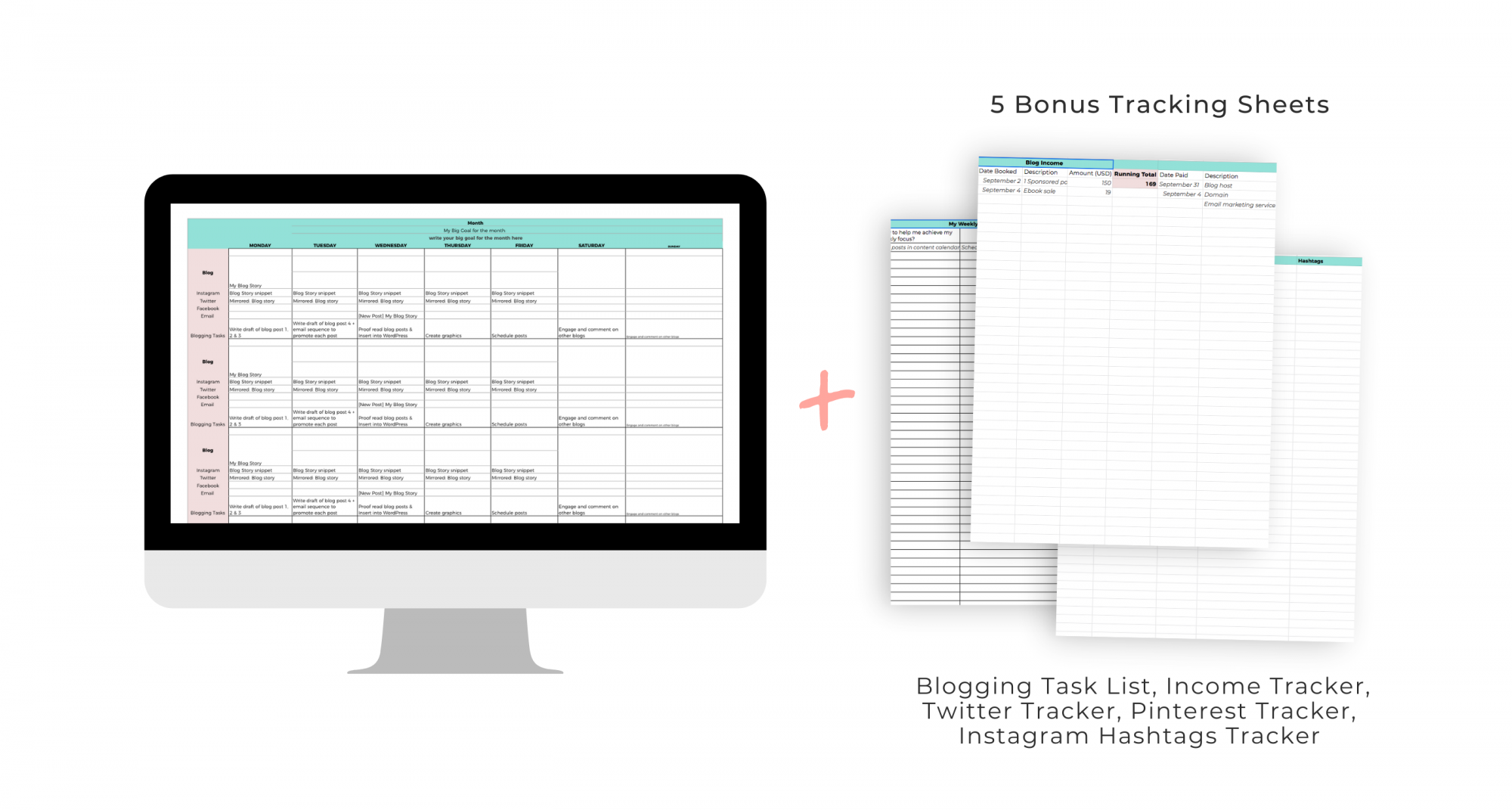 Aside from that I have a yearly goal tracker and monthly calendar to plan out my content.
It makes it easier since everything is in one place.
After you plan, you can choose to either write your content way ahead and then just schedule them out for publishing. 
In case anything happens like you get too busy or you feel burnt out, you've already done the work, so you don't have to scramble to think of what to post, stress over pushing yourself to rush the process of creating to meet your publishing schedule.
Need more help with consistency and want more actionable tips and examples on how to plan ahead? You can access these extra information about consistency inside The Content Chest.