6 Simple Ways to Organize and Improve Your WordPress Blog Now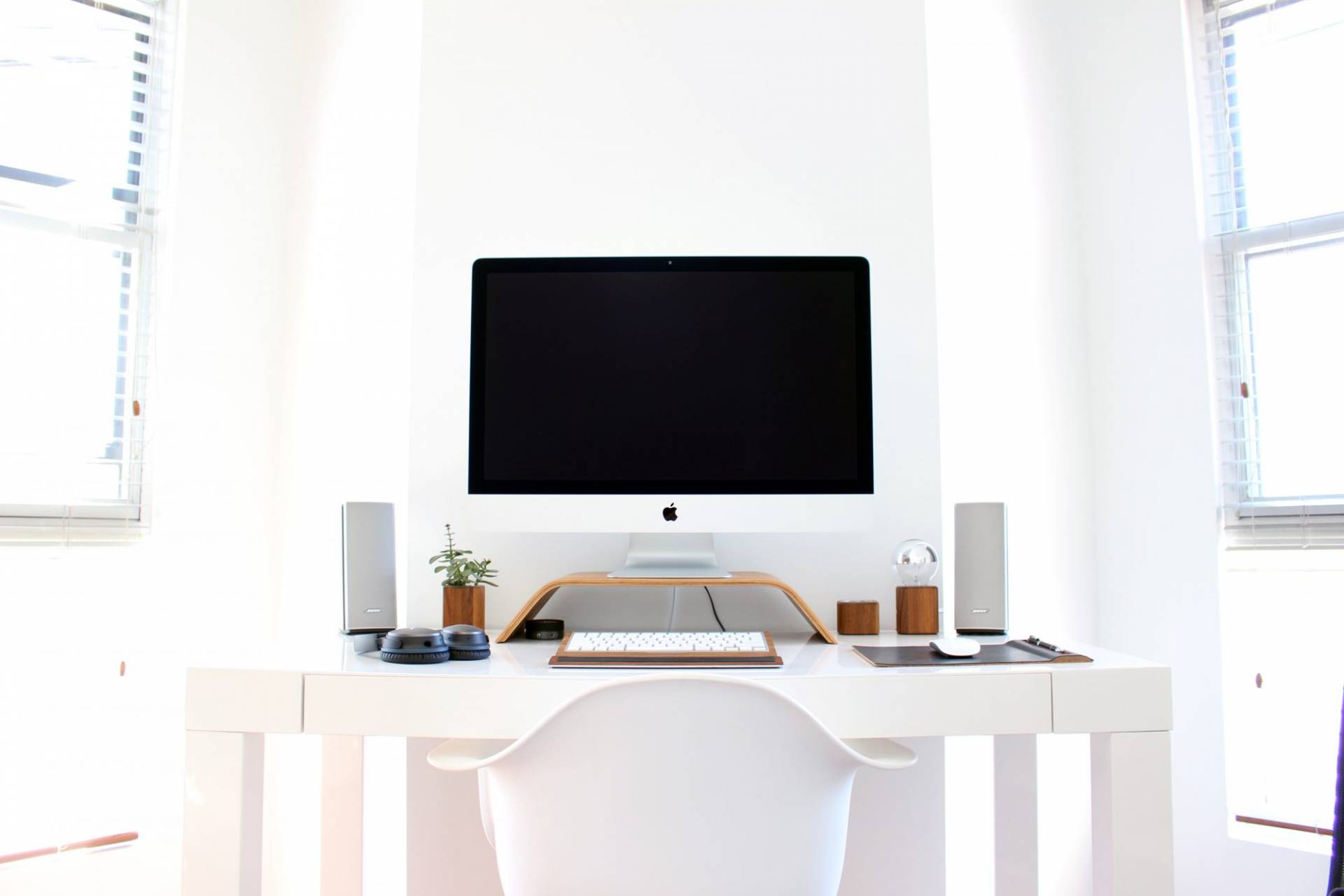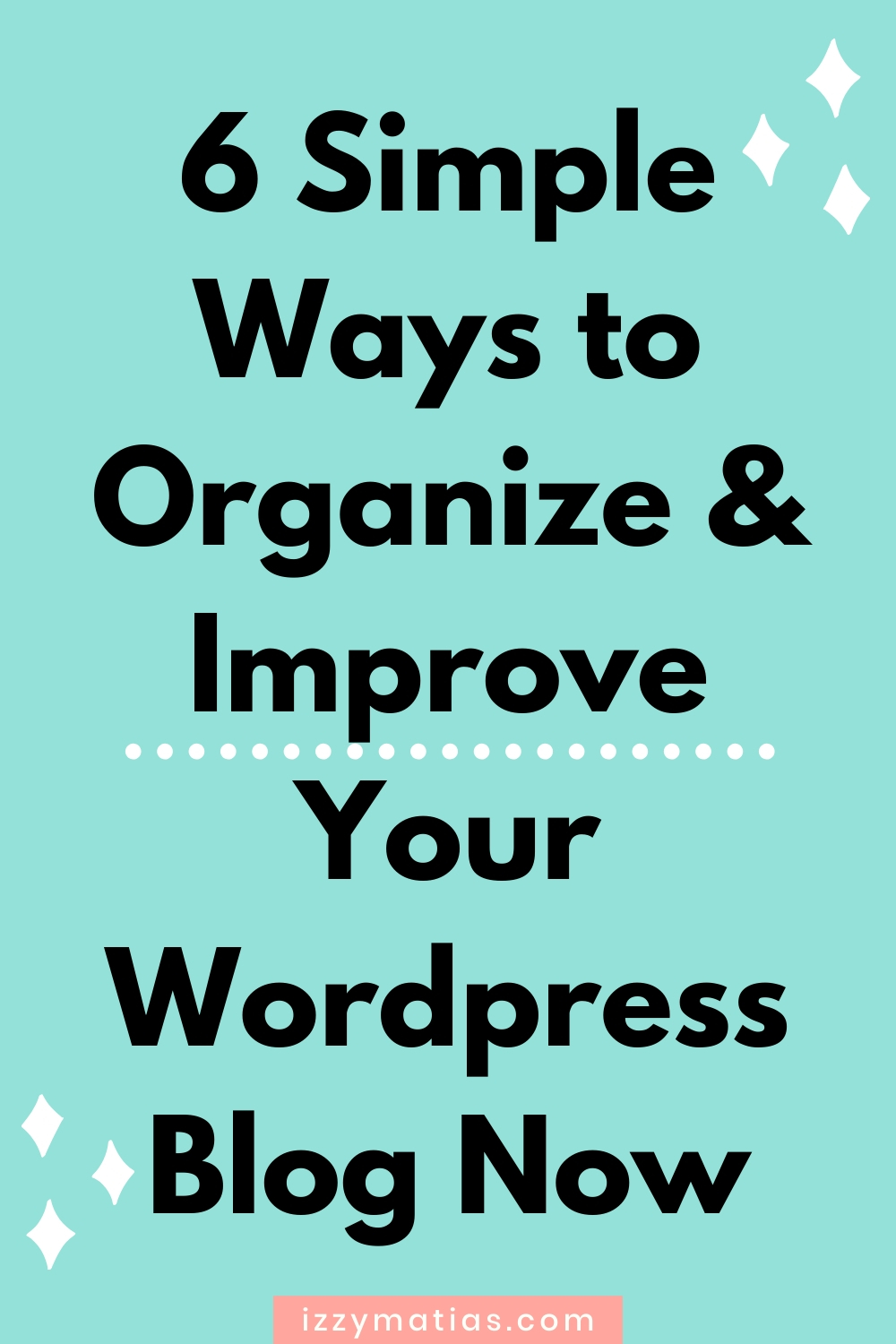 How can you improve your blog without having to write more blog posts?
There are several ways to organize your blog and declutter your online headquarters.
When you clean up your blog, you can improve your blog speed too.
There are days I don't have much time to work on a post but still want to make my blog better.
So if you feel me or are in the same situation right now, then here are six simple ways to organize and improve your blog.
Remove unnecessary plug-ins
While one of the fantastic benefits of a WordPress blog is the thousands of plug-ins at your fingertips, having too many plug-ins can slow down your blog.
The first time I learned about this, I was in denial because I love how if something is lacking in your blog, there's probably a plug-in for that.
And in my previous blog, I had almost 20 plug-ins installed.
I put this new-found knowledge to the test and deleted the plug-ins that I no longer needed. And when I checked my blog speed after that, it was faster.
For example, one of the plug-ins I deleted was Jetpack.
Shocking, I know.
But the main reason why I had Jetpack was because of my blog stats.
I already had Google Analytics anyway, so I decided to go ahead and remove this plug-in.
Plus, I had read reviews about how some bloggers claimed that Jetpack slowed down their site speed.
Even if you don't have that many plug-ins installed, review each one and ask if that plug-in is vital to your blog operations and if indeed it is essential. If you don't really need it, remove it.
Install Smush
If you're going to keep a plug-in, then keep Smush. The Smush plug-in compresses all the photos you upload to your blog.
This is especially handy if your blog is filled with photos.
When you upload pictures that have large file sizes, these photos take longer to load, which will then slow down the time it takes to load your blog post.
Take note that if you have existing photos in your media section, you'll have to "smush" or compress them one by one.
There's an option to bulk compress up to 50 images at a time.
However, for new uploads, you can automate compression when you turn on automatic compression in the settings.
This is a useful plug-in to have to increase your page load speed without having to sacrifice the quality of your photos.
Revamp your homepage
Is your WordPress blog homepage cluttered with so many features that your reader doesn't know what to read first?
Just like how you removed non-essential plug-ins, review the elements on your homepage and remove those that do not serve you.
If your blog is your creative business, you want to make sure it's organized and easy for first-time readers to take action.
Be clear on what you want your readers to do.
Is it to sign-up for your opt-in freebie, join your online class or read your blog?
My tip would be to make the first section of your home page–the hero section or the section below your blog menu–dedicated to a clear call-to-action.
It could be something like "Join X students get crystal clear on their blog vision with this free mini-training."
If your end goal is to get them to read your blog, then entice them to click the button that says "read my blog" or "read more free resources on the blog".
For example, on my homepage, I want people to check out my online class, so that is what I highlight in my hero section, and I have a clear call-to-action.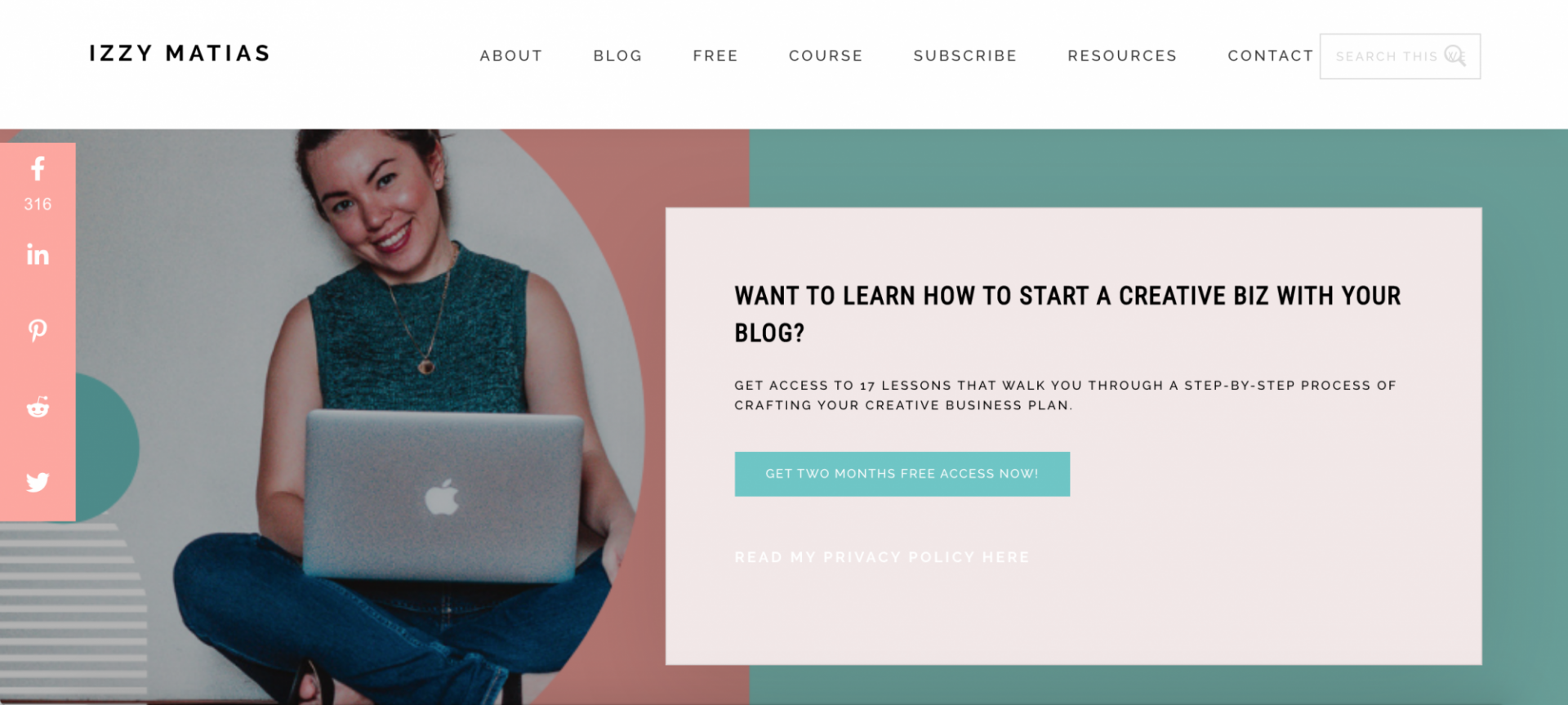 Eliminate the distractions by having a persuasive one-liner copy and a button that tells the reader what to do.
Have an uncomplicated hero section in your homepage so that your blog readers know exactly where to go.
Fix bad links
Another way to improve your search engine optimization game is to check your WordPress blog for broken or bad links.
These are the links that do not point to an existing page, or when you click it, the page says "404 Error Page Not Found."
Fixing bad links also improves your blog traffic. If you're linking to your other posts, you want to ensure the link works.
Those types of links hurt your blog authority and credibility.
Take a look at your old blog posts and see if all your links are up-to-date.
Remember to also check the links of those who left comments in your blog posts as the links that they added might have errors or lead to a 404 page.
You can check your broken and bad links using brokenlinkcheck.
Delete duplicate media files
Have you ever tried uploading a photo to your blog but encountered an upload error?
If so, chances are you may have multiple copies of the same picture in your media section.
While that's not the only way you can have multiple copies of the same image, take the time to view your media library and remove duplicate photos.
Doing this will clear up space in your blog and make it easier for you to find old photos that you may need to use in future posts.
Update old blog posts
If you're not in the mood to write new blog posts, one thing you can do is to update your past entries.
I've touched on this in my other post about easy tweaks to improve your blog, but I want to emphasize it here again.
Chances are you can add more content to your existing posts which then only provide more value to your readers.
Remember than when it comes to blog posts, it's quality over quantity.
When going through your old posts, see if there's anything that needs to be updated.
For example, when I switched my email marketing platform from Convertkit to Flodesk, I had to review each blog post and change the links that led to my opt-in freebie from Convertkit to the new Flodesk link.
In the same way, if you have updated a tool or a link, you don't want to be linking to your old (maybe non-existent link) and miss out on that opportunity to grow your WordPress blog.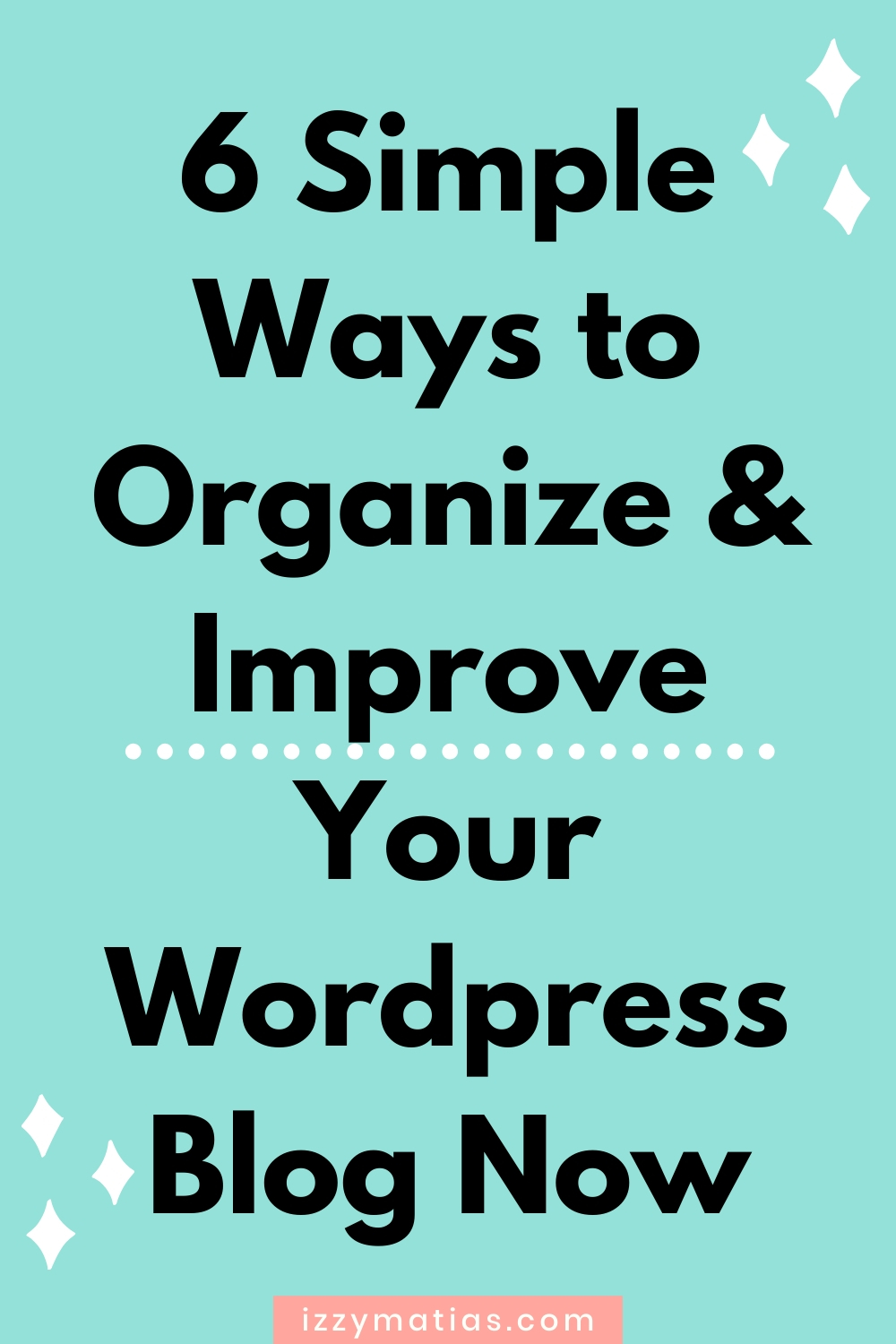 To recap, these are the six simple ways to organize and improve your WordPress blog:
Remove unnecessary plug-ins
Install Smush
Revamp your homepage
Fix bad links
Delete duplicate media files
Update old blog posts
Which of these six tips will you implement right away? Do you have suggestions of your own? Do share them in the comments below.
Featured Photo by Gabriel Beaudry on Unsplash