10 Tips For Setting Up Your Online Business
Disclaimer: AD – Paid Guest Post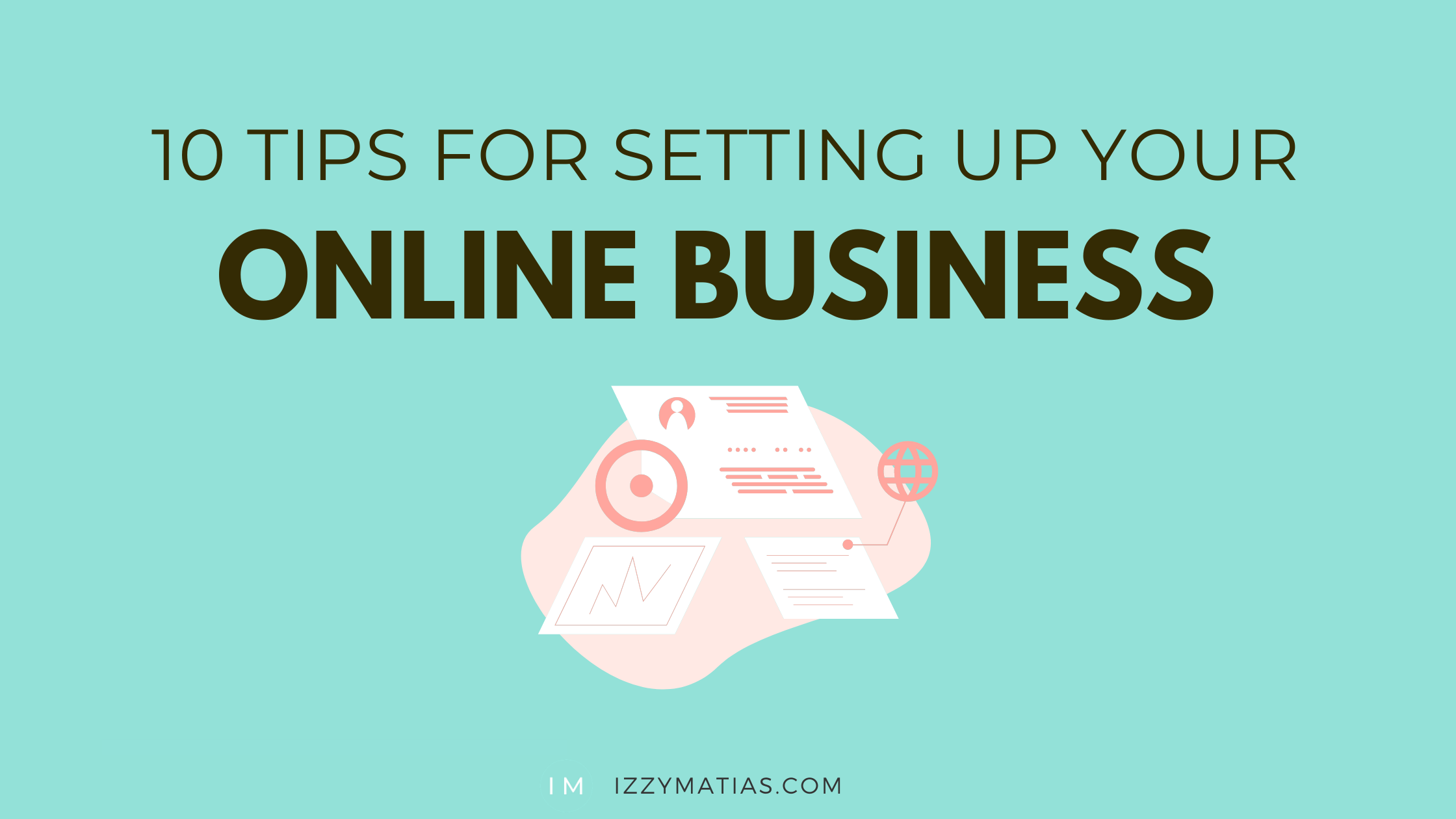 When is the best time to launch an online business? 
Whether you have loved working from home during the past months or have an idea that you can't wait to turn into a money-making blog, now is the best time.
While the competition is fiercer, opportunities are rising fast, and new niches are becoming profitable every month. 
However, starting a creative business and setting it up can seem like an impossible mission, especially at the beginning.
You may feel overwhelmed with all the things you need to do and set up for your business.
Here are 10 tips to help you when setting up your online business.
Don't forget to enjoy the journey!
Leverage Your Passion and Skill Set
If you are not sure what could be a winning idea for a creative business, looking inward is the first step. 
While we are all tempted to underestimate and minimize our knowledge and abilities, you own a unique skill set. 
This automatically gives you unlimited earning and growth potential. 
It can be challenging to single out that one skill that will allow you to turn a passion project into a successful business or blog. 
However, start by reflecting on what you already do best. 
Your hobbies or passion projects can suddenly become an excellent idea for a business. 
On the other hand, you can also reflect on what activities you have not yet explored.
Thanks to the endless range of free and paid resources out there, you can gain new knowledge and train yourself and eventually become an expert. 
While this option might involve a steep learning curve, it can offer you the chance to have a career in what you are passionate about.
Look at the Current Market and Trends
Leveraging your skills and passion can lead to the best career choice for you.
However, if there is no space on the market for it, you might have to fight over every new user. 
Instead, have a look at what the current trends are and adapt your ideas to create a business that is modern, appealing, and competitive. 
For example, if you are thinking about launching your clothing brand, you will realize that there are many clothing brands on the market. 
However, you will also notice that users have started to lean towards sustainable products and materials. 
Therefore, you won't need to give up on your idea altogether. 
Still, you can find a niche and build an alternative brand that is more appealing to your target audience.
Learn From Competition
Competitors, especially those you are using as a benchmark for your own business, might have spent money on marketing strategies and advertisement. 
While you might not have the budget or knowledge to create your own campaign yet, you can take advantage of the fact that marketing is visible.
Therefore, if you can connect the dot, you will soon start identifying the strategy they have been using. 
This tip is valid for many different fields. 
For example, if you are working your SEO strategy, have a look at the keywords that others in your niche are using.
Depending on your business goals, you might opt to use a similar strategy or create your own based on a different unique selling point.
Create a Business Plan
You might think that because you are only starting a small company or a blog that you don't need a business plan. 
However, a business plan is even more critical when you are trying to develop a business from scratch and on your own. 
Business plans can be adapted in the future, depending on changing customer trends and competition. 
A detailed but straightforward plan can offer you the chance to brainstorm and find guidance at the same time. 
While it can seem like you are using up your time at first, you will be grateful to have a plan to follow when hitting a wall (which is likely to happen, at some point!)
Need help with setting up a business plan? Then you need to get this workbook!
Identify Your Ideal Customer 
Without truly understanding your ideal customer, it is almost impossible to create a tailored product that will remain appealing, competitive, and unique. 
Many first-time entrepreneurs and online business owners make the mistake of targeting an audience that is too wide. 
However, at least at first, a smaller but more loyal target market will allow you to craft your products and marketing campaigns much more quickly. 
A customer persona is an instrument you will use to find out who your ideal customer is. 
The process of crafting a customer persona will reveal to you what are the passions, pain points, problems, and lifestyle traits of the customers you are aiming to win over. 
And the best way to do this is to interview your ideal customers or get their insights online such as targeted Facebook groups or forums or threads. 
Start by giving your customer persona a name and ask the following questions:
What is your background? (gender, age, etc.)
Who does your family include? Do you have children?
What are your hobbies?
What restaurants/cinemas/bars do you go to?
What are the problems you are trying to solve? What are your triggers and pressure points?
Remember, your customer persona is not yourself, even if it might be similar to you. 
The questions above can help you shape the personality, wants, and needs of your audience.
Create a Website and an eCommerce Platform
In today's world, any business must have a website, no matter how big or small. 
A website is the first point of contact with customers. 
This will leave a long-lasting impression. 
You want your website to be fast, responsive, and easy to navigate.
And if you're setting up a website or blog from scratch, you'll want to opt to go with a self-hosted WordPress site. 
This is because you have complete control of your content and the flexibility to design your website to your specifics. 
Next is setting up an eCommerce platform, whether you are selling a digital product or a physical product such as artwork or your creations. 
If you're going for a touchless, contactless business, delivery options can be a unique source of income and streamline the customer experience. 
Remember to include a call-to-action somewhere on your website to nudge your customers to take action. 
Invest in Yourself
Investing in yourself does not mean that you can pour money into your new online business without a clear plan of action. 
What this means is that you should leverage the endless opportunities for learning that are available online. 
These will not only offer guidance and expertise, but they can also help you get certified or qualified in your field.
Not only this, but you also save time on having to DIY the process. 
While not every course or training can be ideal for you, try to understand your business's short-term and long-term goals. 
This will indicate the essential skills you need to learn more about. 
Learning and improving your abilities is the first step to ensure that your business remains competitive throughout time.
Want a money-making blog? Take this course!
Create a Routine That Works
Creating a routine always seems the most natural step of all, but it can become the most challenging of tasks. 
Shifting from a 9-to-5 or shift job to an entrepreneurial or freelancing life does come with some challenges. 
One of the major ones is time management. 
Even if you have thought of yourself as organized and able to prioritize, working from home and creating your own schedule makes it trickier. 
Indeed, it suddenly becomes more difficult to create boundaries between your work life and private time. 
Here is where having a precise work routine can come in handy. 
Start by journaling in the morning, repeating morning affirmations, and set your goals and intentions of the day.
There is no one-formula-fits-all when it comes down to designing a routine. 
And that in itself is the beauty it because you can find a routine that works best for you. 
Don't forget to include breaks in your routine.
Consider Smart Outsourcing
You could create a business by yourself. 
However, some aspects (i.e., developing a website, taxes, or accountancy) will require you to undertake several weeks of learning. 
When launching a business, finding the right timing for launching is essential, and you can't fall behind the schedule.
In this case, you can look into outsourcing to freelancers or professional companies can help you. 
For example, if you need help with managing your business's finances, getting in touch with the consultancy firm can help you.
Gain Visibility
Whether you are tech-savvy or not, social media platforms can be an excellent tool to gain visibility for your business with minimal effort and expenditures. 
When creating your social media pages, don't forget to ensure that your branding and image is consistent.
This will help tell a more cohesive story of your brand. 
And those were the 10 tips to help you when setting up your online business.
Here's a recap of the 10 tips:
Leverage your passion and skills
Look at the current market and trends
Learn from competition
Create a business plan
Identify your ideal customer 
Create a website and eCommerce platform
Invest in yourself
Create a routine that works
Consider smart outsourcing 
Gain visibility