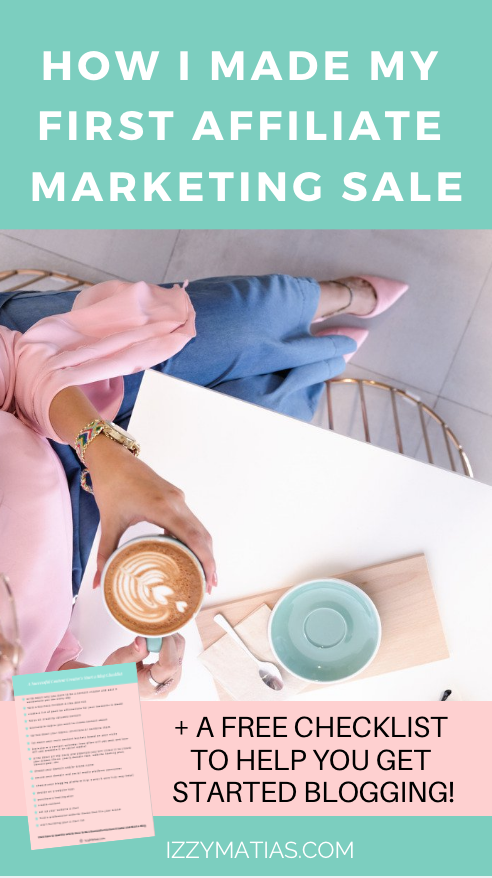 The first time you make money online is a glorious moment.

It can feel like a turning point.

Like anything is possible.

Imagine you wake up one morning to find an unusual email.

One that says that someone bought something.

You might be wondering, "Huh? I don't own that product. Why did I get an email?"

And so you click the email and you realise that you made your first sale online.

Virtual high five!

For me, it was this email:


In case you're wondering what the product was, it's one of the workbooks/journals from The Purposeful Creative.

I am a long time supporter of Arriane Serafico's courses and I have always been vocal about this.

To date, I've taken more than three of her courses and participated in countless Instagram challenges that she hosts, and I always learn something new.

Not only that, I meet amazing women who share the same vision of creating a purposeful and why-driven brand.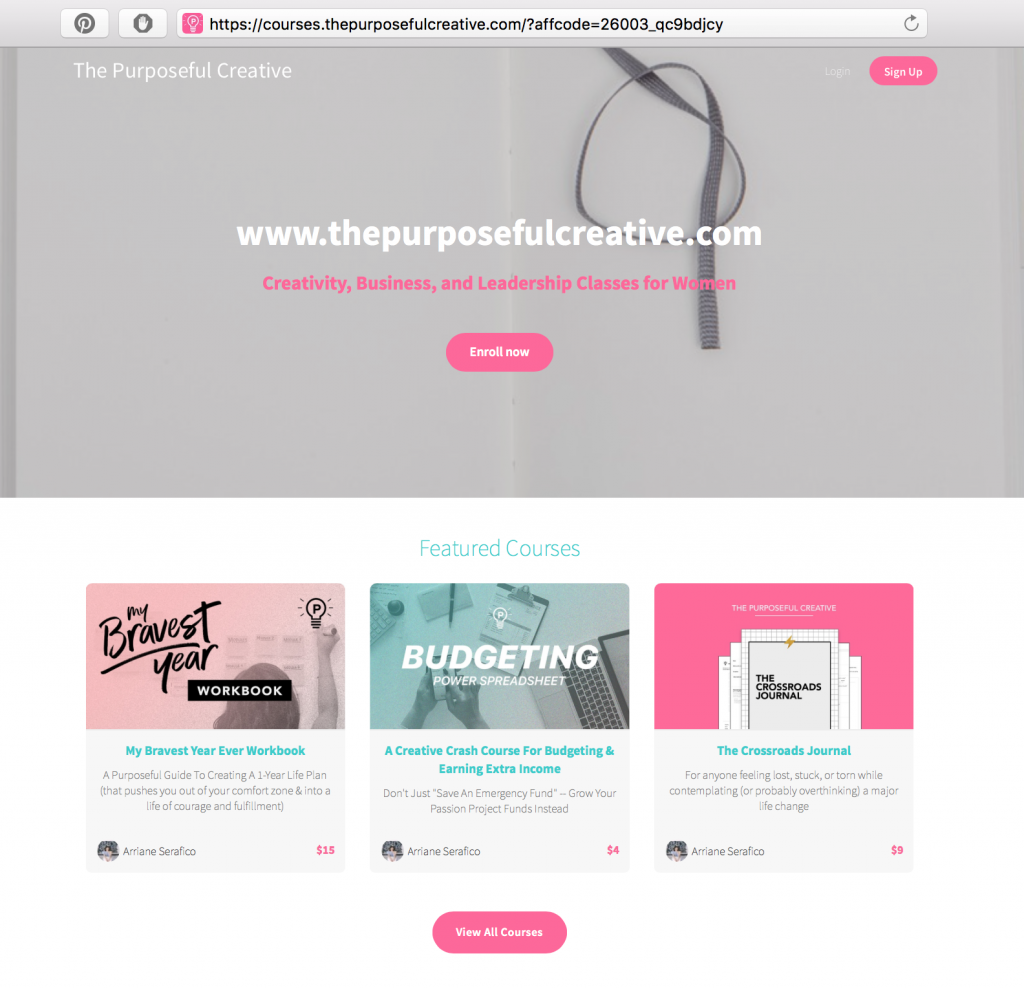 I've been blogging for more than a decade and it was only five years ago that I knew I wanted to start making money online.

It's taken me so long to make my first ever sale, but it only strengthens my belief that making money online is possible.

And I feel like since I've achieved that milestone, my dream of earning a steady stream of money online is within reach.

It's no longer a far fetched dream…I am slowing flowing towards that reality.

The first sale is only the beginning.

Even if it's not a huge amount, I am so grateful that it happened.

So how much did I make?

I made $1.80!

…in my local currency that's P99!

I can buy a meal with that amount.

That sale is my first affiliate sale.
And my first time making money through affiliate marketing.
Looking back, it is with this blog that I have made the most progress in working toward the goal of being a full-time content creator that can travel the world.

It's only been six months since I launched this blog and I am so happy to say that I have made my first affiliate sale.

Though I do want to point out that within my first month of blogging I earned back all the money I invested through a paid sponsored package posts.
Let me know if working with brands through paid collaborations is something you're interested in learning more about.

Breaking even within my first month of blogging was already a good sign for this creative biz.

It's also because before I launched, I knew why this blog was important to me and I had a business mindset.
And so I knew I wanted one of my income streams to be through affiliate marketing.
I had learned a lot over the years with my previous blogs, so I applied the things I've learned to this creative business.

Some of you might be thinking "Why is she making such a big deal of out making $1.80?"

It's a small amount, right?

But even if it's a small amount it still matters because imagine when I'm able to make ten affiliate sales or fifty…or even a hundred.

There's so much potential in earning and that makes me excited.

Before I go on, I'd like to explain what affiliate marketing is if you're not familiar with the term.

What is affiliate marketing?

Affiliate marketing is when you earn a commission from a product that you've promoted.

This can be done through link sharing, meaning you give the link as is to someone directly or you insert the link in one of your posts online.


What affiliate marketing sites do I recommend?
One of the biggest and trusted affiliate sites is ShareASale.
I tried applying to this site when I just started my blog but got rejected.
Maybe it was because my blog was super new, but I'll definitely be re-applying again after a few months.

What I did was to apply to the affiliate programs of specific products and services and I had to apply through a different site.


Here's a list of some of the products & sites that I am an affiliate for:
Flodesk for email marketing service
The Content Planner for the physical planner that I use for my blog and social media
Legal templates to protect me and my blog
These 2 eBooks to help you start monetising your blog
Podia to host my blog shop & online course
Styled Stock Society for beautiful stock photos to create blog graphics and Pinterest pins
The difference between signing up to be an affiliate through different sites and going with a site that partners with multiple brands such as ShareASale is that each time you sign up to be an affiliate for a specific product through a different site, you have to read their terms & conditions.

Each affiliate site has its own rules especially when it comes to paying the commission.
For example, a site may only pay you once you reach a certain amount of sales while another could pay you every end of the month, so be sure to read the terms & conditions to understand what you're signing up for.

What is the process like when applying to become an affiliate?

It can be easy and fast or very complex depending on what you're applying for.

Typically the process looks like this (based on my experience):

Check the website of the product you'd like to promote–usually, there's a tab or section that will say "Become an Affiliate" or "Apply for the Affiliate Program"
Be sure to read the terms & conditions because each site has different rules and regulations and payout schemes
Provide your information (personal details and payment details)
Depending on the site, they'll screen your application
For sites that have an easy application process, so as long as you agree to their terms, they'll provide you with your unique affiliate link, which normally looks like this:

And that's it!

Now comes the challenge of gaining a potential buyer's trust and then convincing them to make the purchase.


The different ways you can promote your affiliate links

Before going into the different ways you can promote your affiliate link, here's my top tip:

Be authentic.

People know when you're being sales-y or are forcing the issue. And they can tell when you really support a product or are just doing it for the cash.

There are ways to promote your affiliate links without being sleazy…and that means really believing in the product you are promoting.

Here are the different ways you can promote your link and make money online:

Send out direct links
This does not mean that you randomly message your friends or relatives telling them to buy a product you're promoting.

Usually, when I send out direct links, the conversation is natural. I only end up giving the link because we're already talking about online courses or blogging and the person I'm talking to asks me what courses I've taken or what blogging resources I use.
Then when I ask them if they're interested in me sending them the link and they agree, that's the only time I give them the affiliate link.

Word of mouth
This goes back to the first point. I never go into a conversation thinking "I'm going to make an affiliate sale".
Rather, I keep it natural and genuine. I don't like being sales-y–that's not me.
People can tell when you're being genuine and believe in a product, so I normally talk about a product or online course I've taken that I really enjoy and the conversation naturally flows to talking about the specifics.

Don't overthink it and just be genuine with the products you promote!

Link it on your blog & social media posts
This method is more direct in the sense that you already talk about the product and how you love it and link it in the text.

Only include the links in relevant blog or social media posts and ALWAYS, ALWAYS disclose that you have an affiliate link and what having an affiliate means for the person who will click the link.

This is the disclaimer I include in every blog post that contains affiliate links:

"Disclaimer: I use affiliate links in this post. This means that if you purchase a product linked in this post, I earn from the referral. However, you don't get charged extra. Click here to read the full disclosure. "

And you must include that disclaimer before sharing the link, not after.

This way, your reader knows that by clicking your link, you receive a commission.

You have to be transparent.

When you plan out your content ahead, you can see which posts are relevant in including these links. When the post is relevant, you'll be able to write about it in a natural way and not just dropping the links here and there.

Write a review
This could be in the form of a blog post or video. You can talk about the specifics about the product–how the product helped you or improved your biz.

If you're promoting an online course, what are your key takeaways?

What pain points did it address and what are the tangible results you saw after completing the course?

For example, the first time I took the Braver Goals course, I was struggling with completing a novel I'd been working on for almost a decade. The strategies and tools I learned in the course trained me to be more consistent and eventually I completed my novel! Now I'm happy to say that I'm in the process of having it published.
Website ads
Instead of getting ads, why not make your own?

Create an ad photo on Canva and upload it to your header, footer, sidebar or maybe even inside your blog post!

Other things to note about affiliate sales:

One thing I want to learn more about is how to find out which specific method or promotion channel I made my first affiliate sale through.

Was it through one of my blog posts or through direct link sharing?

By knowing which promotion channel I made the sale, I can focus on that because that's the method that works for me.

That's why it's so important to track your progress and review what works and doesn't to focus on the things that do work.

Have you made your first affiliate sale or are you looking into earning through affiliate links?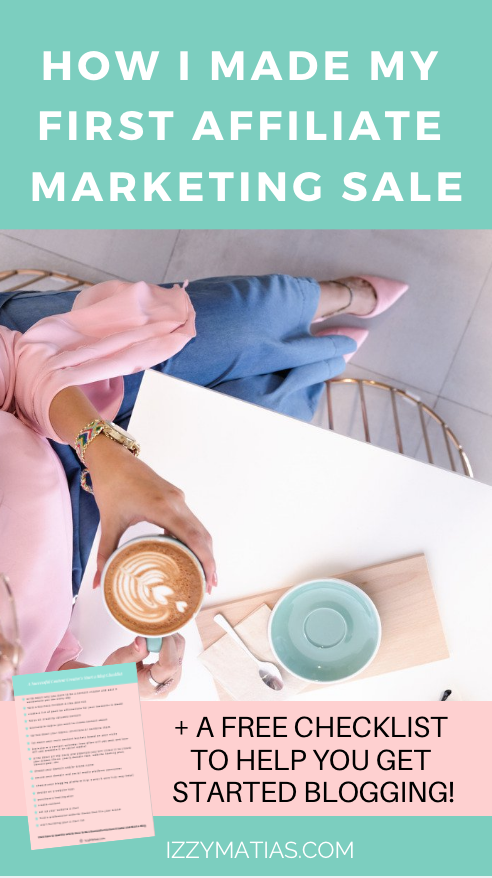 PIN THIS!