The Content Planner Review: 1 Beautiful Planning Tool I Absolutely Love
The Content Planner is not another pretty thing that you buy on impulse and then never use. 
Yes, it's beautiful. 
And I'll admit that its aesthetic and design was a significant factor in purchasing this planner even if it's the most I'd spent on any type of planner. 
But it's not intimidating to use. 
I didn't have the typical blank page woes that you get when you're about to use a new and pretty notebook. 
Instead, I was excited to start planning and writing.
Even if at times, I would end up changing plans, which meant I had to erase or cross out items. 
The Content Planner is one of my favourite planning tools and one of the investments I made for my blogging business. 
It is an investment in my growth. 
While I do plan digitally, I also love having a physical planner to map out my goals and content plan.
Too busy to read the whole post? Pin this for later!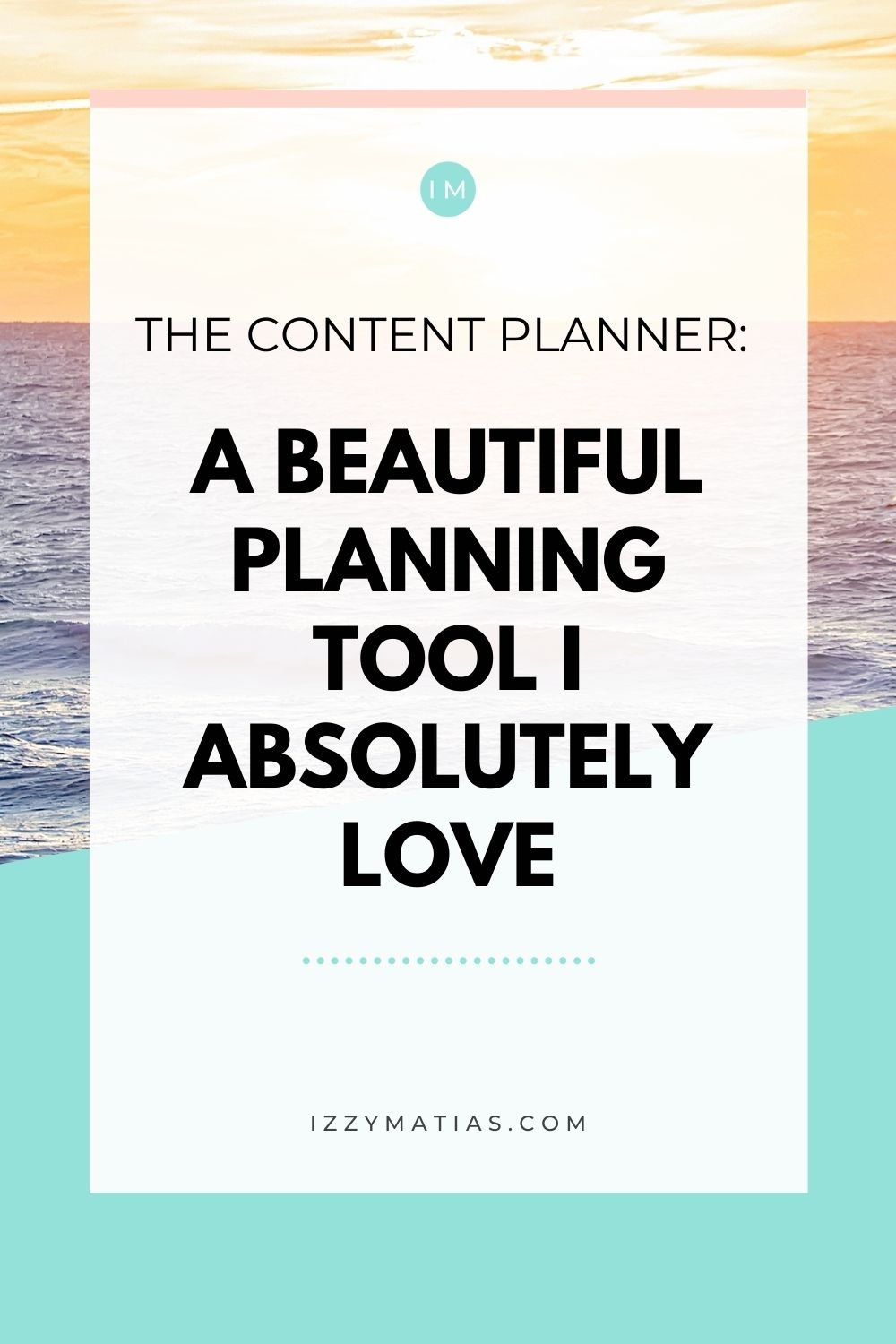 What is The Content Planner?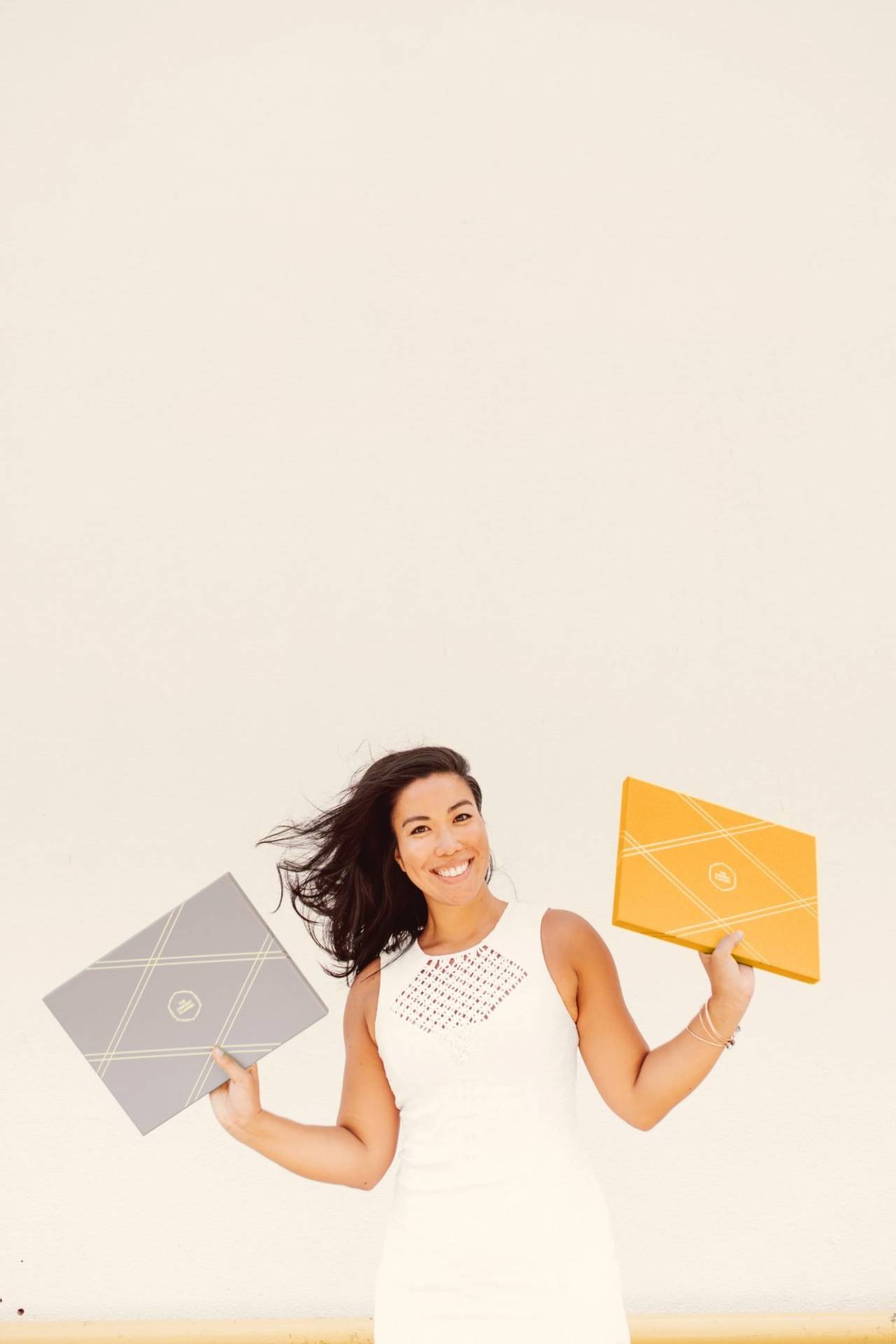 The Content Planner is a physical planning and goal-setting tool. 
Kat Gaskin, a planning expert and graphic designer, created The Content Planner to help creatives, creators, and entrepreneurs plan their way to success. 
One thing that makes The Content Planner unique from other planners out there is that it's a collaborative process with its community. 
Each year, the community votes which colour pairings will be the coming year's official colours. 
Last year the winning options were: 
Sunshine Yellow Planner and Emerald Sea Box
Powder Blue Planner and Pacific Blue Box
100 copies of an exclusive Midnight Black edition was also released!
Once that that colour option sells out, it's gone for good.
And depending on the feedback the product gets, certain features are revised to improve the product. 
The Content Planner Features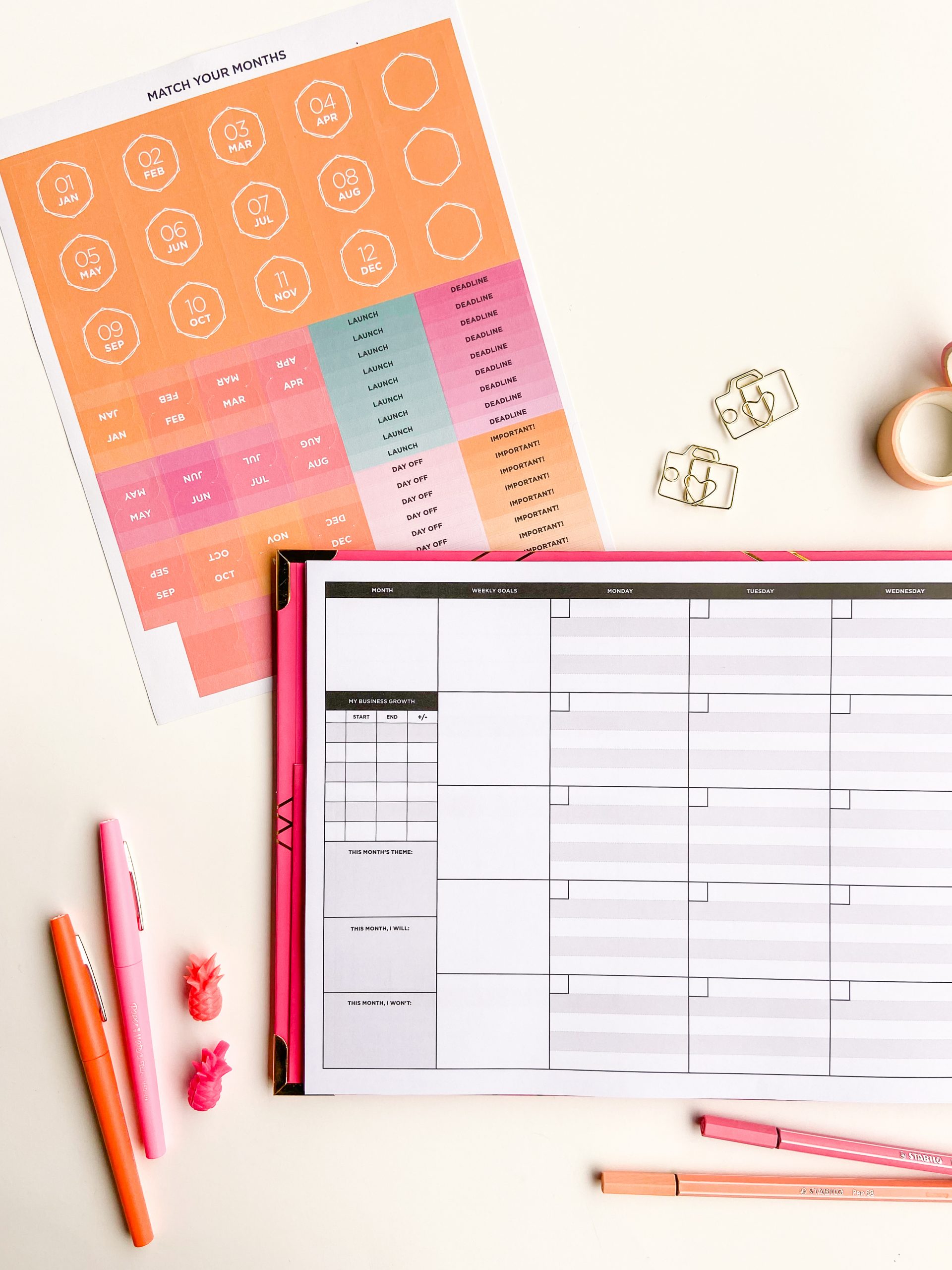 Now to discuss the features of the planner. 
Beautiful protective box
Not only does the box serve as a way to keep the planner in a protective case, but its design is so classy. 
Last year, another element was added: on-brand paper lining. 
Though there was a delay in shipping because of this, it elevated the whole unboxing experience. 
It's fillable 
No matter when you get it, the planner will always be relevant. 
And you can maximise its use because it's up to you when you want to start using it and if you're going to take a pause and then resume two or three months later since there are 15 months worth of fillable planning space.
You decide! 
Monthly spreads
The monthly spreads help you see the bigger picture for the year.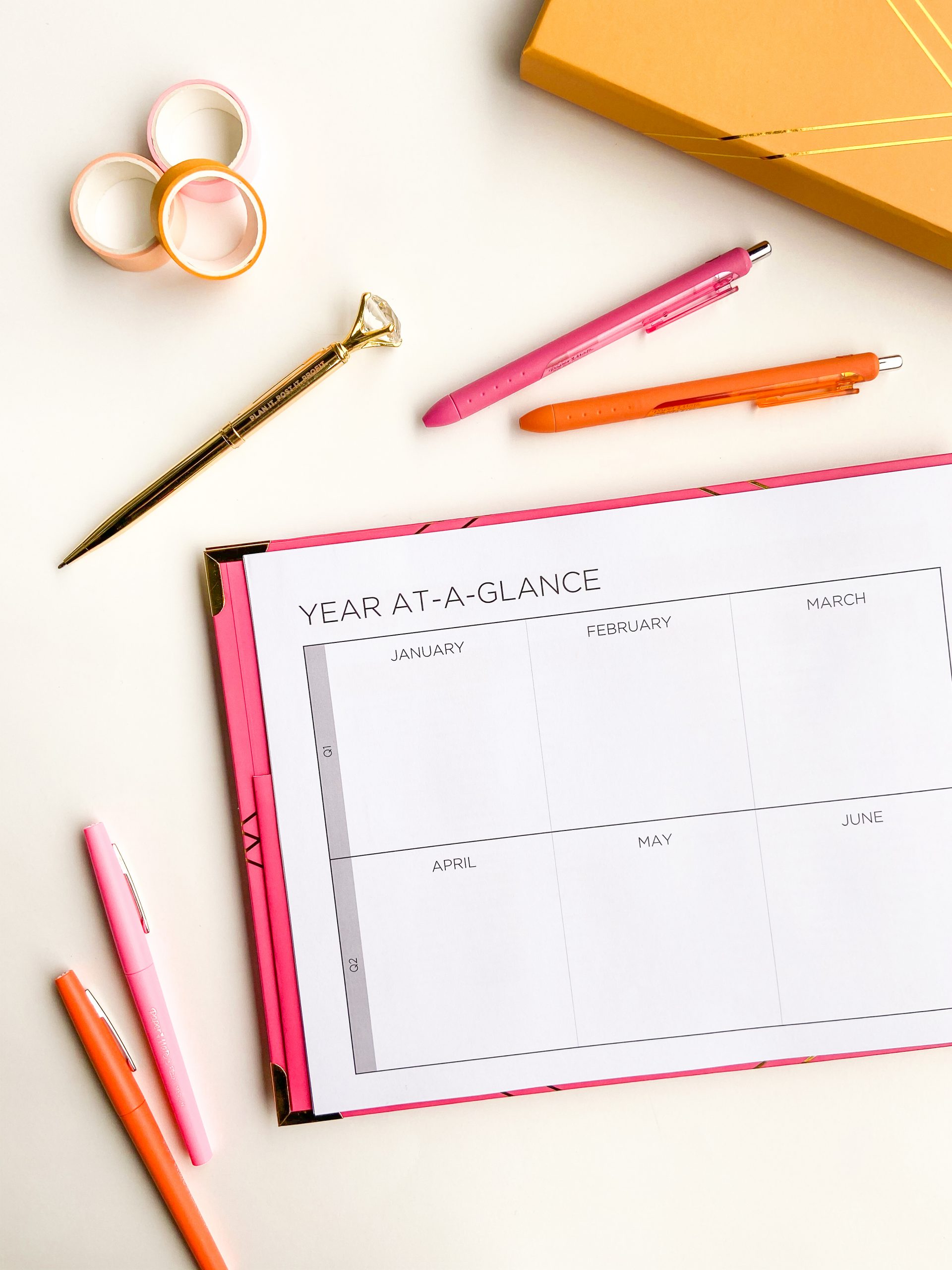 Marketing guides 
3 types of guides come with the planner: 
On Your Radar – this helps you prepare for upcoming marketing dates in the coming months! For example, in May, it already reminds you to start thinking and planning for Christmas content.
Monthly themes – having a theme for the month will help you when it comes to brainstorming on what to post, and you can align your posts for both your blog & social media with your theme.
Holidays & marketing dates – a list of holidays and notable marketing  US, Canada, UK, Australia + New Zealand dates to take note of.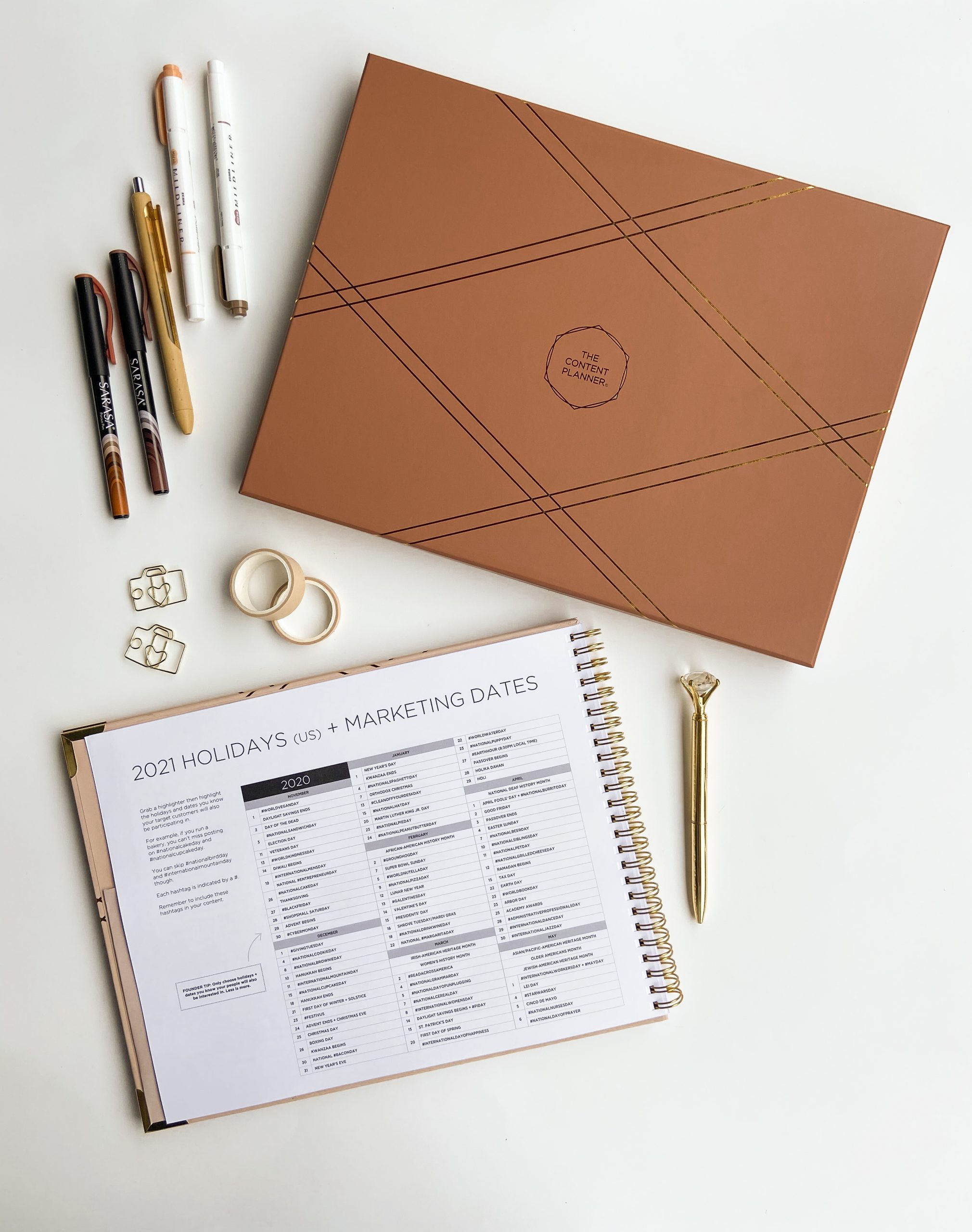 Goal setting sections 
Before the monthly fillable spread is a sheet where you write your monthly goals, the on-you-radar area, hashtags to use, your hitlist & collaboration list as well as a space for jotting down whatever else you need to to your goals 
Dreamspace 
A blank page beside the goal-setting page where you are free to brainstorm to your heart's desire
Planner stickers
To make it easier to write your tasks into the fillable monthly spread are stickers for different platforms!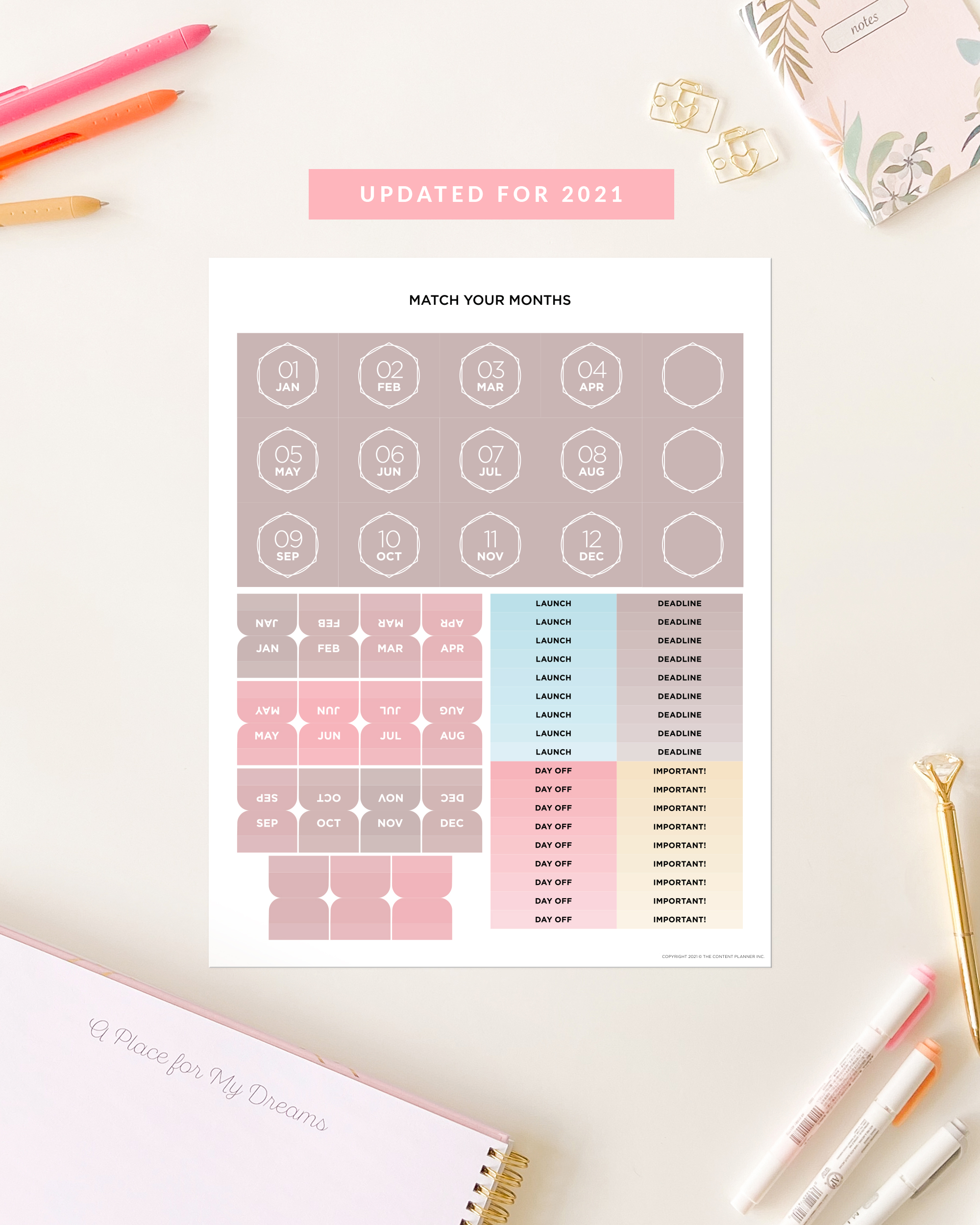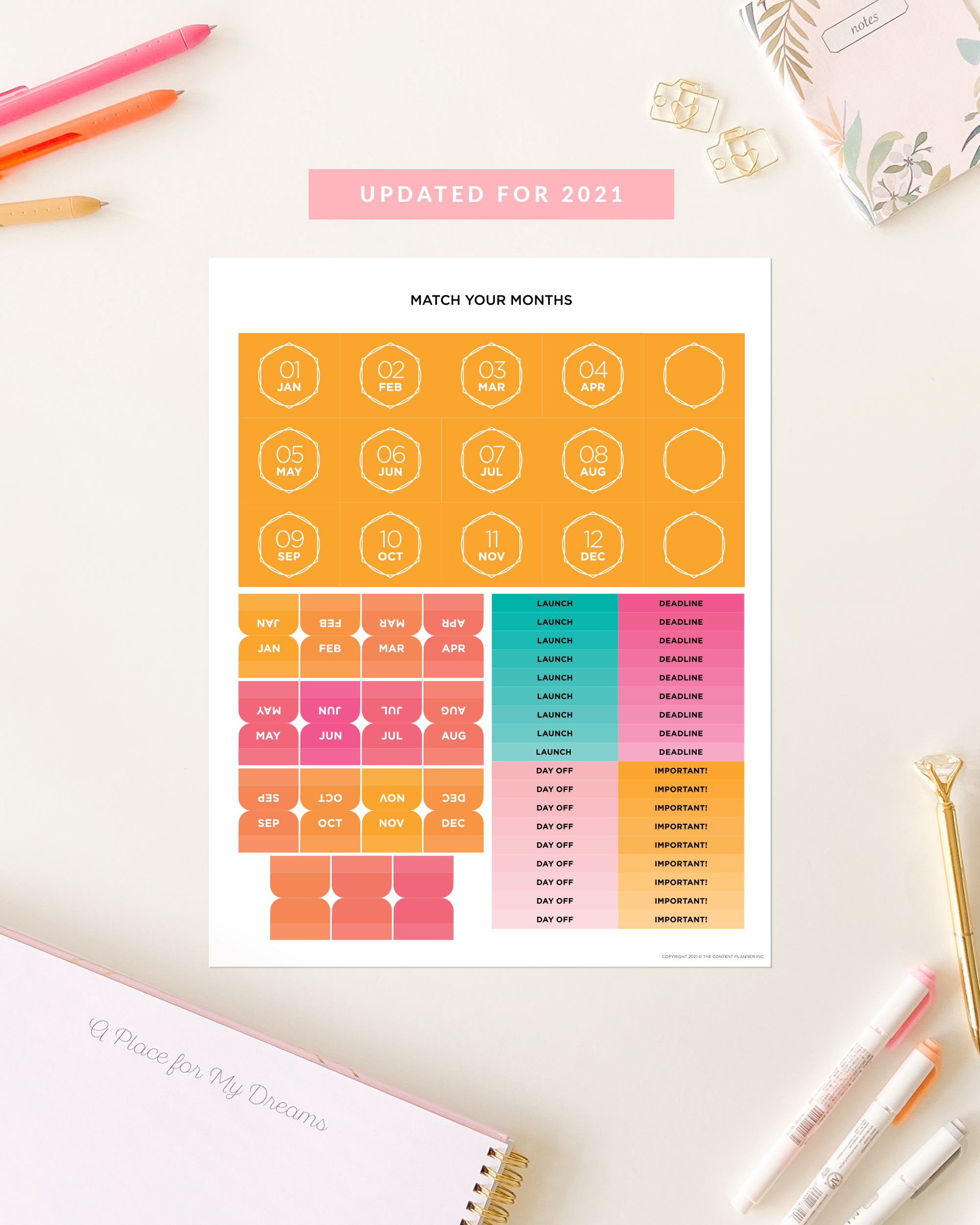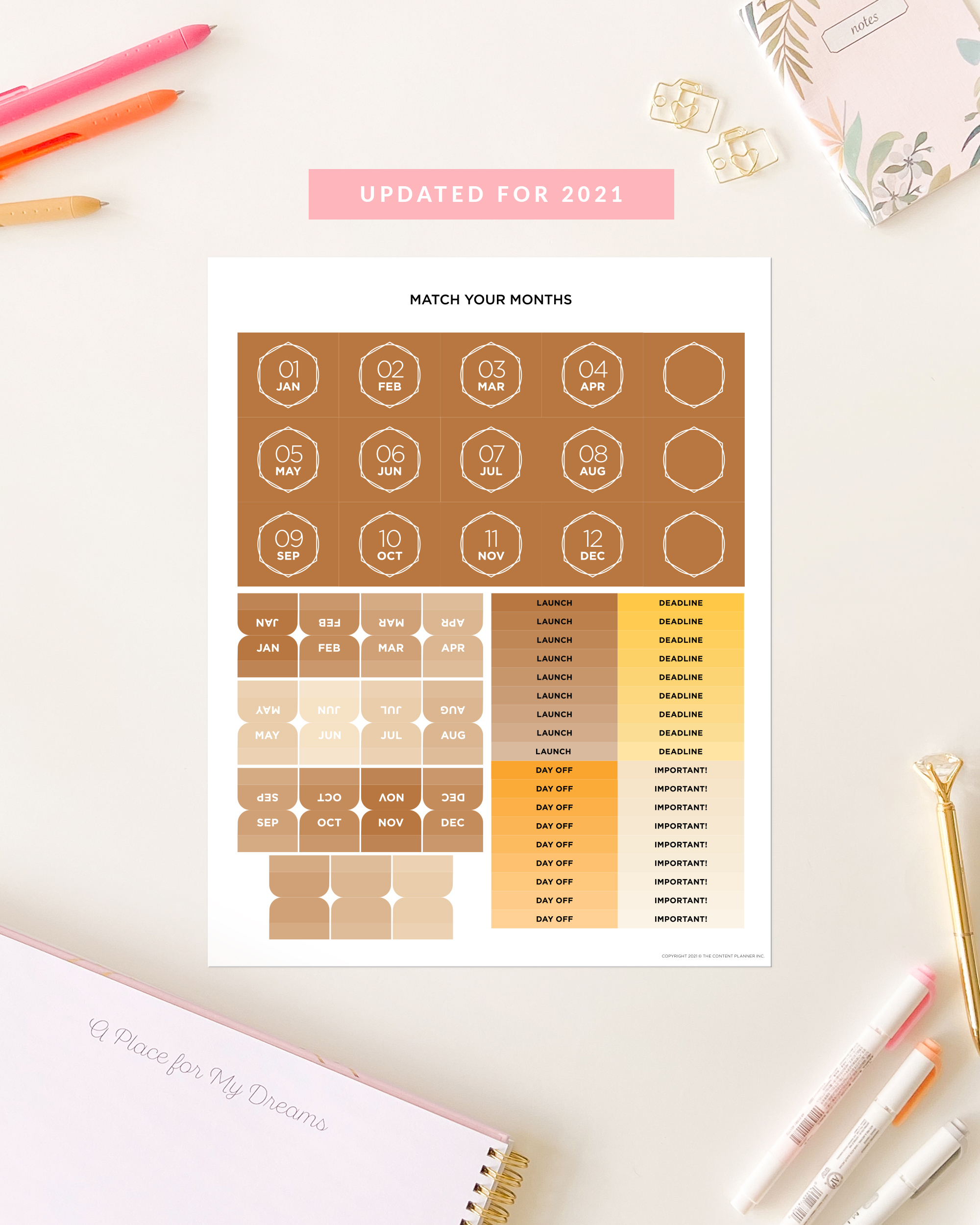 Product Specifications
Planner size is 8.5 x 11 inch landscape planner and the paper is 120 gsm
My Favourites
The planner stickers are definitely a favourite!
It reminds me of scrapbook making. Plus, the stickers add more colour to the planner. 
I also love that it's fillable because that way I know, I can really use the planner as much as I want to.
I don't have to skip any pages if I decided to take a one or two-month break. 
Am I repurchasing? 
YES! And if you want to get your own content planner, you can do so by clicking this link.
What's Different for The Content Planner 2021
Monthly tab stickers have been redesigned and are wider
A dotted grid in the goal-setting page 
A list of planning affirmations 
The business growth section of the monthly spread is fillable now too
Monthly spread's shaded areas are lighter to accommodate pencil and lighter ink colours
Redesigned stickers that are now square-shaped
Three colour options: 

Coffee & Cream
Mango & Tropical Pink
Fresh Linen & Blush
I'm so excited about all these improvements and can't wait to place my order this year. I'm planning on getting the Fresh Linen & Blush option. 
2021 Colour Options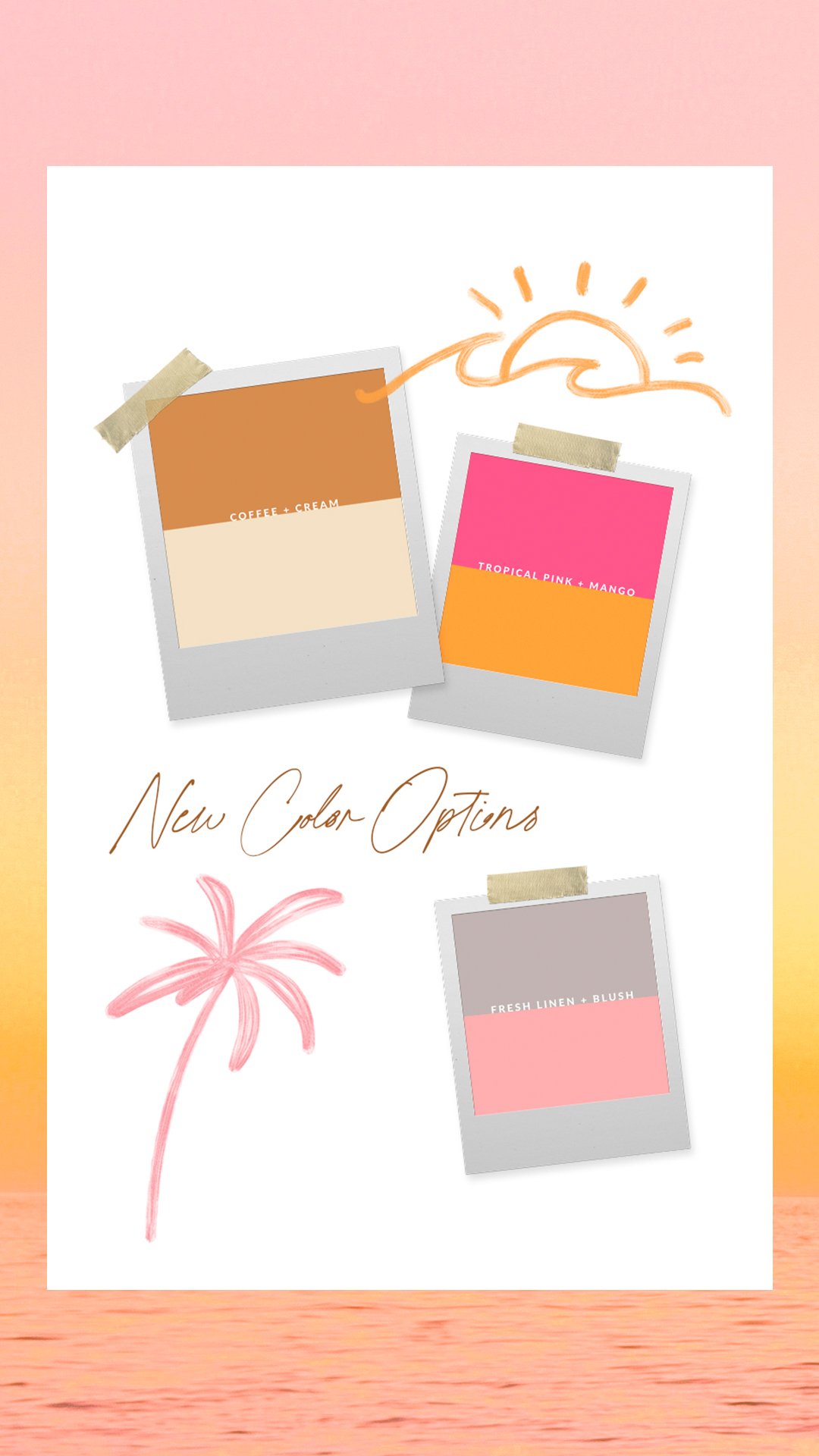 Here are the color options: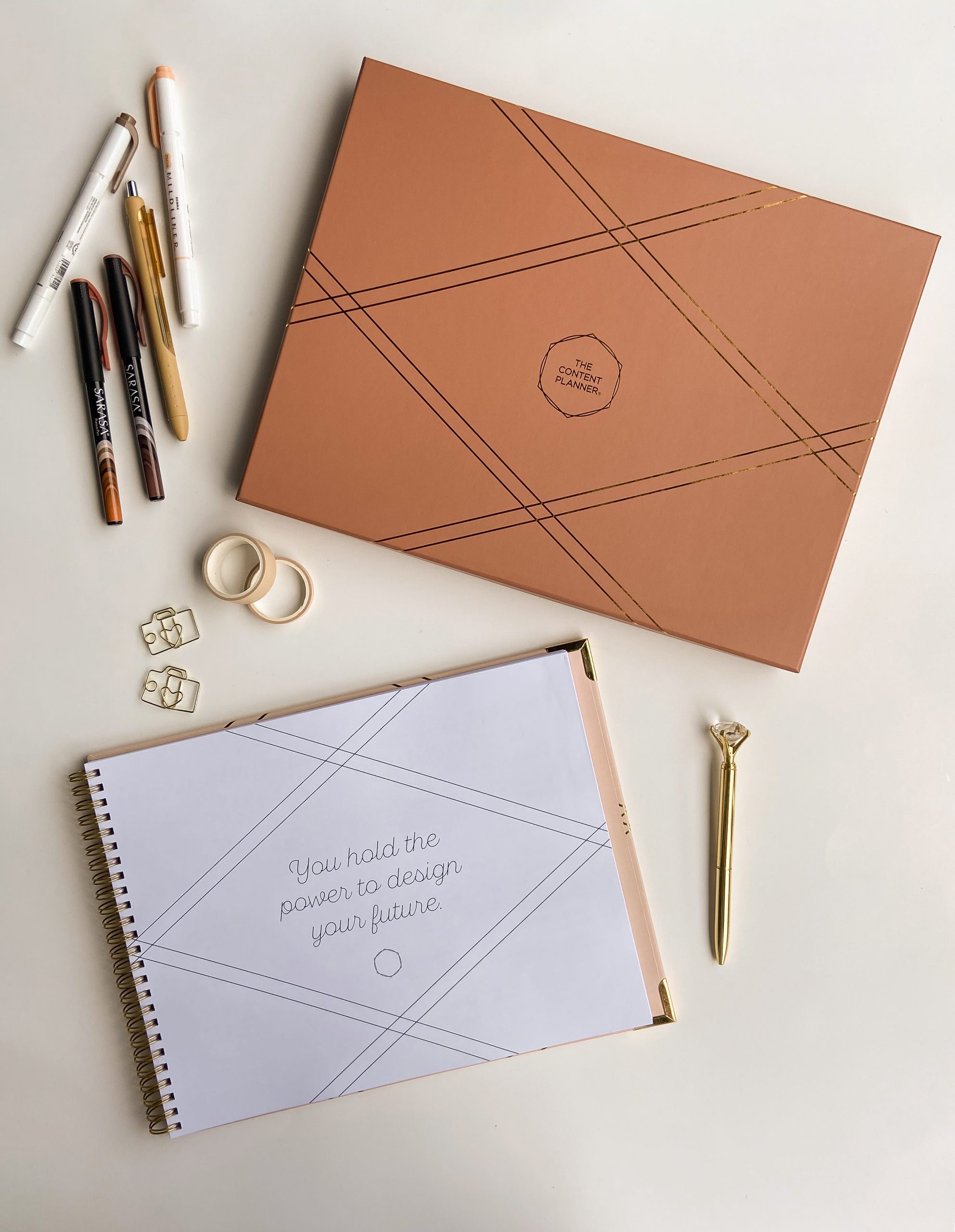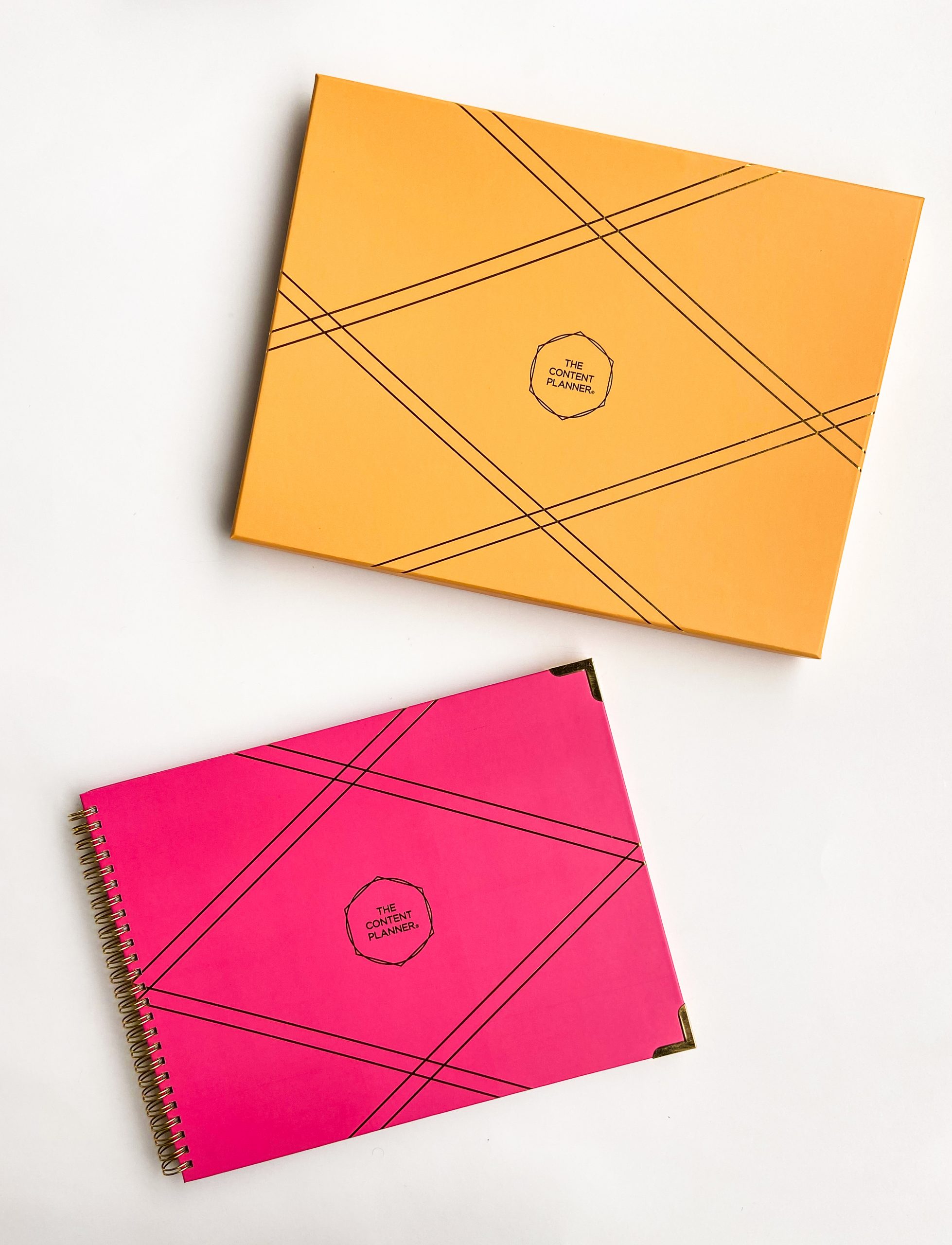 How can you get one? 
You can order the planner by clicking this link.
What do you think of The Content Planner? Will you be trying it out?