South Korea Itinerary: How To See 18 Places In 5 Days (First-time South Korea Travel Guide)
South Korea: the land of kimchi, soju, and Korean dramas. 
South Korea was never on my travel bucket list until I started watching Korean dramas (Kdramas). 
My first foray into the Kdrama world was with the hit show Goblin (also known as Guardian). 
I didn't know I would love Kdrama this much, but I'm glad I got sucked into the Kdrama world. 
It's opened my eyes to a new culture and lots of feel-good shows. 
Albeit, it's not a Kdrama without the drama and of course the occasional cry-fests when emotional scenes punch you in the gut.  
And so, after watching countless Kdramas such as Itaewon Class, I'd been longing to go mainly to visit filming locations and try authentic Korean cuisine.
Related: No Brand Korean Store
If there's one thing you'll notice about Kdramas, it's that the characters are always eating…and it makes you hungry too!
A few years ago, my cousin was going to get married in South Korea.
My schedule and funds didn't make it possible to fly out – though it would have been fun to experience a Korean wedding. 
Finally, in October of 2019, I was able to travel with my two close friends Kelsey and Teddy, and even meet up with my cousin. 
In truth, this trip wasn't something we'd been planning a year or many months ahead. 
The decision to travel to South Korea was a spontaneous one.  
Too busy to read the whole post? Pin this for later!
It began when I saw a post on Kris10 Travel Inc's Facebook page advertising a 5-day South Korea itinerary autumn tour package at a very affordable price. 
I had just gotten back from a trip to Osaka and I was itching to travel again.
I shared the link with my two close friends and within a week or so we'd decided to book the tour. 
Looking back, I'm glad we got a chance to visit South Korea before the pandemic broke out. 
I'm sure we'll be able to travel again, but the question of when cannot be answered with a definite date. 
It all boils down to when a) there's a vaccine and 2) when it's safe to travel again. 
Now, I'm stuck at home (the introvert in me doesn't mind all this time at home!), I finally got to write this post.
This post is a way to share my South Korea itinerary with you as organised by Kris10 Travel Inc, document my experience and reminisce the good times. 
There's much I want to experience which only means that I'll definitely have to go back! 
Travel Preparations & Tour Inclusions
The tour package we booked was called Affordable Autumn in Korea, and it included the following: 
Flights & airline taxes 
Accommodation for 4 nights 
Majority of meals (Breakfast, lunch and dinner for Day 2 and Breakfast & lunch for Days 3-5) 
Entrance fees & tours to the places we were visiting (we visited a total of 18 sites) 
Visa assistance fee (they helped us process our visa; all we had to do was submit the requirements) 
Travel insurance 
They also reminded us to prepare money for the following:
– Travel tax (roughly $30)
– Tip for tour guide ($25)
– Baggage allowance (approximately $30) 
How Much It Cost 
The tour package cost approx. $598 
I brought $500 as pocket money as I was planning to buy clothes but ended up spending only $100. 
The money I spent was mostly on food (the 1 meal/day that wasn't included in the tour) and lots of snacks and souvenirs (food again) for family & officemates.
Day 1: Arrival 
Our flight departed in the afternoon and we arrived at Incheon airport past dinner time. 
The first thing we did was to claim the pocket wifi (4G Unlimited data) we rented through Klook in one of the counters at the airport. 
We only rented 1 device since we figured the three of us would stick together throughout. 
And it was a good decision since we could get internet access during our bus rides. 
I can't remember if our accommodations included wifi, which it probably did since South Korea is known for its fast wifi.
After Teddy claimed the pocket wifi device, we had to wait for the rest of our tour group at one of the spots in the airport. 
While waiting for the rest of our group, we bought midnight snacks at a convenience store called CU which was beside our waiting area. 
And yes, it does sound like "See you!" and there's even a tagline in the store signage that says "Nice to CU."
I found that both cute and funny.
While browsing the snack selection, I got excited when I saw Loacker dark chocolate–one of my favourite chocolates which isn't readily available in grocery stores back home.
We also bought Calbee honey butter chips, which became our go-to snack throughout the trip. 
Once our tour group was complete, we alighted our tour bus and our tour guide, JC, told us what to expect for our first day of activities the next day. 
He explained to us that Koreans are respectful of each other.
This is also something I noticed from watching lots of Korean dramas. 
When two strangers meet for the first time or when addressing someone older than you in age or in terms of position at a job, you address them formally. 
It's only when you're close to that person or when that person tells you to "speak casually" that you can talk to them using informal phrases and words.
Speaking of Korean phrases, JC also taught us a few: 
Hello – "Annyeong haseyo". 
Thank you – "Kamsamida".  
My friends and I were familiar with these phrases because we picked up a few Korean words after watching so many Korean dramas. 
After JC informed us of the schedule for the next day, we felt excited to finally be in South Korea. 
We arrived at our hotel past 11 pm and got ready to go to bed so that we could finally begin our adventure in a few hours.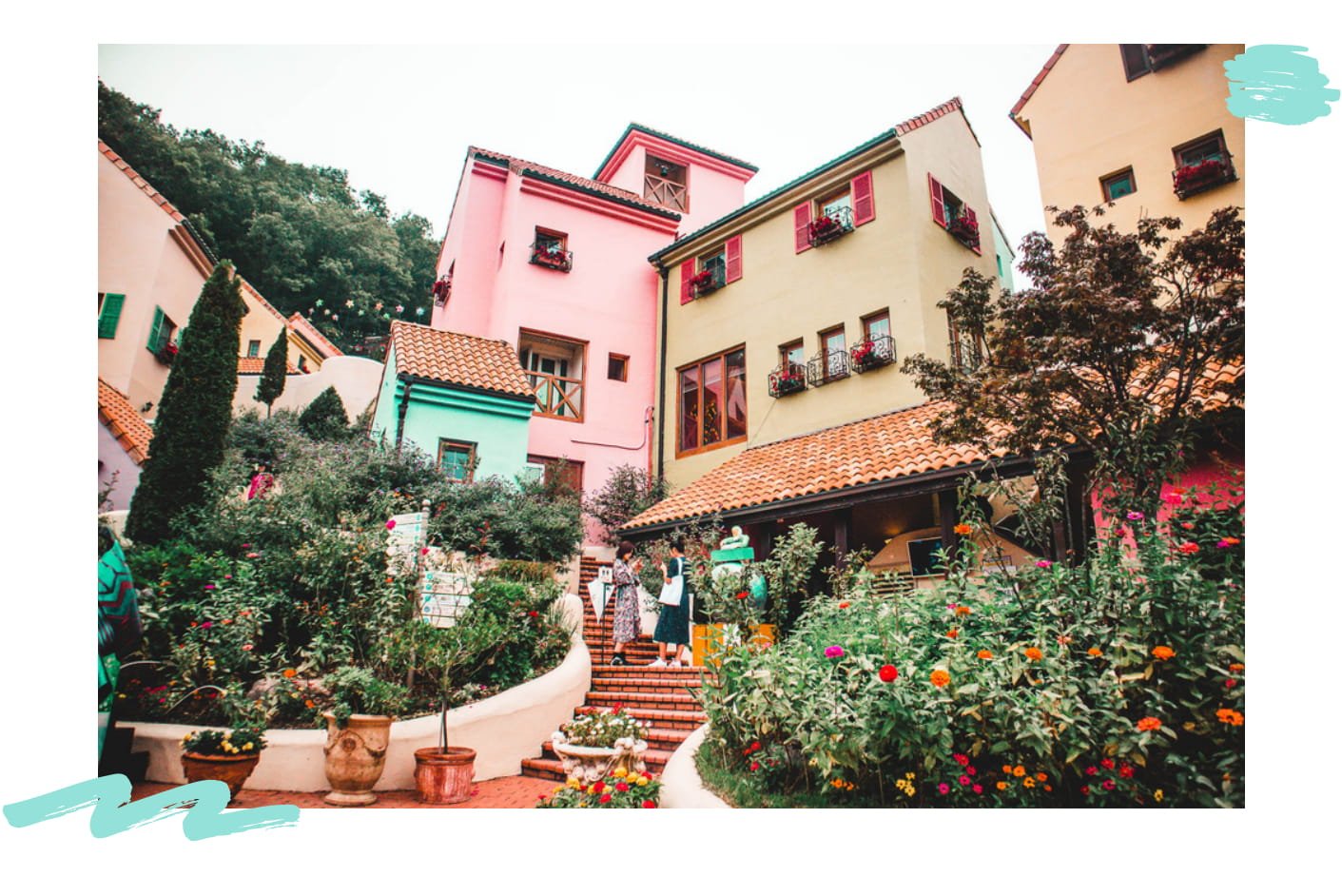 Day 2: Petit France, Nami Island & Naksansa Temple 
While I couldn't sleep at all the night before, I was excited to finally start exploring South Korea. 
I got up at 6:30 am so that I could shower, pack and eat breakfast in time for our 8:30 am call time. 
When we went down to the buffet area, the first thing we noticed was the large glass windows. I was thrilled that our table was overlooking the sea.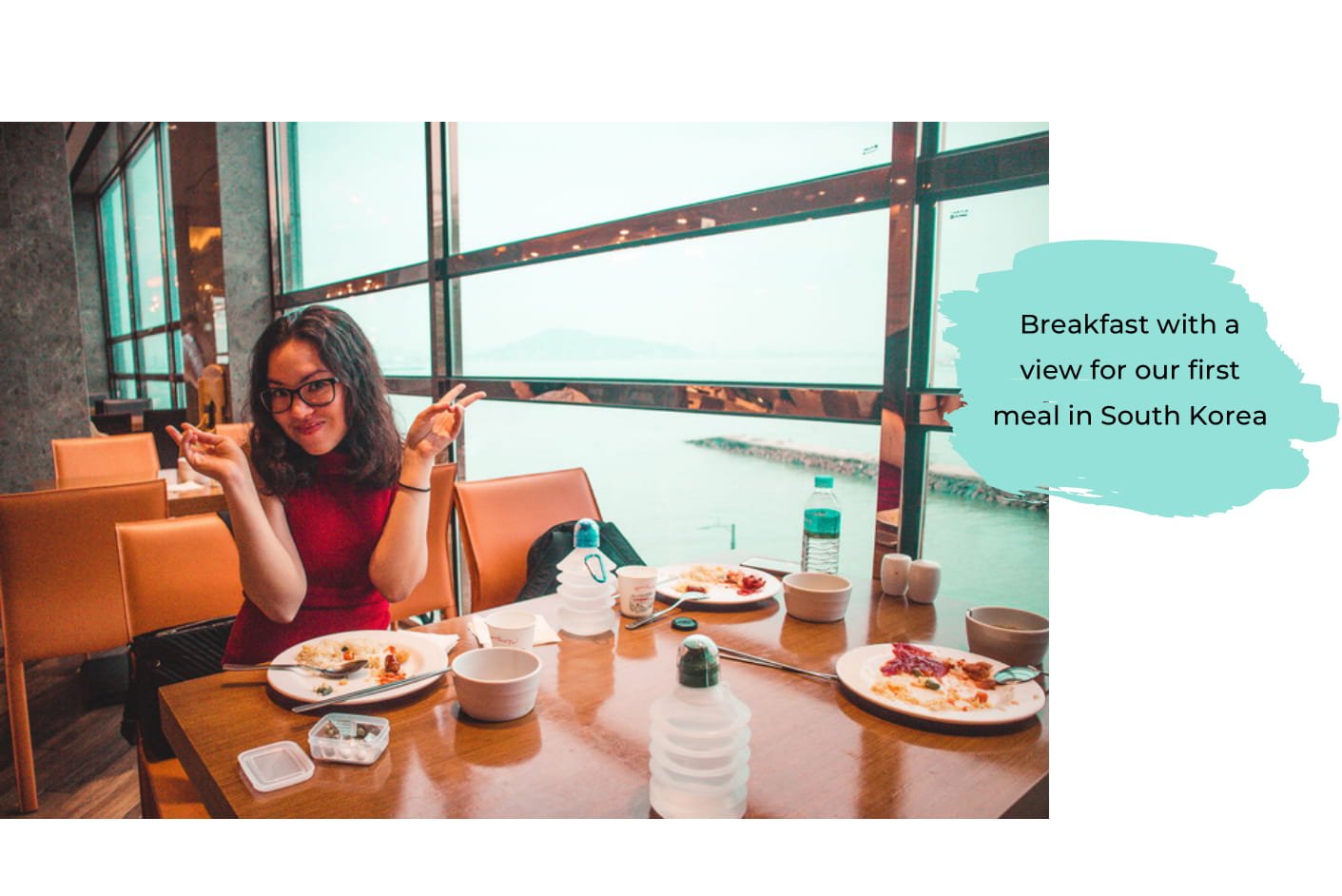 After eating, we brought our luggage to the bus and choose our seats for the rest of the tour. 
It wasn't time to leave yet, so Kelsey, Teddy and I headed inside the 7-Eleven store beside the hotel and bought snacks for the bus.
Can you guess what these snacks were?
They were more bags of Calbee Honey Butter Chips! ?
We practically ate it every day that we joked that it would have been great if our trip was sponsored by Calbee. 
Since the drive to our first stop of the day was more than an hour away, I took a nap. 
We arrived at Petit France, a whimsical place that feels like you've stepped into one of those small European towns. 
Petit France is also a famous Korean drama shooting location for shows like Secret Garden and My Love From the Star. 
Though I had not watched either of those shows before visiting. 
I even spotted a statue of The Little Prince. 
We had an hour to go around the place, so we took lots of photos.
Petit France was a colourful place to visit and can definitely be explored in a short time. 
If you wanna explore more of Petit France, you'll have to allot more than an hour here. 
We were on a tight schedule, so we only had an hour to roam around before we had to go to Nami Island. 
As our meet-up time approached, it started raining. We weren't able to bring an umbrella with us, so we had to go to the convenience store (It was CU again) across the street and purchased overpriced umbrellas.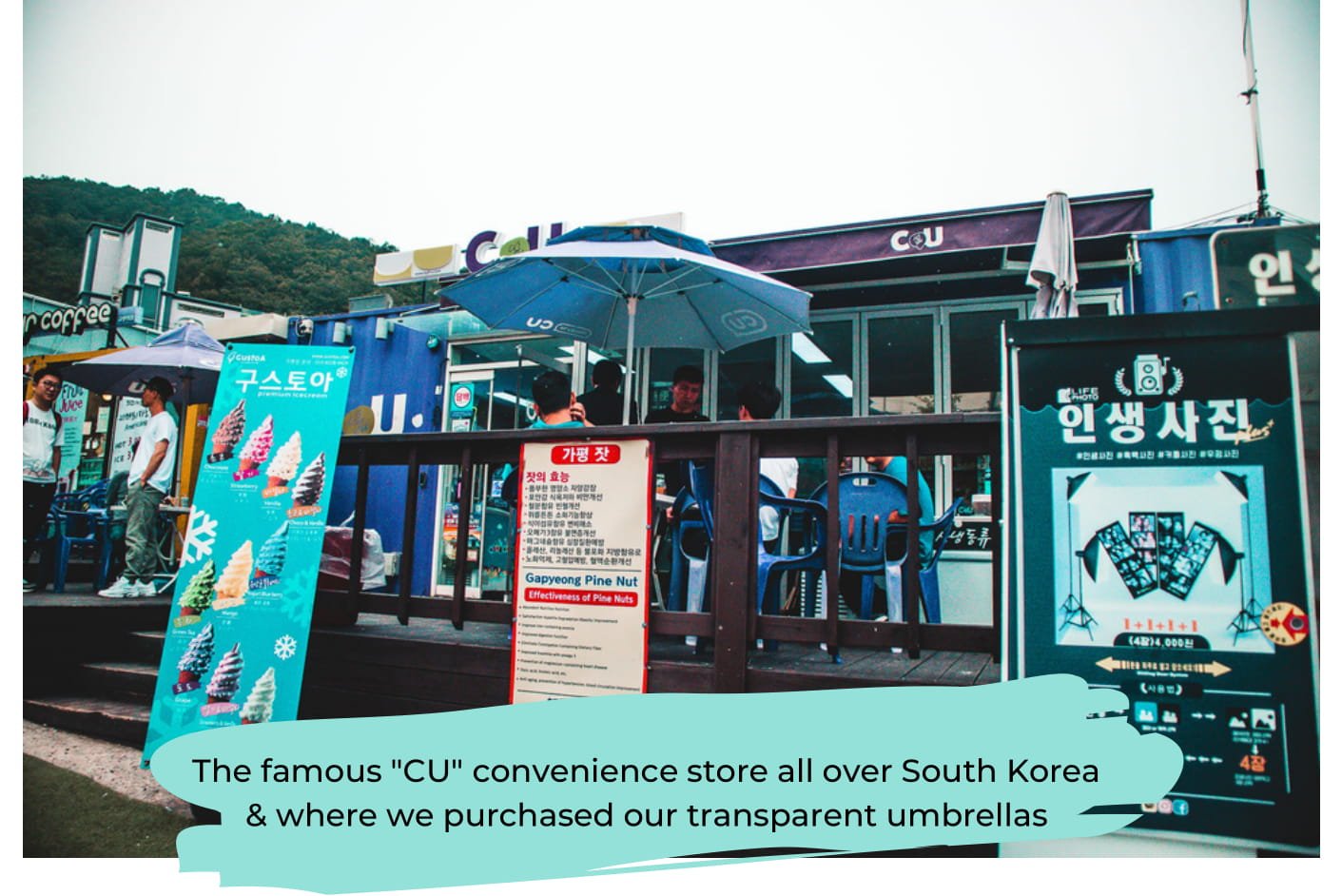 The only good thing was that the umbrella was transparent, so it definitely looked cute in photos.
We then spotted a bus stop near the convenience store and decided to take more photos.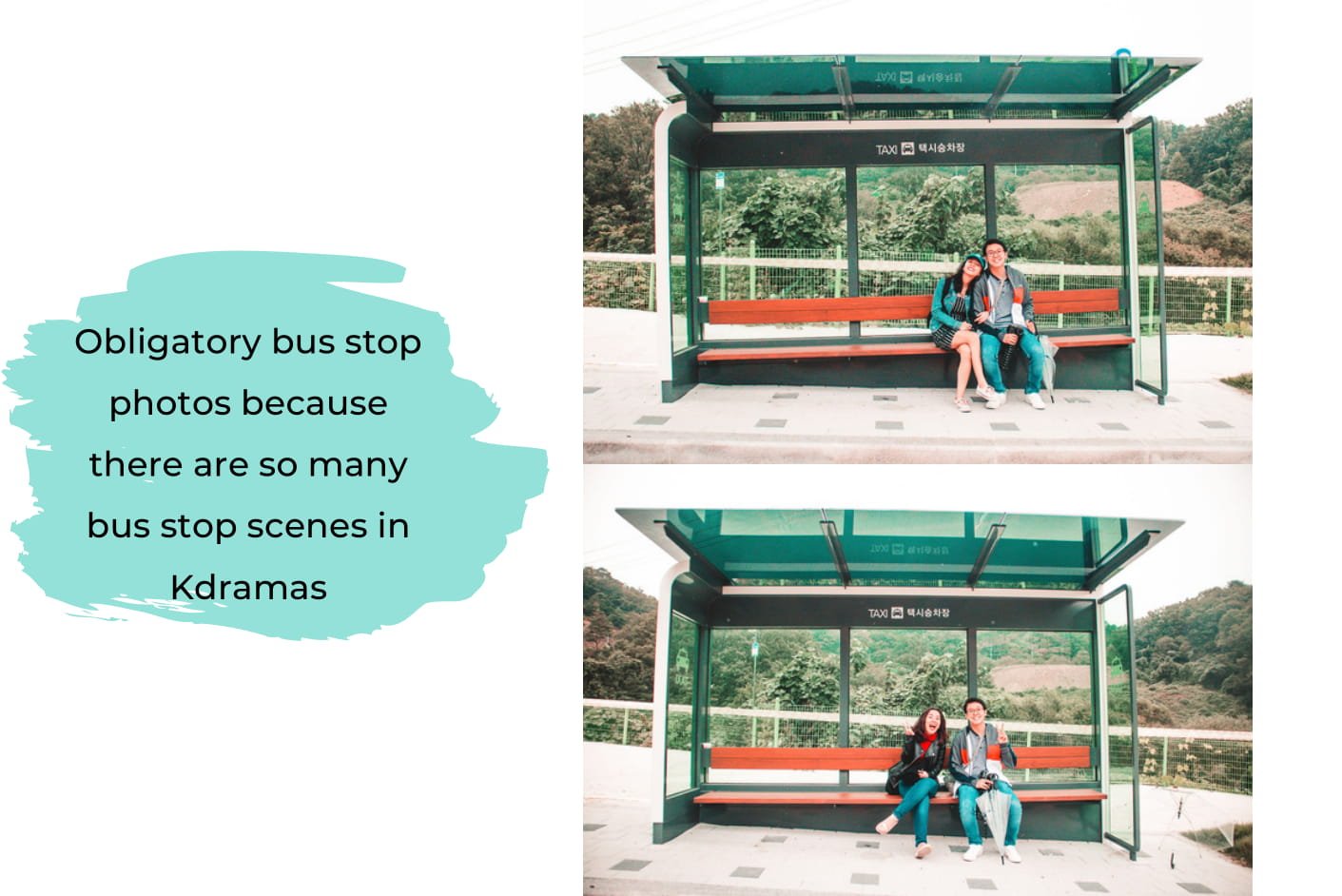 Not long after, it was time for us to meet up with our tour group and proceed to our next destination: Nami Island.
On our way to Nami Island, our tour guide JC told us more about South Korea how it has nine provinces, and the perfect weather is during autumn and spring.
And speaking of the weather, he also mentioned that everywhere in South Korea, they experience snow. 
He then went on to talk about Nami Island and how it was named after General Nami, a hero from the last chosen dynasty.  
Nami Island is known for its several pine tree lanes and is another famous Kdrama shooting location of Winter Sonata. 
However, before entering Nami Island, we had our lunch break (already paid for as part of the tour package) at a Korean barbeque place beside the ferry dock. 
After a filling lunch of chicken barbeque with lettuce, rice, gojuchang (red chilli paste) sauce and water, it was time to head to the ferry dock. 
There, our tour guide gave us our tickets to enter the ferry so that we could get to Nami Island. 
It was still raining when we arrived in Nami Island, so we had to whip out our transparent umbrella while taking photos.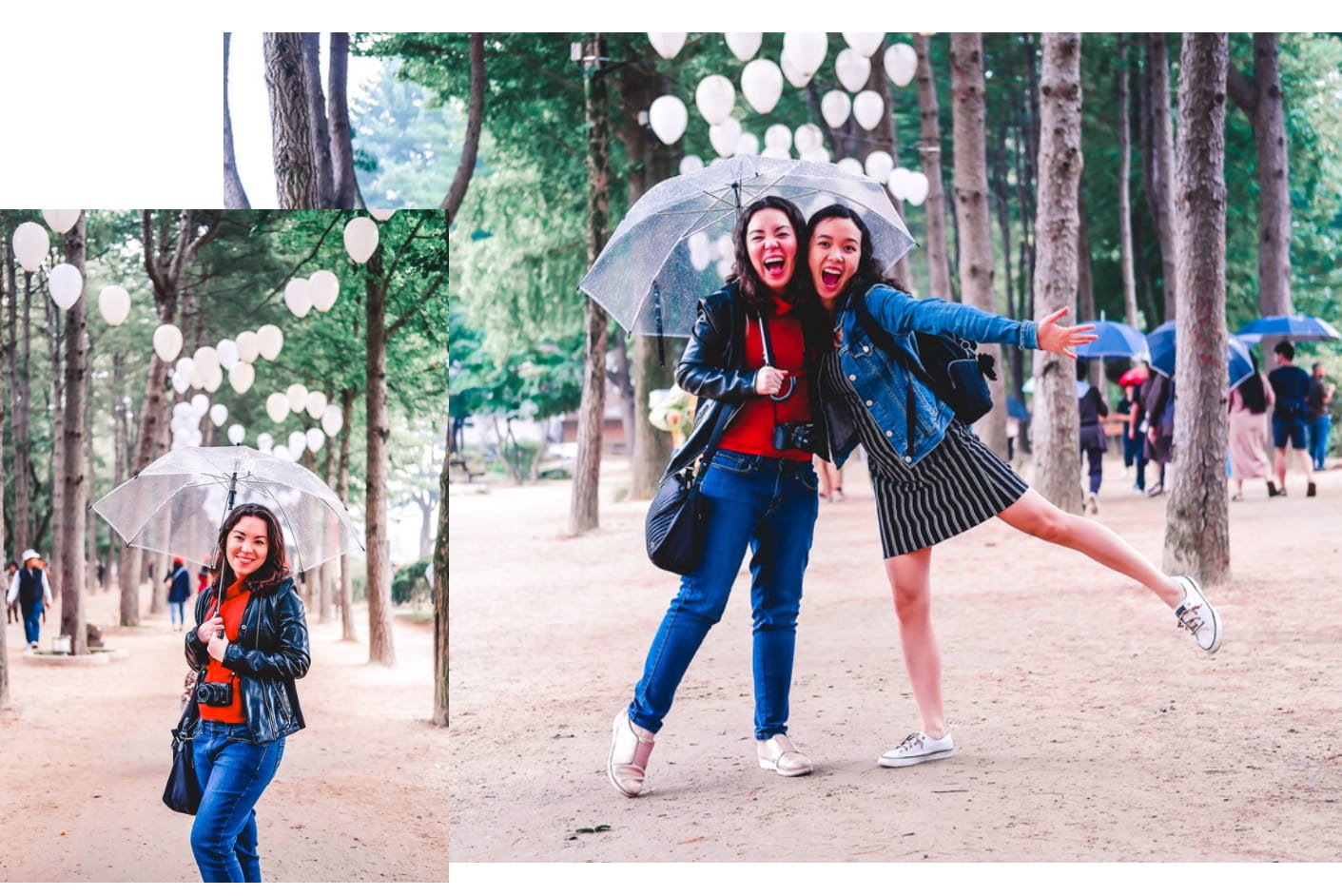 My close friend Kristen who had been to Nami Island told us to go to the end of the island to avoid the people and get better photos with the pine lanes. 
Indeed, there were fewer people at the end of the island. 
We also saw one of the filming locations of Winter Sonata marked by a poster announcing it.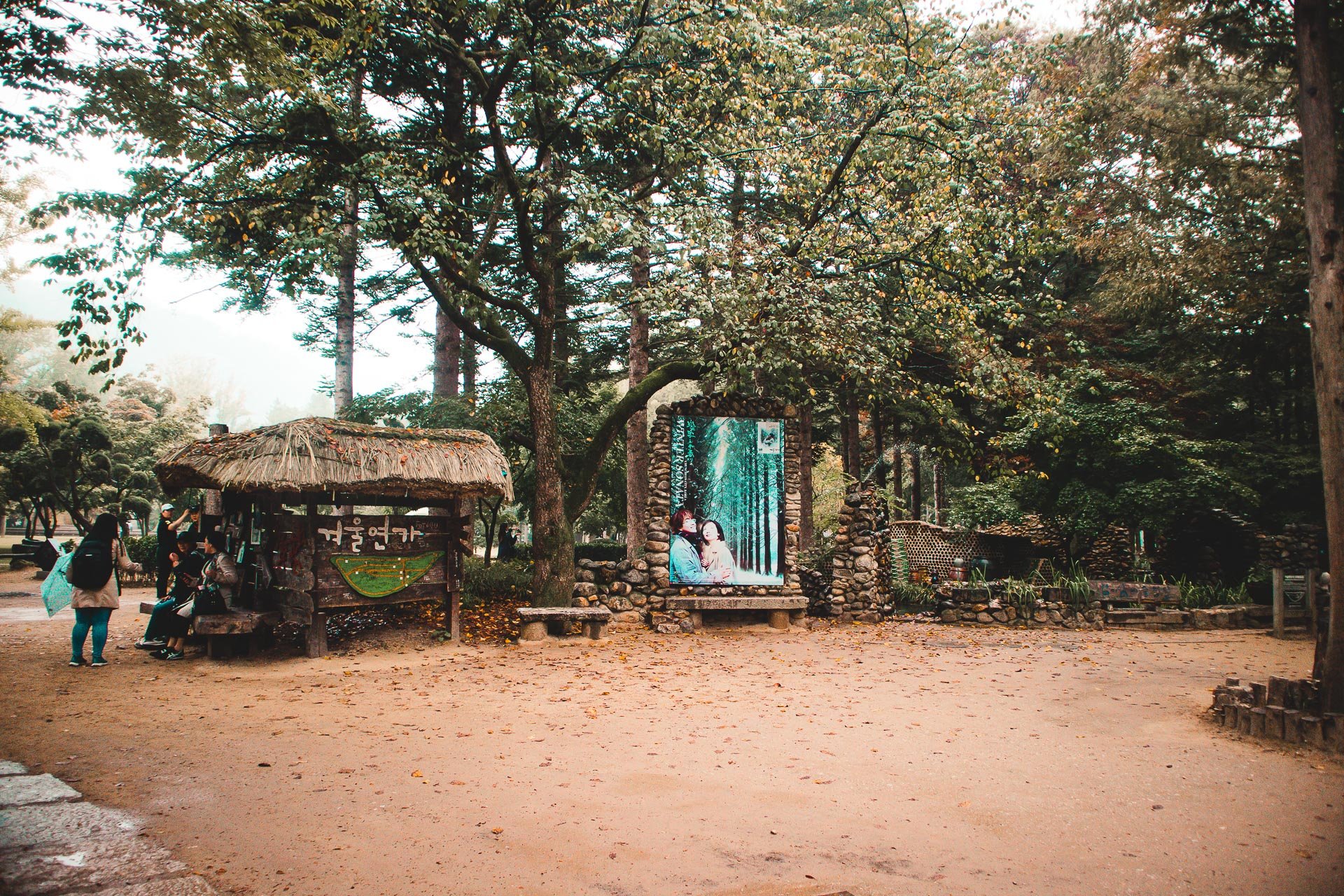 One of my favourite photo op spots was the wooden sidewalk near the cottages at the edge of the island overlooking the lake. 
I wonder if the cottages can be rented out. It would be nice to spend a night in Nami Island to be able to fully explore it. 
During our walk back to the entrance, we stopped by one of the food spots and got this yummy dessert called Hotteok.
It was a crepe-like dessert with a sugar filling and a scoop of vanilla ice cream. 
After munching on our afternoon snack, we headed back to meet up with our other tour mates and departed for our third stop of the day: Naksansa Temple. 
It was an uphill walk to see our first Korean temple, where we also saw a giant statue of Buddha.
Our tour guide told us that the Naksansa temple had burned many times in the past, but they always rebuilt it to preserve it. 
We didn't get to explore much as it was still raining, so we stayed in the viewing deck as JC told us many stories about Korea. 
Afterwards, we drove to a nearby restaurant that served grilled fish with seaweed before we retired early for the night. 
I was still hungry when we got back to the hotel, so I ate again hahaha.
Where to Stay: Hotels in Seoul via Booking.com
WATCH THE VLOG (I labelled the vlog as Day 1 since it was our first day touring South Korea):
Day 3: Mt. Sorak National Park, Everland Amusement Park, Illumination Theme Park OOOZOOO
On our third day in South Korea, it started raining hard. 
Apparently, there was a typhoon passing by the country. 
My friends and I had checked the weather a week or so before our trip, and there was no forecast of a typhoon, so we did not bring water-resistant footwear. 
Our day started early again since we had to visit 3 spots beginning with Mt. Sorak National Park. 
Unfortunately, we couldn't really appreciate the views of Mt. Sorak–the highest mountain in South Korea–since it was raining so hard. 
As we walked uphill, we had to focus on clutching our umbrellas and trying (and failing) to avoid the streams of water that were flowing downhill. 
In short, our sneakers were soaked. 
Even with a typhoon, we powered through and took what photos we could when we found an area in the park with a roof. 
There was a temple that we didn't get to enter and another giant buddha statue. 
Months later I realised this was a filming location of the drama Her Private Life. 
We walked all the way to the main temple but didn't enter as we were required to remove our shoes. I, for one, was not looking forward to removing my shoes and putting on wet shoes. 
Wet feet and squishy shoes do not feel great. 
The temples we visited were beautiful, and it would have been nice if it weren't raining so we could appreciate it more. 
However, the rain didn't dampen our enthusiasm. 
I was happy that I was finally on vacation where I didn't get bombarded with messages about work. Plus, I was in South Korea. 
We were told that you could go up the mountain by taking a cable car, but since there was a typhoon the cable cars weren't running. 
On our wet trek back to the bus, I spotted many rocks stacked on top of each other, and that was one of the ways that South Koreans would pray. 
After about an hour or so, we left Mt. Sorak.
When we were at the rest stop, my friends and I removed our wet socks and shoes in the hopes of drying them in the bus while we ate and shifted to our flip-flops.
It wasn't the best footwear choice since we had a lot of walking ahead of us, but I was grateful my feet were finally dry. 
We had another 2 ½ hour drive before we stopped for lunch and had beef Bulgogi. 
Outside the restaurant, there was this tiny cottage filled with lots of plants and a small wildflower plantation beside it where we had to take photos. 
We drove another 20 minutes before we arrived at Everland theme park. 
When we did, I was so happy to see that the rain was gone. 
It didn't look like it was going to rain anymore.
We could enjoy the theme park!
If it was storming, how can you enjoy the rides and stroll leisurely?
We had around 5 hours inside the theme park, and we spent it mostly wandering around. 
Of course, we tried a few rides. 
The first was a kid-friendly ride which was rodeo-themed, and the next was a virtual roller coaster experience. 
You can see that our choice of rides was safe. 
We mostly walked around the park and took more photos, especially in Holland village where they had a lovely spot of plants with a huge sign. 
Aside from walking and experiencing a few rides, we also tried their churros which Kristen had been telling us to try.
It was so good! 
By now you can expect that I'll be talking a lot about the food we ate during this tour. 
I was still hungry, so I also tried their chocolate soft serve ice cream and a chicken teriyaki skewer (which was huge!). 
Where to Stay: Hotels in Seoul via Booking.com
One thing I wish I'd known before visiting Everland was that the carousel scene in the Kdrama What's Wrong With Secretary Kim was filmed in Everland.
Since the park was humongous, we did not get to see the carousel, but if we had known it was a filming location, we would have looked for that spot. 
I wish we could have stayed longer to explore more of the park. 
Still, we had to head to our next destination, which was Illumination Theme Park OOOZOOO. 
Whenever I heard our tour guide JC mention Illumination Theme Park, I would think "Oh the creators of Minions!" 
I was excited to see a Minion-themed theme park in South Korea similar to the Minion Village in Universal Studios Japan.  
But I was wrong.
I later discovered that it was a theme park of lights. 
Like the literal definition of illumination = lights and not the makers of Minions. 
The lights were beautiful, and of course, my favourite section of the theme park was the lighted tunnel, which I'd seen in many Instagram photos.
The Illumination Theme Park OOOZOOO that we visited was located near a rest stop. 
Hence, our tour guide told us we had about an hour to explore and purchase or eat dinner at the rest stop if we wanted. 
Though he also told us that we could eat at the hotel because our tour guide was ordering Korean fried chicken.
Can you guess which we opted for? 
If you guessed Korean fried chicken, you're right. 
I was pretty excited about trying authentic Korean fried chicken. 
When we got to the hotel, we ordered half original and half spicy fried chicken so we could taste both. 
Once our order arrived, we claimed it from the delivery guy and then we realised that it didn't come with rice.
As an Asian, you bet rice is a staple in our daily meals. 
Good thing there was a convenience store located in our hotel, so my friend went in to buy microwavable rice since we had no rice cooker in our rooms.
As Teddy bought the rice, I waited outside the store at a picnic table with the box of fried chicken. 
"I feel like I'm in a Kdrama" was my thought as I observed the people around me.
They were mostly students since our tour guide told us this was a University town. 
And indeed a table across mine were two Korean university students making out. 
It was uncomfortable to watch, so I looked elsewhere. 
Once our rice was ready, it was time to head back to the hotel room and eat.
What I did was to eat a bit of the spicy fried chicken which had a sweet tone to it and then eat a piece of the original fried chicken so it wouldn't be so spicy. 
After having a late dinner at 10pm, we retired for the day. 
Day 4: Ginseng Outlet, Han River cruise, Red Pine Tree Shop, N-Seoul Tower, Myeongdong Market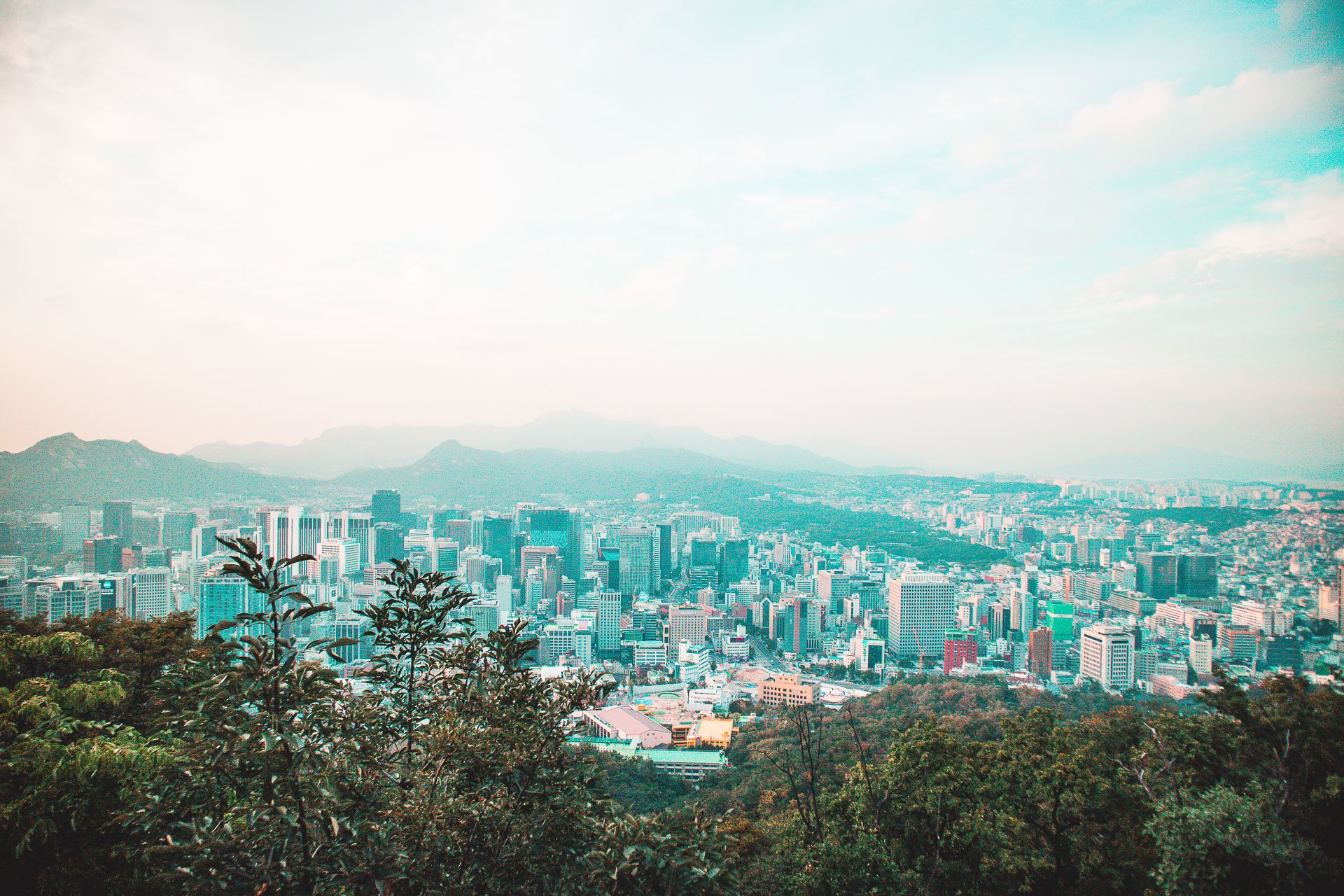 Maybe it was because I was tired, but I couldn't sleep again. 
Even if I was running on adrenaline, I had to get up at 6am to shower, and we had breakfast out by the terrace. 
The weather was chilly, but it was great to eat breakfast outside.
Our first stop was the Ginseng Museum, where we weren't allowed to take any photos or videos once inside.  
The tour guide at the Ginseng Museum told us the history of how South Koreans consume ginseng for their health. 
And depending on which ginseng root you'll purchase, how much it cost. It ain't cheap, yo! 
After our excursion at the Ginseng Museum, it was time for lunch. 
My favourite meal of the day!
And luck had it we had a Korean barbecue buffet at a floating restaurant by the Han River. 
After lunch, our group walked to the area where we would take the Han River cruise. 
On our way there, we saw a bridge that looked like it was from one of the scenes from Legend of the Blue Sea! 
I tell you everywhere you go there's a filming location for a Kdrama. I love it! 
Sometimes I think about moving to South Korea and starting a blog dedicated to Kdrama film locations. 
The Han River cruise was lovely. 
We found a spot on the second floor where the sun wasn't too hot. 
Toward the end of the cruise, we decided to explore what was on the first floor of the boat. 
There was a Korean cover band singing songs from the Beatles, and people were watching them while on the cruise. 
There was also a snack bar inside but nope, I didn't buy any snacks.
I was happily content from the Korean barbecue buffet lunch. 
Looking back, I feel nostalgic and a little sad that we probably won't be able to do buffets and travel like this in the foreseeable future because of the pandemic. 
All I keep thinking is that I'm so grateful and glad I was able to travel to South Korea, Japan, and Oxford when I did. 
Travel is one thing I don't regret even if it isn't always cheap.
After the Han River cruise, we went to the Royal Pine Shop. 
There they also informed us how South Koreans use elements of a pine tree to help with their health. 
Since I had an allergy to pine trees when I was a kid (I'm okay now), I was reluctant to volunteer for their demonstration.
My friends were braver as they had their veins checked, and the sales girls gave them advice on how to improve their health. 
Afterwards, we made our way to N-Seoul Tower which was a steep climb but the views were worth it.
We couldn't take the elevator up on the actual tower because of time constraints so we spent our time taking photos of the views along the way and on the viewing deck.  
Our final stop was Myeongdong Market which is a famous shopping district. 
I was excited because I wanted to purchase clothes from South Korea.
One of my classmates who's a Korean told me she buys all her clothes in Korea since the price is affordable. 
However, we only had about two hours in Myeongdong, and there's so much to see from street vendors to fashion shops.
Our priority when we got to Myeongdong was to purchase shoes since we'd been using our flip flops since that day in Mt. Sorak. 
I had brought two pairs of sneakers, but both got soaked, and I did not want to catch a cold or get sick from wearing cold, damp shoes. 
We ended up buying shoes at H&M – I know so basic – but we wanted an easy, fast transaction instead of being indecisive on which Korean shoe store to enter. 
And we were also meeting up with my cousin who was now residing in South Korea because she married a South Korean. 
We met my cousin outside H&M and scouted for a restaurant to have our dinner. 
One thing we noticed was that the restaurants in Myeongdong blend in well with the stores so that in a way it's like they are hidden. 
We ended up choosing a restaurant above a store where we ate kimchi noodle stew and chicken wings.
The kimchi noodle stew was too spicy for me, but nonetheless, it was yummy. 
It was great to catch up with my cousin who I hadn't seen in ten years. 
She told us stories about how her life was like in South Korea and how usually meals are shared there. 
For example, we ordered one kimchi noodle stew, but it was suitable for about five people, and since South Koreans share their meals, this meant that they would all eat from that one big bowl. 
One thing cool about our meal was that when we "finished" eating from the noodle bowl – it was one large pan – they poured rice into the bowl to cook fried rice, which was also delicious. 
My cousin also offered to tour us around the following day. 
However, my friends and I weren't sure if we were allowed to separate from our tour group, but it seemed like a fun idea for us to explore through a local's eyes. 
I told her that I would ask JC, our tour guide, and let her know that night if we would be able to meet up with her again the next day. 
After our hearty and spicy meal, we only had about 30 mins left in Myeongdong. 
Hence, I wasn't able to shop for clothes, but we did purchase souvenir items for my family and officemates. 
My cousin brought us to a local Korean grocery stall in Myeongdong. 
We bought popular snacks like honey butter almond and this yummy chocolate biscuit that I wish they imported in my country. 
Day 5: Deoksu Palace, Cosmetic Duty-Free, Shilla I-Park Duty-Free Shop, Kimchi making, Hanbok wearing experience, Gwanghwamun Square, Dongdaemun Market, Grocery Shop
It was our last and the most tiring day of the tour.
We had lots of places to visit, and we were going straight to the airport to catch our midnight flight. 
Because we had many places to visit, our call time was also the earliest.
What I was most excited about was the visit to Deoksu Palace because one of the spots outside the palace was a filming location of one of my favourite Kdramas, Goblin. 
After fixing our luggage and loading it to the bus, we waited for the rest of our tour group to come in. 
While we were around 20 mins early to our call time and the majority of our tour mates were on the bus, we encountered a significant problem. 
A couple from our group had apparently left the hotel to visit their relatives without informing our tour guide.
Our tour guide, JC, who had been nothing but incredibly nice, was frantic when he discovered that they had separated from our group.
Apparently, we weren't allowed to leave the group because our tour guide was responsible for all of us. 
We only found out that they had left when one of our tour mates informed JC that the couple messaged them earlier that morning to tell them they were leaving the group. 
She also thought that the couple had gotten permission from JC to leave. 
But they didn't. 
The couple were the only two people who weren't on the bus, and everyone was waiting to leave. 
Unfortunately, we couldn't leave until we were complete and that's when one of my tour mates informed JC of the message the couple sent her. 
JC exhausted all means to get in touch with the couple to tell them to come back. 
Still, alas, they were unreachable, so he had to contact the headquarters of the tour operator to report this development. 
Because of this, we were running late. 
This caused a lot of people on the bus to complain about how they were early so that we could really make the most out of our last day.
And only to have that precious time we can never get back taken away because of the couple who had left. 
When JC got the go signal from headquarters to leave is the only time we left our hotel to go to Gwanghwamun Square. 
While it was our last day, it was also the coldest as we listened to JC tell us about South Korea's history while we viewed two historical statues in the square.
There we viewed the statues of the fourth king of the Joseon Dynasty, King Sejong the Great. He created Korea's alphabet. 
We also saw the sculpture of Admiral Yi Sun-shin, who fought during the Japanese invasion. 
There was also a music festival happening in the area that night, so preparations were being done. 
Our history lesson continues as we walked to an underground area which showcased photos of the Korean war as JC told us the story of how the North and South was created. 
We made our way still on foot to another area with waterfalls, which apparently I'd learn later on was another Kdrama filming location.
We took photos amid the colourful hanging umbrellas before making our way to Deoksu Palace. 
That was when JC informed us of a parade that would go all the way to the Deoksu Palace.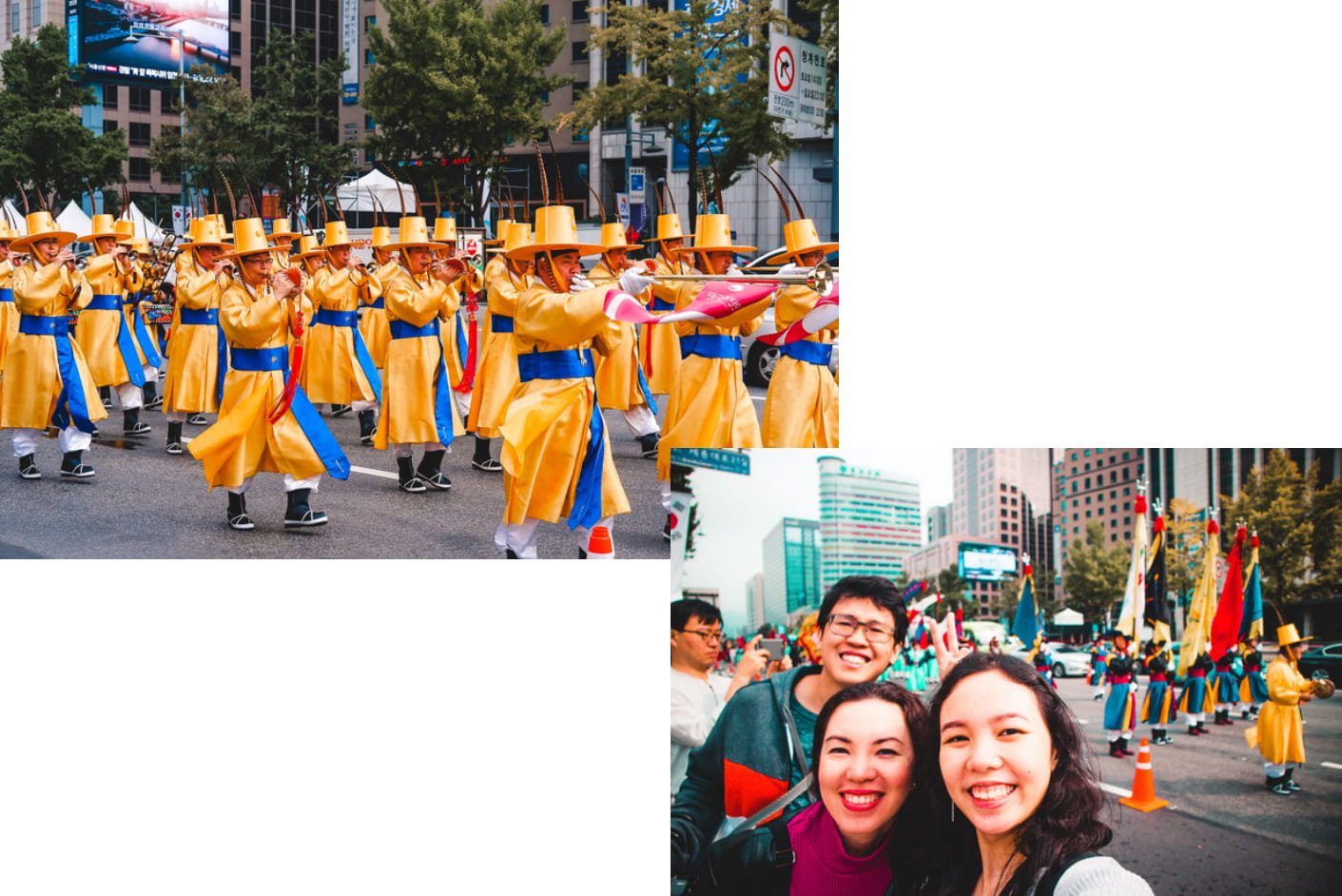 We watched the parade from the street as we also walked to Deoksu Palace, where we had around 40 mins to go around.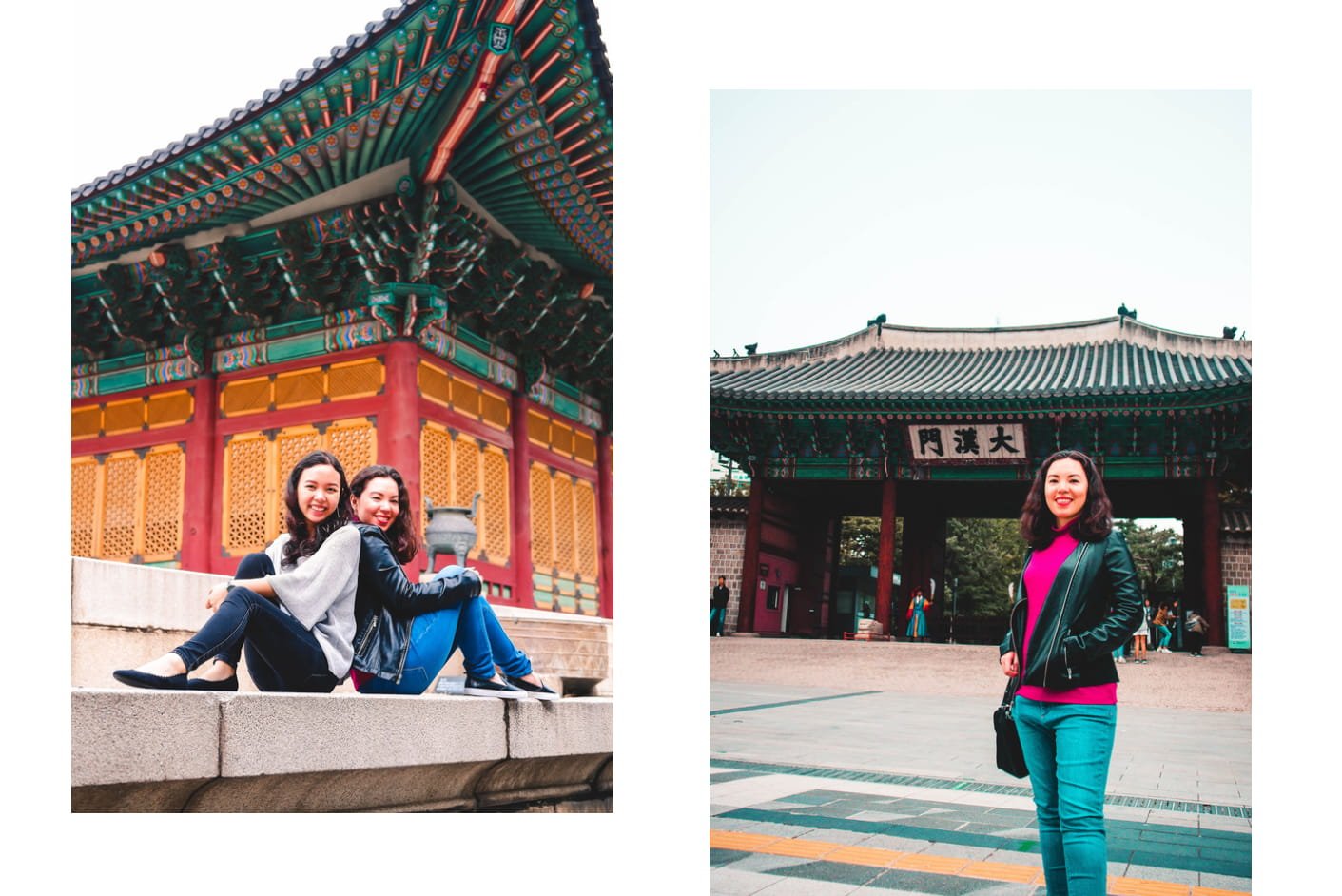 After taking a few quick photos inside the palace, we asked JC where the Goblin filming location was and ran outside to find it. 
We thought we found the "palace wall" where Goblin first met Grim Reaper. 
Later on, I realised we were not quite there yet, but that was okay. 
We still got the thrill of re-enacting the umbrella scene and documenting it in photos.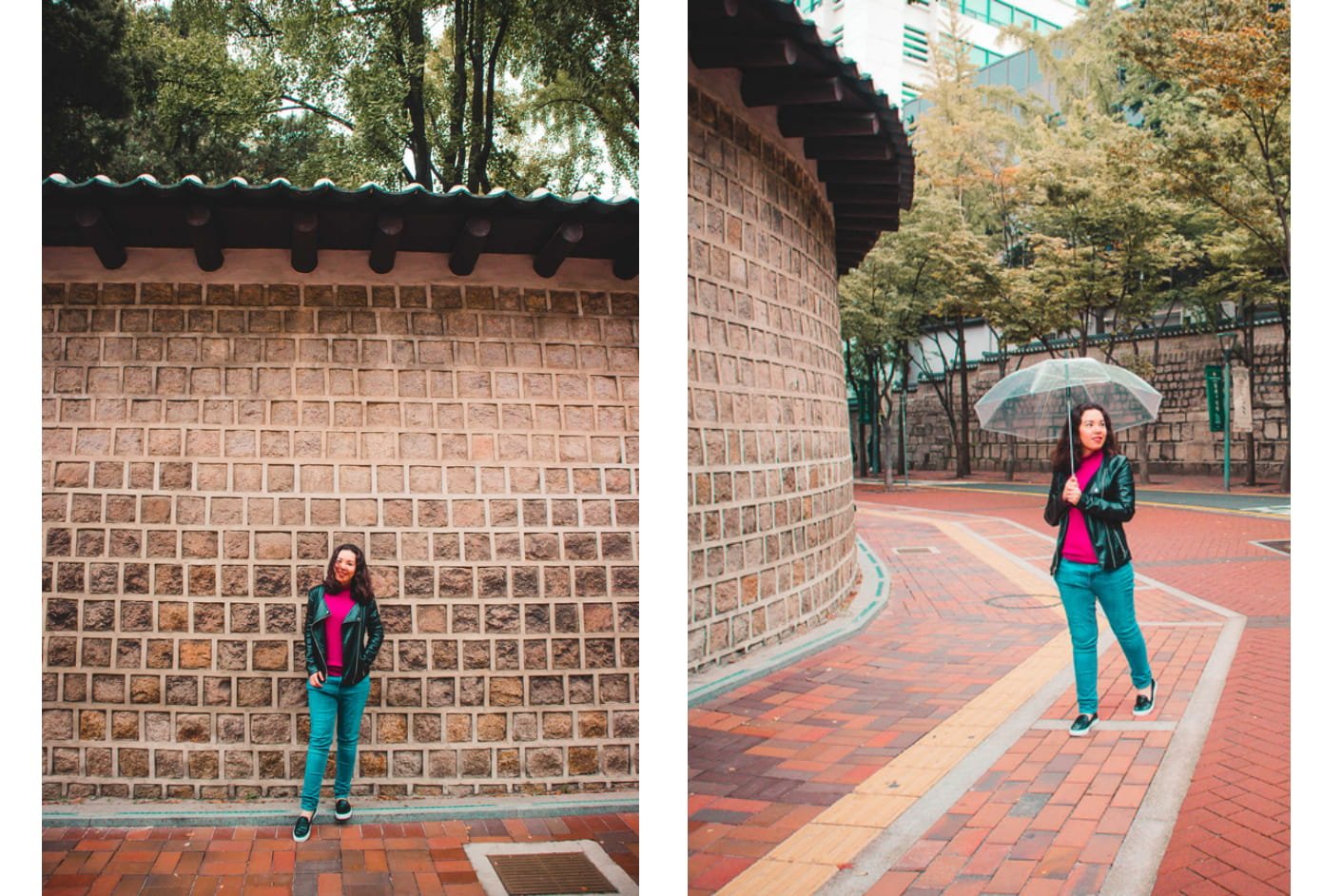 After hurriedly snapping our photos, we ran back to the entrance of the palace to make it to our call time. 
We were just in time to watch the royal guard changing ceremony as well. 
We then went inside our bus to drive to our lunch location where we ate another kind of stew. 
After lunch, we went to another museum where we tried our hand at quick and straightforward kimchi-making class.
It was less than ten minutes since the ingredients–cabbage and their special sauce–were already prepared for us. All we had to do was mix the two together.
After kimchi making, we made our way to the top floor of the building where it was time to experience wearing Hanboks: traditional Korean clothing.
This was one of the things Kelsey was looking forward to as she'd been wanting to try Hanboks! 
Next time it would be fun to wear Hanboks while at a palace for a more authentic experience. 
At the rooftop, there were various props we could play with and various backdrops to choose from to take photos with our Hanbok. 
After around 40 mins, it was time to visit the cosmetic duty-free place. 
Since I wasn't into Korean skincare yet at that time, my friends and I took a quick look around, and after my friend bought what his mom asked him to buy for her, we waited in the meeting area for the others. 
Our next stop was another Duty-Free shop, Shilla I-Park, but it was mostly luxury brands, so my friends and I went straight to the floor where the food was. 
We bought ice cream inside a small restaurant and then found the food court where Teddy bought Tiger Sugar milk tea. 
I was tempted to buy one, but milk tea gives me palpitations, so I only took a sip from his drink. 
After the Shilla I-Park, we visited Dongdaemun Market and this time I was hoping to purchase something. 
Since my friends and I weren't able to leave the tour group to roam around with my cousin, my cousin agreed to meet us at Dongdaemun Market to have dinner at Shake Shack. 
Before we met up with her, we did get to browse some stalls where they were selling a cute pink leather jacket that I regret not buying. 
I have this mentality of really thinking through my purchases especially when it comes to clothes. 
I should have known better that when it comes to a tour like this, once you visit a place, you won't have time to go back. 
So if you see something you like, buy it now or regret it forever. Haha.
We chose to have our dinner outside and the weather was getting chilly again, but we enjoyed our outdoor dining.
Man, I miss eating out and not having to worry about a pandemic.
It was our last few hours in South Korea, and I was super happy to eat Shake Shack again since the last time I had it was 5 months ago in Japan. 
After dinner, we visited our last stop, which was a grocery shop near the airport where we could stock up on souvenirs. 
The prices at that grocery shop were higher than that of the grocery shop in Myeongdong, but we had no choice since after this we would be heading for the airport. 
Again, the souvenirs I bought were snacks.
Who doesn't enjoy getting free food as a gift? 
After the grocery shop, JC took us to the airport to check-in. 
Kelsey, Teddy and I wished we could stay a few more days in South Korea to explore more of it. 
This tour was a good jumping point to experience South Korea. 
Since we wanted to explore other areas, we knew that next time we'd want try to explore it like a local! 
On my bucket list is scouting for more Kdrama filming locations, watching a Kpop concert (specifically ASTRO) and hopefully meet an actor or two.
Looking back on our trip makes me nostalgic. 
And I long for the time when it's safe to travel again.
Being in South Korea felt like I was in a real-life Korean drama. 
All I needed was the romance aspect.
Maybe the next time I go back, who knows, romance might be in the equation.