3 Reasons A Blog Audit Will Improve Your Blog for the Better
AD – Own Advertising for blog audit service
Do you ever feel stuck with your blog? 
There's that frustration that comes with knowing that you want to grow your blog, but you're not quite sure what specific steps to take.
You've got a blog vision.
You've been putting in the hard work and doing the things people say that you should do to grow a blog. 
But you're not where you are hoping to be.
I've been there too. 
It can be draining to always be working, tweaking and improving your blog. 
When you don't see tangible results, well, it can feel disheartening. 
And the thing is if you're doing all the things, you may not be focusing on the things that'll actually grow your blog. 
I had three music blogs in the past that I was desperate to take full-time. 
And while I had a loyal readership, it wasn't growing the way I wanted to, and it was hardly making any money despite me creating 4 products.
I almost gave up blogging for good.
After all, I'd been in the blogging industry for almost ten years at that point.
Instead of giving up, I pivoted, took a hard look at what was working and what wasn't. 
I started from scratch and put everything I'd learned into starting a money-making blog.
And this time, I had a clear goal: to go full-time. 
Today, I'm a full-time blogger and content creator. 
And since then, I've launched multiple digital products. 
I'm also so grateful and honoured to be able to help other bloggers with their blogging journey specifically through a personalised action plan that is through a blog audit. 
But before we go into the reasons why a blog audit is beneficial for you, I will share with you what exactly a blog audit is.
Too busy to read the whole post? Pin this for later!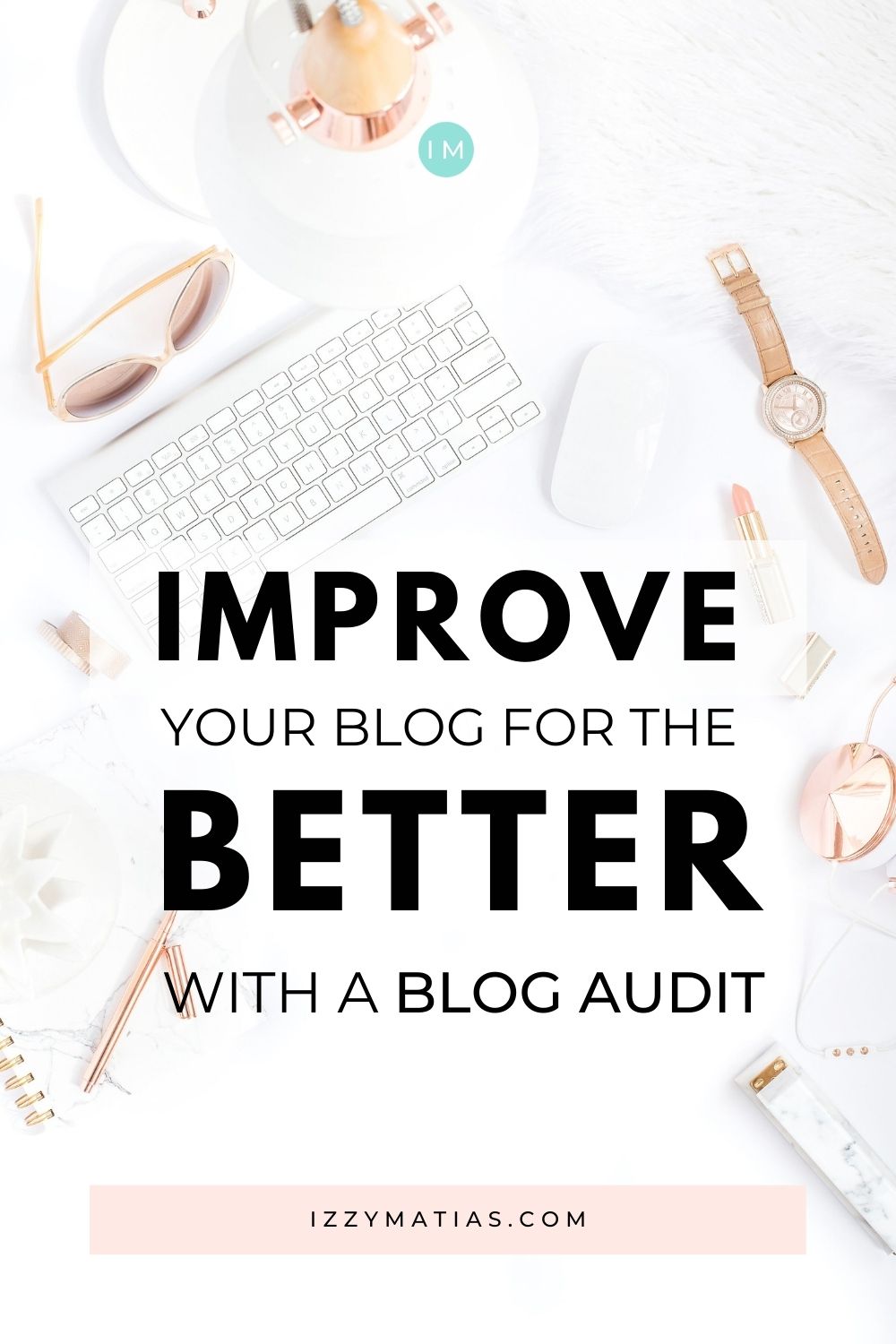 What is a blog audit? 
A blog audit is an assessment of your blog and its different components such as content, design, promotion and monetisation strategy. 
Because it's a customised review, the areas that the blog audit will focus on are those that you have identified as your main pain points. 
However, you also get an overview of what areas can be improved. 
While the standard audits include a pass or fail mark, a blog audit will identify your areas of improvement as well as a detailed action plan for you. 
3 Reasons A Blog Audit Will Grow Your Blog 
It's personalised to your needs.
Each blog is different. 
And as such, your blog needs to be reviewed thoroughly and based on your overall blog vision and goals. 
You let me know what your primary areas of concern are and we zone in on those areas.
With a blog audit, you get actionable recommendations that are right for your blog in line with your blog vision.
You get comprehensive feedback.
Aside from getting a specific plan of action based on your primary areas of concern, I also look at the other areas in your blog that you can improve on. 
You get specific feedback on different areas such as:
User-experience
Blog design
Content 
And even how you can monetise your blog – if that's what you need help with.
You gain clarity on how to achieve your blog goals.
With the comprehensive action plan that you get, you gain clarity on what to implement to grow your blog.
I share with you what specific action steps you can take based on the different areas that have been reviewed.
If you're unclear about anything in the action plan or have additional questions, you have bonus access to me via email for 5 working days once you receive a copy of your blog audit results.
To recap, these are the three reasons why a blog audit will improve your blog for the better:
It's personalised to your needs.
You get comprehensive feedback.
You gain clarity on how to achieve your blog goals.
Ready to book a blog audit? Click here to book your slot now.
If you need on-going monthly support, you might be interested to book the blog support service which includes 1 monthly call & on-going email access for any blogging support you need. To book the blog support service, contact me here.