KPop Terms Explained: Your Ultimate KPop For Beginners Guide
KPop Terms Explained: Your Ultimate Kpop For Beginners Guide 
KPop is an exciting, shiny and fun new world for music fans. 
It's a world like no other. As someone who's been a fan of rock, pop, indie, hip-hop, and electronic artists, KPop just hits different. 
It's a whole experience that goes beyond the music. And many ways to interact with your favorite KPop idols. 
But first, what is KPop? 

KPop or Korean Pop is the new wave of pop music in Korea. It's a genre. A culture and a lifestyle.  
In a sense, it's a way that South Korea has been promoting their culture beyond their shores. 
As an avid concert goer and music fan, I had heard of KPop but it never interested me until the pandemic. 
Of course I was familiar with popular songs like PSY's Gangnam Style or 2NE1's FIRE.
I'd heard about KPop artists selling out shows in my country, but I wasn't interested in that genre back then.
As a KPop fan now, I wish I'd given it a chance sooner. 
Maybe I could have gone to many KPop shows or even won a fansign already. 
I became a KPop fan during quarantine. And some say that your favorite group comes to you at the time you need them most. 
A new KPop fan there were so many KPop terms, activities and norms that were different. At times, confusing even. 
So this guide is for you to help you as a new KPop fan. 
Fun fact: this post was requested by one of my members inside The Content Chest community. 
If you're a part of The Content Chest community, I take requests on what to write about whether that's about Hallyu, blogging or business tips. 
I'll approach this KPop terms guide in a Q&A format and define some basic terms. However, for the full list of KPop terms, you can find that inside The Content Chest. 
PIN THIS!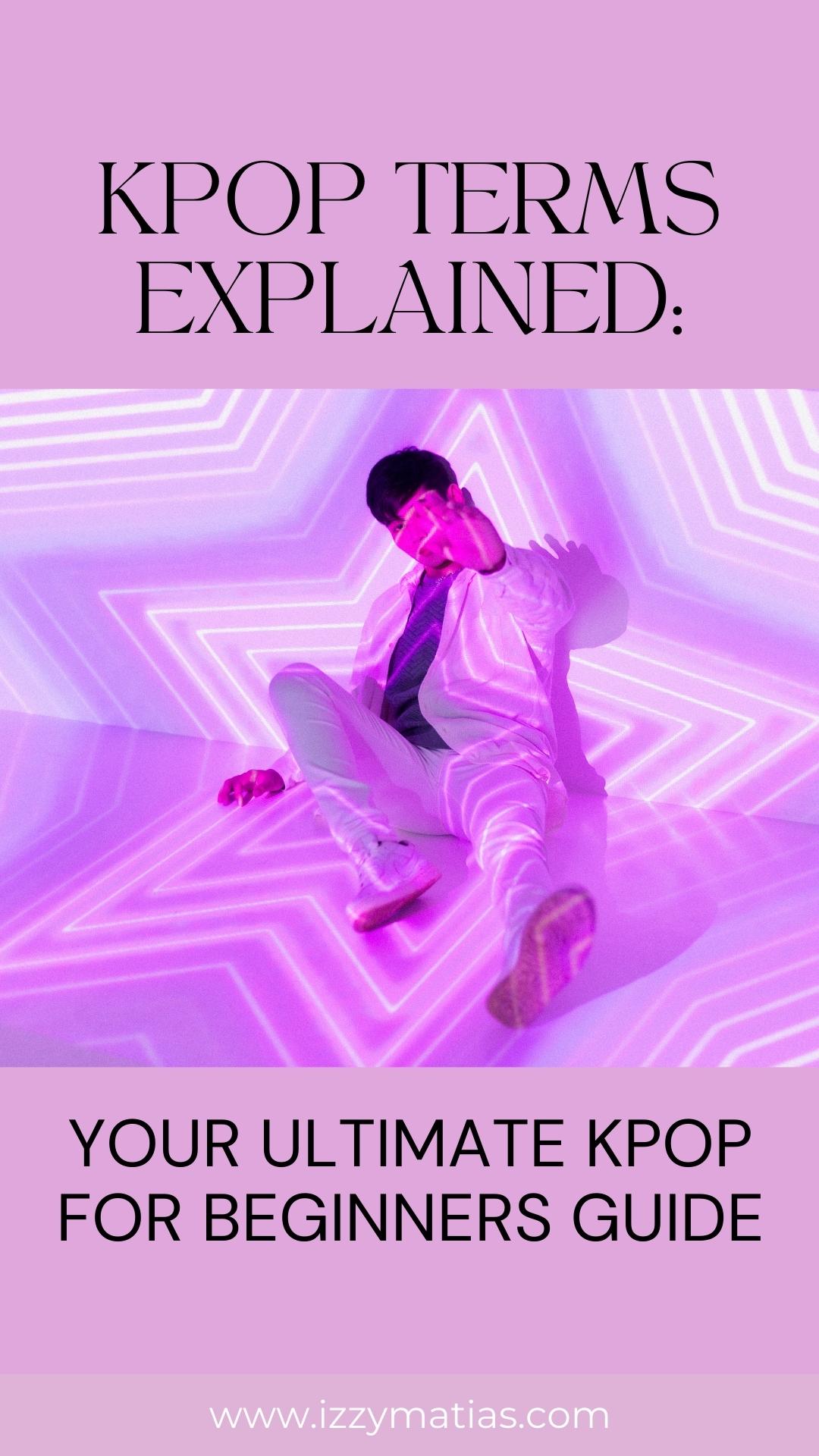 KPop Terms 
How do people become KPop artists or idols?  
KPop artists or idols as they are often referred to don't become artists / idols overnight. It's also no easy feat to debut. 
They are either scouted by someone working at an entertainment agency or submit an application. Once they pass the screening, they then undergo years of rigorous training. 
The training isn't just to train them to sing or dance, but also to model, act, and host. Some companies also have other classes to aid in helping them become a well-rounded idol. 
As they train, there are elimination rounds and they can only debut when they are picked and put together to form a group or sometimes they debut as a solo artist. But it can take years before they are selected to debut. 
What happens after KPop idols debut? 
After they debut, they put in more hard work to release music which can be in the form of mini-albums or full length albums. 
They promote as a group but members also have solo schedules. Some of them can venture into acting, hosting or modeling or even becoming a permanent cast member of a variety show. 
What sets KPop idols apart when releasing new music compared to Western artists?
Releasing new music is an exciting process because the days leading up to the music release, the artist and their staff releases teasers and trailers: from concept photos, highlight medleys, concept trailers and a teaser of the music video.  
What is a comeback? 
A comeback is when KPop idols release new music. They come back with new music. A comeback is both a fun and stressful time for fans. 
Fun because you get to see different sides of the Kpop idols because every time they have a comeback, there's a new theme for the album which means new styling for their outfits and sometimes they even change their hair colors. 
The music they release is always evolving so it's an exciting time. It can also be stressful because fans want their favourites to win an award at a music show and for them to win, fans need to stream the music video, stream on music platforms, buy lots of albums, to name a few. 
There's a lot of work that goes into helping a Kpop group win an award.
What is the difference between a KPop mini-album and a full length album? 
A mini album usually consists of 6 songs. These can be released at any time, whether it's during promotions for an upcoming album or after their last release. Full length albums are released when the group has enough material to release an entire album.
How are KPop idols different? 
KPop idols are celebrities who are part of a particular group or agency. They're known for their striking looks, high energy performances and catchy songs. 
KPop groups also have roles for each member. There is a leader, main dancer, lead singer, main vocalist, center, rapper, visuals (most attractive visually), and maknae (youngest) of the group. 
I'll be using KPop group Astro as an example.
MJ = main vocalist 
Jinjin = leader, main rapper, lead dancer
Cha Eunwoo = face of the group, visual, vocalist,
Bin = lead vocalist, main dancer, center
Rocky = main dancer, vocalist, lead rapper
Sanha = lead vocalist, maknae 
Dance line is composed of Jinjin, Bin and Rocky.
Rap line is composed of Jinjin and Rocky. 
Kpop groups also have subunits composed of two or more members. 
We have JinRock subunit which is Jinjin and Rocky and BinSan = Bin and Sanha. What's interesting is that each subunit has their own genre of music or music colors that set them apart from their group's signature sound. 
In Astro's case, they're known for their refreshing sound. 
MJ debuted as a solo trot artist but in the future if the company would want to, they can debut him under a subunit with another member. 
Aside from that, KPop groups have nicknames for each member aside from their birth names and nicknames also given by their fans and even characters or animals to represent each member. 
In Astro : 
MJ: 🦊
Jinjin: 🐶
Cha Eunwoo: 🐮
Bin:🐱
Rocky: 🐺
Sanha: 🐥
Where do KPop idols promote? 
 KPop idols promote in many ways. They may appear on music shows, perform at concerts, or even film commercials for various products. They appear in radio guestings, variety shows, host award or music shows. They even sometimes release their own variety show on their official YouTube page. 
Do KPop groups call their fans a certain name? 
KPop groups give names to their fan community or fandom. For example, for BTS they call their fans ARMY while for Astro they call their fans Arohas. 
What is a fancafe? 
A fancafe is the Korean version of a fanclub or fandom site. It is similar to an online community for Kpop idols fans. They share the latest updates about their favorite idols. A fancafe has different sections for each idol so you can follow what they are doing or send them letters online. 
Here's a list of the other KPop terms you can learn about inside The Content Chest: 
Aegyo 
Fandom names 
V Live 
Universe 
Photo cards 
Bias 
Bias wrecker
Ultimate bias 
Fansites
Fancams 
Where to find KPop merch 
Where to stream KPop music 
Light sticks 
KPop music shows and their schedules 
Fansigns 
Photo cards
Ready to learn more KPop terms inside The Content Chest?
.