Feliz Hotel Boracay Review: Stay Happy in this Instagrammable Hotel
Heading to Boracay? Here's my Feliz Hotel Boracay review and what you can expect at this luxurious hotel centrally located in Station 2.
AD – Press Trip
It's been over seventeen years since I set foot in Boracay. 

But the perfect opportunity presented itself when I was invited to the opening of Feliz Hotel Boracay last July. 

The island had been closed for a couple of months to be rehabilitated and for mother nature to heal from all the tourists.

My memories of the world-famous island were, as a child: playing in the sand with my friends and wading in the water near a rock formation with a statue of Mother Mary atop. 

Over the last decade, Boracay was notorious as a tropical party capital of the Philippines. Crowded. Drinks everywhere. It's not everyone's cup of tea.

When I think of the beach, I think of rest and relaxation. A time to disconnect and feel re-energized.  

Now that it was reopened, I was excited to rediscover the island with new memories and to be traveling once more. 

HOW TO GET TO FELIZ HOTEL BORACAY

From the Calibo airport, you will have to take a shuttle to the port where you take a boat ride to the island and another transfer to the hotel. 

Be sure to book your transfers ahead for a smoother time. It can get confusing if you're not familiar with the island and which route to take. 

Thankfully, the hotel had already arranged the transfers, so everything was more or less smooth sailing. 

ARRIVING AT BORACAY

From the moment we alighted the electric vehicle from the port, I knew the trip was going to be nothing short of grand. 

As one of the guests mentioned, they had "rolled out the red carpet for us." I knew that my stay with Feliz Hotel Boracay would be delightful. 

We were handed Evian water and pastillas de leche as snacks on the ride to the hotel while being given a brief overview of the developments of the island since its reopening. 

The sidewalks were swarming with tourists and every few blocks there was a Chinese restaurant. The street was full of electric tricycles. 

After a few minutes of chatting, our electric jeep turned to a narrow street with an arc that said "D'mall Palengke" 

I had expected D'mall to be like the malls in Manila: enclosed, air-conditioned and inside a multiple leveled building.  

Around me were mini-hut like stalls, colorful and bursting with personality. There were fruit stalls, stalls that sold swimsuits, a tattoo shop, a ramen place, and shops that many tourists flocked to get delicacies like soft serve mango ice cream or the infamous coconut ice cream served in its husk. 

At the heart of D'Mall in Station 2, Feliz Hotel Boracay is centrally located, making it a few steps to the beach, but close to multiple entertainment, shopping, and dining options. 

The best of both worlds.

Past the stalls and coconut trees, we turned right to a plaza with a charming fountain. I would later learn that this was a spot many locals and tourists stopped for photos. 

FELIZ HOTEL BORACAY REVIEW: FIRST IMPRESSION

Though the fountain is the first thing you will notice as you proceed to the hotel, the next thing that catches your eye is the opulent wooden door that ushers you into the hotel. 

The door stands two floors tall. You feel like you're about to make a grand entrance. 

It's a beauty in itself. 

As soon as we stepped off the vehicle, the Feliz Hotel Boracay team met us with smiles. 

They welcomed us with refreshments: the hotel's signature drink, the Feliz iced tea.

And then they gave me a bouquet of flowers. 

It was something I did not expect and made me think about how I had only been there for a few minutes, but every step of the journey from pick-up to setting foot to the hotel left me feeling astonished and special.

They sure know how to make a lasting first impression. 

As I passed through the grand double doors, I felt like this would truly be a luxurious and unforgettable experience. 

The lobby reflected the same grandeur as the entryway with the chic decor that contrasted against the beautiful Machuca tiles. Behind the reception desks was a metal sculpture of the logo of the hotel: a cosmos plant with bursts of sun rays in the middle. 

I would later learn the meaning behind the logo and the brilliant cohesiveness when it came to the details. 

Feliz translated from Spanish means "happy." Their tagline and ultimate goal is simple yet clever. They want you to #stayhappy 

From the lobby to their rooms, their choice of incorporating Machuca tiles throughout the hotel is about evoking that feeling of homecoming; the comfort, warmth, and security of knowing you are right where you belong. 

I was ready to whip out my camera and start capturing every moment when multiple times, Feliz Hotel Boracay's staff approached me to help me with my things. At first, I was embarrassed that I'd attracted that much attention, but it was a nice feeling that they were taking care of me. 

After checking in and a quick photo op with the Feliz Hotel Boracay team, it was time to proceed to the room. 

I was so excited about this.

I love staying in hotel rooms.

I was told that I was staying at the Premier King room. 

DAY ONE

Even inside the elevator, you'll notice it's not your usual modern elevator. I particularly loved the rattan weave detail in the elevator. 

We walked through the hallway, which also had Machuca tiles and I wondered which blue door would be my home for the next few days. 

In order to enter the room, you tap your keycard on the flat round surface of the door. Once you see a green light go off, you are good to go.

My first thought when entering my room was that I was in awe that this was my room. I'd only been dreaming about moments like this and I was finally living it. 

As you walk inside the room, you'll notice that yes, there are beautiful Machuca tiles in the hallway–adding to that homey and creative vibe. There are huge closets on the left and on the right are two white doors that lead inside the bathroom, which is divine. There's a tub and a shower. Behind the tub are shutters you can roll up and through the glass, you see the king-sized bed of the room. 

One thing I love is how Feliz Hotel Boracay incorporates sustainability into their hotel. Instead of the usual complimentary plastic water bottles and papers, there are refillable glass bottles for water and a digital tablet in lieu of a paper manual. 

Their air conditioning system is set to a specific temperature–the optimal temperature so that it does not consume more electricity than what is necessary. 

Being able to stay in a room like this is a dream come true. 

I was so excited to whip out my laptop and work from the daybed.
There's also an area in the room with a wooden chair and table, sort of like a mini office nook for creative entrepreneurs, digital nomads, and even freelancers.
But there are many spots throughout the hotel that are beautifully designed and decorated that will make you feel inspired to create and work, even if you're there for a vacation!

See the room for yourself: 

Aside from the Premier King room, Feliz Hotel Boracay which has an eighty-room occupancy has five other types of rooms. 

The Deluxe King

Deluxe Double

Premier Double

Suite 

Feliz Suite 

Here are some photos of the different room types:
LA PLAZA
After settling in and filming a room tour, it was time for lunch at La Plaza.

La Plaza is the hotel's main restaurant which serves Latin American cuisine and its name takes inspiration from the plaza outside. 

It can be accessed through the glass doors from the lobby or through the alfresco area with a beautiful view of the fountain. 

I love the interiors of La Plaza, especially the pop of colour through the teal furniture. 

Since La Plaza's main cuisine is Latin American, I was served croquettas de pollo y jamon and gallina y cerdo (or meat) paella,  paired with the delicious Feliz iced tea. 

Both were heavenly. I particularly loved the aioli sauce that I could pair with either dish and gave it that extra kick of flavor. 

Paella is their signature dish with more than one variety. I miss it! I would definitely go fly back just to eat their paella again. 

CROQUETTAS POLLO Y JAMON 
Chicken and jamon croquettes, aioli, and aji amarillo sauce 

GALLINA Y CERDO
Valencian-style saffron rice, chicken, pork, chorizo, and plantains   

Later in the afternoon, it was time for a tour of the hotel.

FELIZ HOTEL BORACAY TOUR
One thing is for sure, there's no shortage of Instagram worthy spots in this hotel. 

And it's a place where you feel creative; a place where you can both relax and work. 

The Top Instagrammable Spots at Feliz Hotel Boracay
The Grand Double Doors
Lobby
Buenavista
La Plaza
Roofdeck poolside 
For a magical view of Boracay, I highly recommend dining at Buenavista roof deck restaurant especially during sunset. Enjoy a dip in their pool or chill out at the roof deck while sipping their signature cocktails and feasting on their pizza and pasta dishes. 

RAGU
Spaghetti, classic ragu sauce, shaved parmesan

My favourite was the ragu! 

GAMBARETTI
Tomato sauce, shrimp, mozzarella, roasted garlic, chili

RON DE MANGGA (Feliz Original Cocktail)
Mango-infused rum, calamansi and lime juice, mango puree

Sitting there on the roof deck whilst taking in the sunset, was a moment of peace I longed for. It's one of those moments in life where you appreciate the simple beauties and for being in the moment. 

It was definitely bliss. 

DAY TWO

The second day in Boracay was a more adventurous one. It was time to explore the natural beauty of the island!

After indulging in the breakfast buffet, Feliz Hotel Boracay had arranged an island hopping tour with MyBoracayGuide.

My tour guide escorted me from the hotel to Bulabug beach where we met up with the tour group and took a bangka ride around the islands. 

As we made our way to the first island, the tour guide told us the difference between the three stations in Boracay. It is about the sand texture. Station 1 had the best sand texture, Station 2  was normal while station 3 rough. Another version was that station 1 was known for being the place with expensive hotels, station 2 as the center of everything–where the action was–and station 3, the quieter part of the island.

Our first stop was the infamous Puka beach, so aptly named after the puka shells found in the sand. 

We had thirty minutes to snap photos, take a stroll by the shoreline, order a fruit juice or go swimming. 

It was time to return to the bangka where we had a short ride to the next stop, which this time was in the ocean, to go snorkeling and then lunch!

After our lunch buffet at one of the nearby islands, it was time for snorkeling again. 

We passed by rock formations, which our tour guide pointed out. There were different shapes: a turtle, a gorilla, a crocodile. 

The original plan was to dock the boat at an area where we could see clownfish, but because it was low tide, we had to move further out into the ocean. 

The second time around I saw Dory! 

I was happy being able to swim and visit the beach again. It had been over a year since my last beach visit despite living in a tropical place with over 7,000 islands. 

The latter part of the day was a feast for the stomach with the cocktail mixing demo and a cooking demo in store. 

One of my favourite things about Feliz Hotel Boracay is the food.

SANGRIA ROSSO
Red wine, orange juice, brandy
SANGRIA BLANCO
White wine, ginger ale, triple sec
FELIZ ICED TEA
Earl Grey tea, honey, lemon juice, ginger syrup
MANGO PASSION FRUIT ICED TEA
mango puree, passion fruit syrup, Earl Grey tea

After learning how the cocktails were made, I then got to experience how they prepare their paella. 

PAELLA MARISCOS
Valencian-style saffron rice, fresh clams, mussels, shrimp and snapper.

After a hearty dinner to cap off a swim-filled day, I explored more of D'mall and the island on foot. I appreciated the proximity of the hotel to everything around me. 

Craving for a samgyupsal meal? There's a Korean restaurant less than 100 meters from the hotel. 

Want to go for a swim in the ocean? The beach is a two-minute walk.

Feeling like a party? There are bars a couple of meters by the beach.

Regretting that you forgot to pack something? D'mall is only a few steps away. 

Case in point: I forgot to buy sunblock, but there was a D'mall store in front of the hotel that I was able to buy a small bottle from. 

The next day, as my weekend away from the bustling city came to a close, I found myself already missing the place even before I had left. 

I glanced at the cosmos plant logo hovering above the lobby, reminding me of what it stood for: happiness. 

This feeling is reflected in their interiors, the staff's disposition, the way their food makes you feel.

And that's why we travel: to be happy and experience these moments that light up our life. That add that spark to our day-to-day. 

Feliz Hotel Boracay Review: Final Thoughts
Whether you're taking a much-needed reset from the stress of a nine-to-five, finding that balance between a remote job and being able to explore new places or even igniting inspiration as you build your creative biz from anywhere.

Happiness is something that we strive for and that Feliz Hotel Boracay embodies. 

It's a lesson we can take with us; a reminder that every day we should choose to stay happy.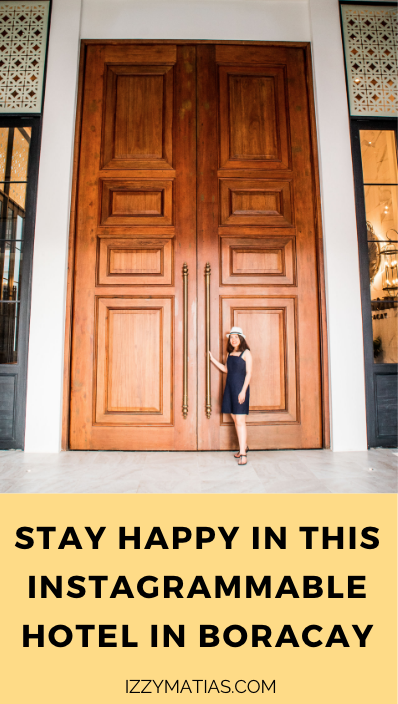 PIN THIS!
If you've found this Feliz Hotel Boracay review helpful, please do share the link using the social buttons below. Every share counts. Thank you!