How to Make Your Blog Look Professional and Beautiful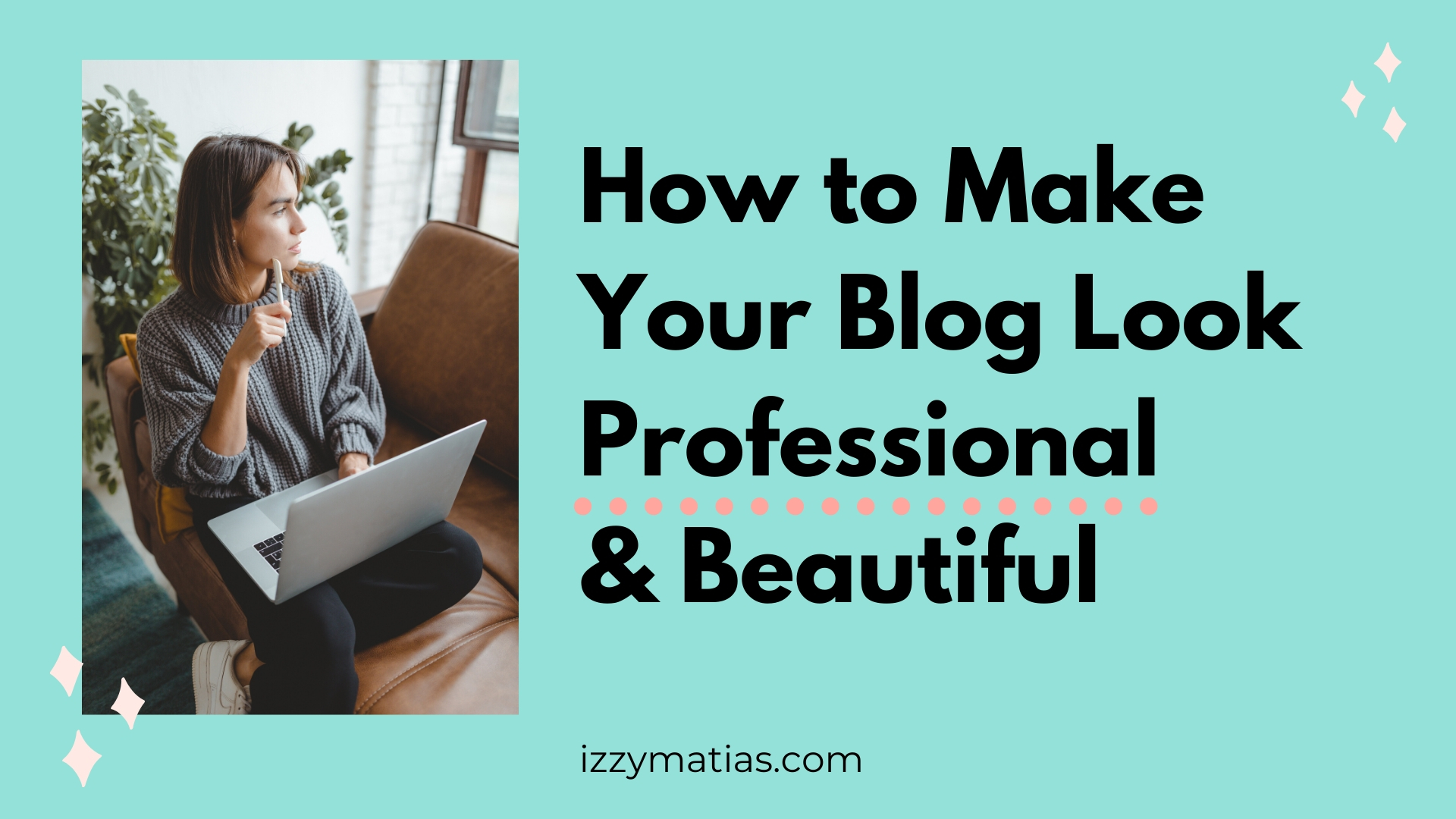 How to Make Your Blog Look Professional and Beautiful
There are times when you feel like it's time to give your blog a revamp.
You feel a little uninspired by your current blog design.
And you know that giving it a little spruce and making it look nicer would help you feel excited to work on your blog again.
More than that I want to let you know that beyond the aesthetics of a blog design being beautiful, there's no denying the effect of a clean, well-designed blog.
It makes your blog professional. 
And if you want to be a full-time blogger or build a creative biz with your blog, you definitely want it to look professional.
In this post, I'll be sharing with you the different ways you can make your blog look professional and beautiful. 
And I will try to focus on the easy, free tweaks you can do. 
But I've also included two options that you have to pay money for. 
How to Make Your Blog Look Professional and Beautiful 
A premium theme (paid)
Purchasing a premium theme is not only one of the fastest ways to give your blog a makeover and make it look professional, but if you choose one that is designed for search engine optimisation, then you've got a good deal. 
When searching for themes, you'll want to read the description to see if the person who coded and created the theme prioritised SEO when building the theme.
While I am no tech expert, when choosing themes, I only consider the themes that say they are SEO-friendly: they are coded in a way that makes the blog load fast. 
The last thing you want is to purchase a pretty theme but slows down your blog speed.
Cohesive branding (free)
Have you ever thought about your branding? 
Aside from your brand values, vision and mission, when it comes to your blog design, you want to be able to have a consistent look through your brand colours and fonts. 
For example, if your brand colours are yellow and teal, why not tweak your theme to incorporate yellow and teal as well? 
This could be the colour of your blog menu bar, your social icons, or maybe even some text. 
Do you have specific fonts that you use for your brand? 
Incorporate these into your headings or paragraph text.
If you do use your brand colours in text or fonts that they are still easy on the eyes and readable. 
Don't sacrifice readability just to match your branding.
Another way you can apply this cohesive branding tweak is in your Pinterest pins and social media cover photos. 
By having a cohesive branding that's the same across all platforms not only makes you look more professional but consistent as well.
And later on, your blog readers will be able to recognise your blog photos or Pinterest pins just through your branding elements or the way you edit your photos.
Minimal blog elements (free)
One of the most prominent blog design mistakes you can make as a blogger is to have too much going on on your blog page.
Believe me, if your reader finds it too cluttered or messy or your fonts unreadable, it will be harder for them to stick around.
And if you have too many elements on the page, your reader will get distracted and won't know where to focus their attention on.
This goes not just for your homepage, but also in each of your pages and posts. 
When you have an organised homepage, you'll be able to guide your readers to the specific pages or posts that you want them to visit. 
Tweaking your home page is one of the tips you can do to improve your blog without having to write a blog post. 
Ask yourself if certain elements are essential or if you can arrange them in a more organised way.
For example, I used to have floating social media icons on my blog page, but it affected the user experience because it would block a chunk of text, which then came off as annoying. 
In the end, I chose to remove the floating social icons and place them at the end of my blog post instead. 
High-quality photos (free)
Blurry, pixelated, or low-resolution photos are a huge turn-off.
Not only do they make your blog look unprofessional, but they will also give an impression to brands who may want to work with you that you're not taking your blog seriously. 
If they see low res photos or blurry ones, then they'll be expecting that same type of photos for any potential collaborations they may have in mind with you. 
Which, in turn, ward off potential sponsorships or paid blogging opportunities. 
Not everyone owns a DSLR or has the time to shoot quality photos, an alternative is to use copyright-free or stock photos. 
I use photos from Canva or Unsplash–these are some of my favourite blogging resources–to help me create blog graphics and photos.  
While high-quality photos may have a huge file size, I use the plug-in Smush, which compresses the file size of the photo without sacrificing the quality. 
Readable text (free)
Since blogging is all about connecting with your readers, you want to check the readability of your content.
This means:
Shorter paragraphs – content is easier to digest
Bigger font sizes – no one wants to read small text where you still have to zoom in 
Readable font faces and colours 
Please ditch the unreadable script font types especially if you're using script in your paragraphs. 
Script is much harder to read, so use them sparingly and in headings instead of paragraphs.
And if you must, increase the font size to ensure that it is easy to read.
In terms of readability, one of the plug-ins I use called Yoast SEO has a readability meter/score, which gives me an idea if my content is easy to read. 
Plug-ins are one of my favourite benefits of using WordPress as a blogging platform.
Go self-hosted and own a domain name (paid)
Speaking of WordPress as a blogging platform, another way to make your blog more professional is through self-hosting and having your own domain (e.g. www.yourblogname.com). 
When your blog is self-hosted, you have complete control over your content, have the freedom to do whatever you want with your content, and can monetise in whatever way you want to. 
If you're not self-hosted, you have to abide by the rules and guidelines of your blogging platform provider otherwise they could delete your blog for not following their rules.
Often, when you purchase a self-hosting plan, it will ask you if you already have a domain or if you'd like to buy one.
While there are many blog hosting providers out there, I've used SiteGround and now DreamHost. Another blog host that has garnered a lot of good feedback is Lyrical Host.
When you have your own domain, it definitely makes your blog more official. 
Compare the two versions: 
Yourblogname.com or yourblogname.webhost.com 
Which sounds more professional? 
I would definitely go for the .com! 
Though I do understand that not everyone is ready to invest in a self-hosted platform and domain name, so do what works for you. 
PIN THIS!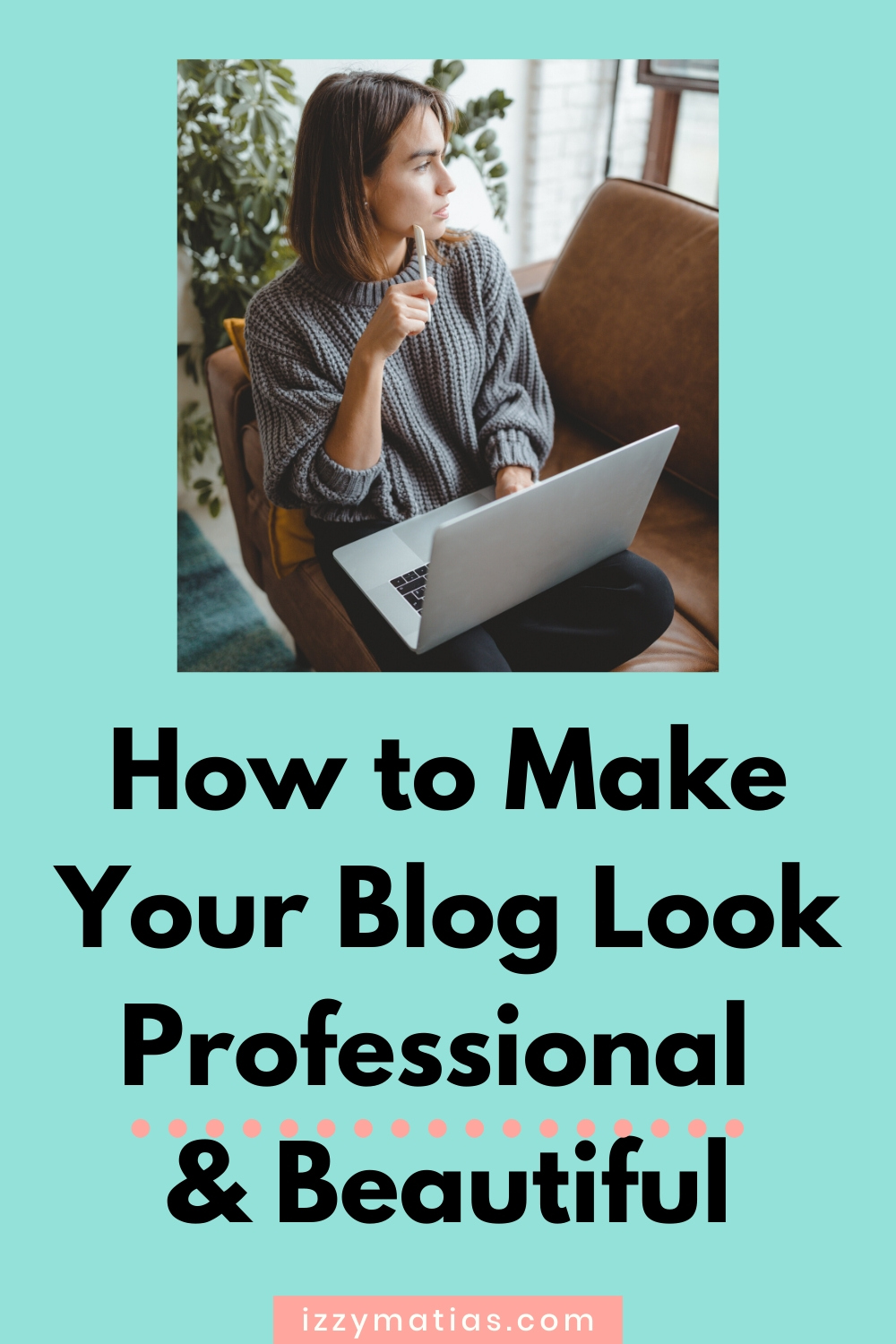 Those are the tips and tweaks you can do to give your blog a facelift to make it look professional and beautiful. 
The key thing I want you to take away is that you want your blog to be easy on the eyes and professional looking so that you can attract and retain your community and even land blog opportunities so you can make money as a blogger.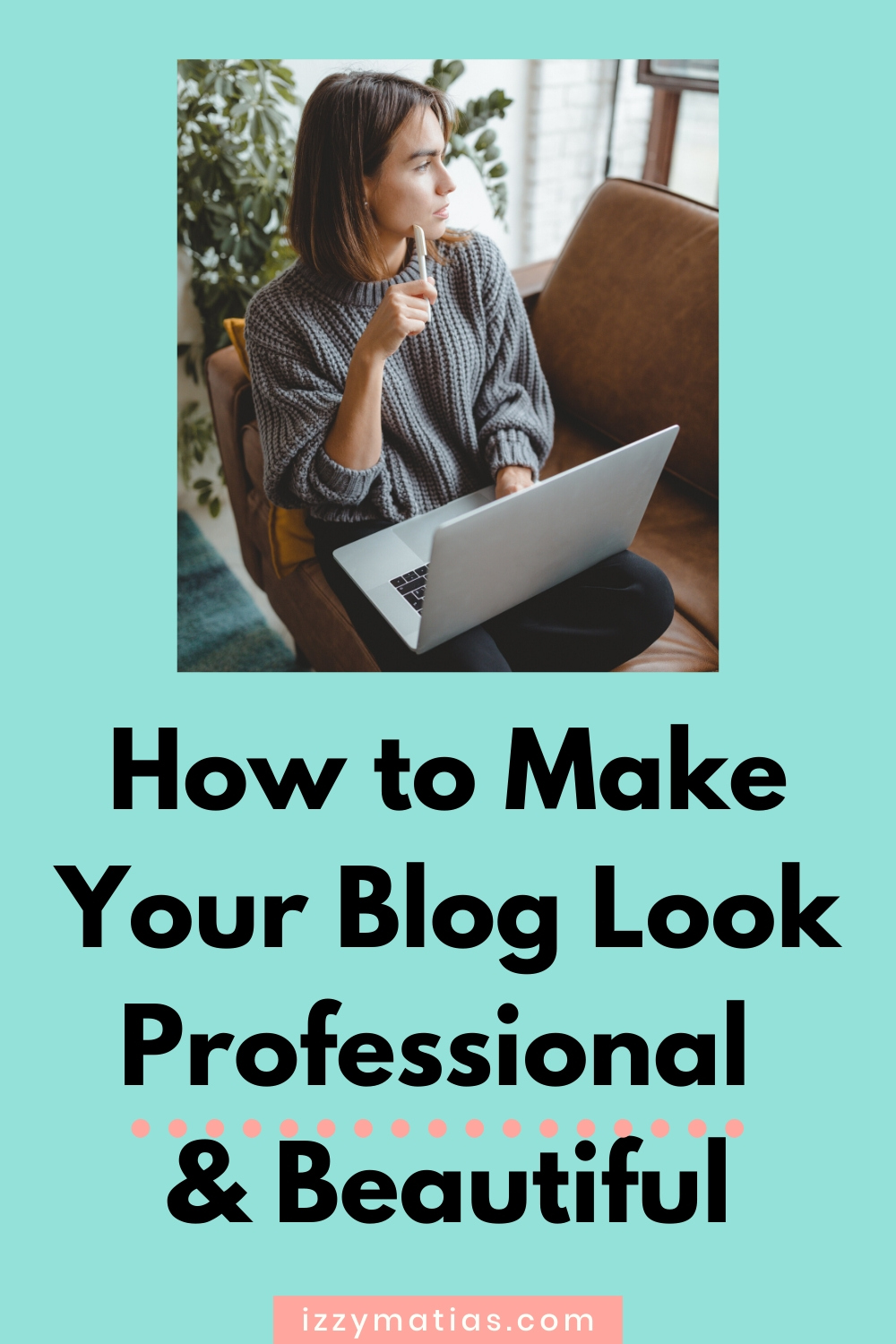 To recap, here are the different ways you can make your blog look professional and beautiful:
A premium theme
Cohesive branding
Minimal blog elements
High-quality photos
Readable text
Go self-hosted and own a domain
Want to make money blogging?
Learn the essentials in building a profitable blog with an actionable, step-by-step framework. Get access to 17 lessons that show you how to set up a blog strategically and craft your blogging business plan with the How to Build a Money-Making Blog (Your Creative Business) online course.