I Wrote a Book: My Plan to Publish With Amazon Kindle
How I Wrote a Young Adult Book & Plan To Publish With Amazon Kindle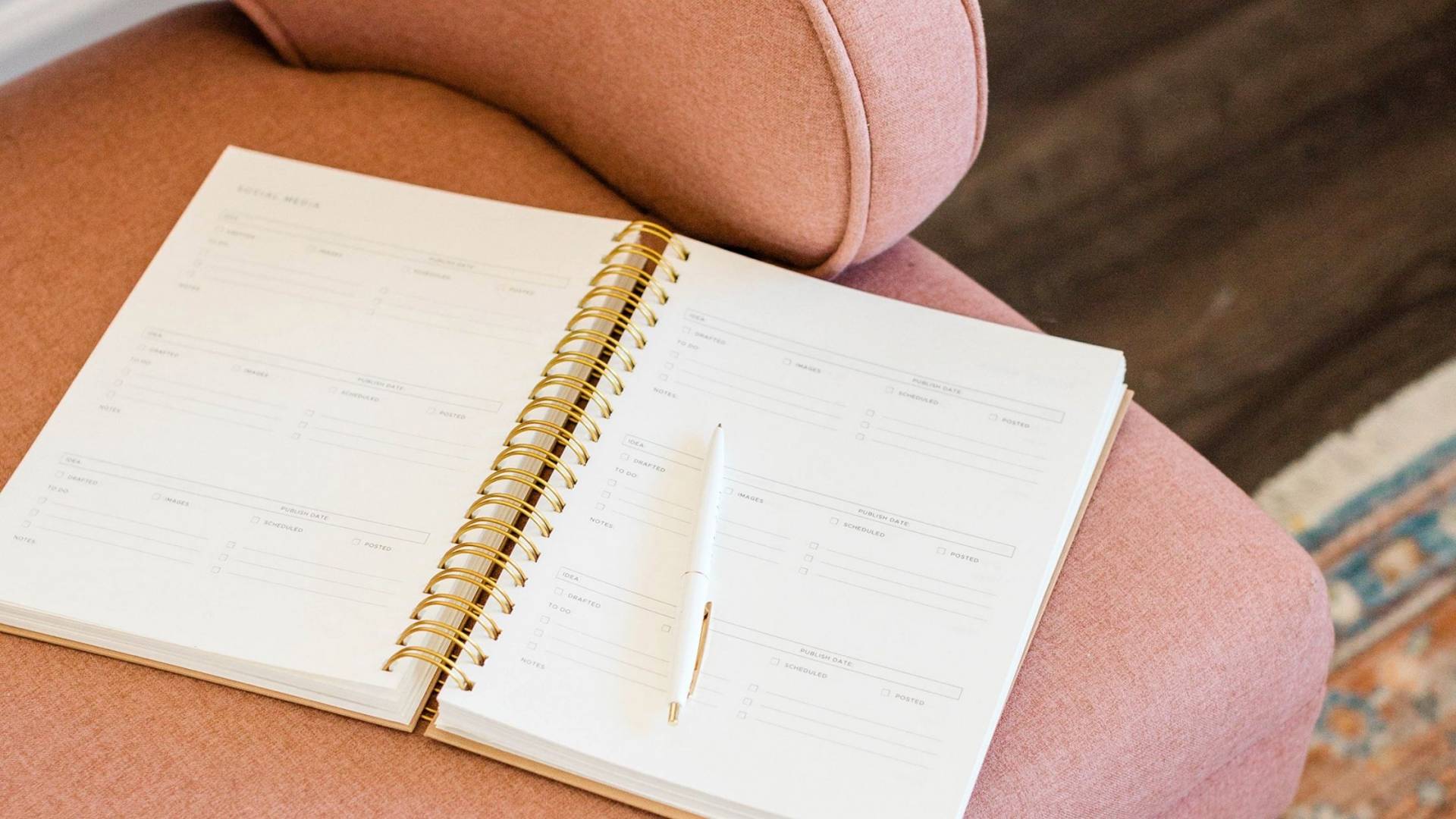 You know when people say they can pinpoint specific moments in their life when they experience something life-changing? 
Well, that doesn't apply to me.
Most of the time.
One of the exceptions is the time I started writing stories.
I can pinpoint it to two specific experiences during my childhood. 
My First Encounter With Creative Writing
As an only child, my cousins, nieces, nephews my age, were my playmates. 
It all began when one of my cousins created a comic strip about soldiers.
I was so enamored with the idea that I created my comic strip about soldiers and created my plot, albeit the drawing style was similar to my cousin's. 
Another time was when one of my nieces declared that she was writing a story in one of her notebooks that she wouldn't let any of us read. 
Her declaration sparked the idea that maybe I, too, could write a story. 
Now, I wish I could tell you all the details about that first story I wrote.
All I remember is that that I got my blank notebook and decided I wanted to do the same.
Even though my love for writing and stories began because I'd looked up to my cousin and niece for their creativity and copied what they were doing, I'm glad I decided to give it a go. 
I Began Writing Creative Fiction Through FanFic
A few years later, I developed writing further through the world of band fanfiction. 
I'd felt like an outcast in school after being bullied. Years after my bullying incident, I still felt like an outsider from my peers since I preferred staying in than going to house parties or hanging out with friends at the mall (this was known as going on a 'gimmick' – if you know, you know!). 
I had an intense love for concerts and pop-rock bands like Good Charlotte and Simple Plan.
I found out about the wonderful world of band-specific online forums and found a tribe of people who understood how much I loved a band so much to the point where they'd even create stories featuring their favourite members. 
Yes, at one point, admitting I started out writing manuscripts because of fanfiction was a tad embarrassing, I look back feeling grateful that writing fanfiction taught me how to write a novel. 
What I loved about writing fanfiction was that I had a group of friends online who I could relate to and would encourage me to write especially, most especially, when I doubted my writing skills. 
At that point, I already knew I wanted to be able to publish a book. 
But at that time, there was no option to publish with Amazon Kindle. 
Amazon Kindle didn't exist yet. 
Even though the plot of my fanfiction stories was nonexistent and updates were only a few sentences long, I'd still get a chorus of comments saying "more more more" or "I can't wait for the next chapter."
It felt thrilling to get that feedback that people were invested in a story I was writing. 
While most of my first novel-length stories were fanfiction, I did slowly branch out into writing my characters. 
The Origin of My Young Adult Book
It was during my first year in High School when I first drafted the book I am now self-publishing. 
I remember it was during Computer class when I'd had some free time after finishing a coding activity when I decided to whip open Microsoft Word. 
I typed the first few paragraphs of what eventually became my contemporary young adult novel, The Hush Society Presents… 
Since I loved bands, concerts and music a lot, and a not-so-secret dream of mine was to become a female guitarist in a renowned rock band touring the world, I thought about writing a story about an aspiring musician on his way to stardom. 
At that point, all of my stories were always in the point of view of a female protagonist. 
But I'd wondered what it would be like to write a story from a male perspective. 
Plus, the majority of musicians were male anyway, so I decided on taking that challenge. 
And that's how I came to write about Cameron Evans and his musical journey. 
I finished the first draft then titled, "Living Life Out of a Guitar Case." 
It was a nod to the suitcase life that touring musicians had.
And I loved the idea of Cameron packing all his belongings in an empty hard guitar case to tour the world. 
How I Prepared for Publication
I shelved the book for a couple of years until I was in college, and I felt the pull to publish the book. 
I went back and read my completed novel, and realised it was far from being a manuscript ready for publishing. 
And the plot was a mess. 
I rewrote the book multiple times until I found the right story
I decided to rewrite the story from scratch, more than three times before I finally found the story I wanted to tell. 
One version of the story was set in a fictional world called Martinsville – though it was in my version of the United Kingdom. I was scared to officially set it in the United Kingdom since I'd never set foot. I was just obsessed with the Harry Potter universe and a couple of coming-of-age British television shows like Nearly Famous. 
Another version saw me setting the book in the Asian country I grew up in, but something still felt off. One of my friends mentioned that even if I'd set it in Asia, she felt like it was still set abroad. 
I decided to stay true to the location of the story
And so, that's when I decided to rewrite it once more. This time, I chose to set it where I wanted it to be all along: in the United Kingdom. 
I'd also set foot in the UK when I did a Creative Writing course at The University of Oxford the summer after graduating from University. I felt more confident setting my story in a place I'd visited.
And of course, I researched a lot, too. 
I incorporated the positive things in the music industry that inspired me
Many things inspired this version of the book like the idea of secret shows and an organisation like To Write Love On Her Arms. 
Music had always been a solace for me growing up – a place where I knew I wouldn't be bullied or judged, and that naturally became a part of my book. 
When I finished writing that version, I knew I found the right story of Cameron Evans. 
Here's a description of my book and what I say when I join pitch events: 
"ALMOST FAMOUS meets NICK & NORAH'S INFINITE PLAYLIST 
An underground music community. A summer tour. His last shot at pursuing his dream. Among cancelled gigs, hecklers, horrible performances and run-ins with ex-bandmates, Cameron Evans battles between his desire to make it big and his self-destructive fears."
I hired a professional editor
After completing my draft, I needed the book to be query-ready, so I hired an amazing editor who had also worked on my friend's book. 
Kate Angelella helped me transform my book into what it is today. 
Once I'd gone through two revisions with her, I then began to approach literary agents, and participated in Twitter pitch events where I'd gotten a request to send a chapter of my book to an agent interested in Cameron's story. 
I sought the help of a British beta reader
In the middle of querying, I decided to seek the help of a British beta reader to ensure the accuracy of the British culture and slang.
After getting her feedback, I revised the book once more to incorporate her suggestions.
I continued with the querying process
I continued querying sporadically as I worked full-time jobs, launched this blogging business and even when I became a full-time blogger. 
However, I hadn't gotten any full manuscript requests from literary agents. 
I'd made sure to query literary agents who represented young adult authors and bonus points when I'd find an agent who represented young adult stories about music. 
I submitted my book to Swoon Reads
At one point, I pressed pause on querying to submit my book to Swoon Reads, an online platform where readers give feedback, and your story can be chosen for publication under an imprint of McMillan. 
I documented my journey on YouTube too.
While my book didn't get chosen for publication, I received heartwarming comments such as these: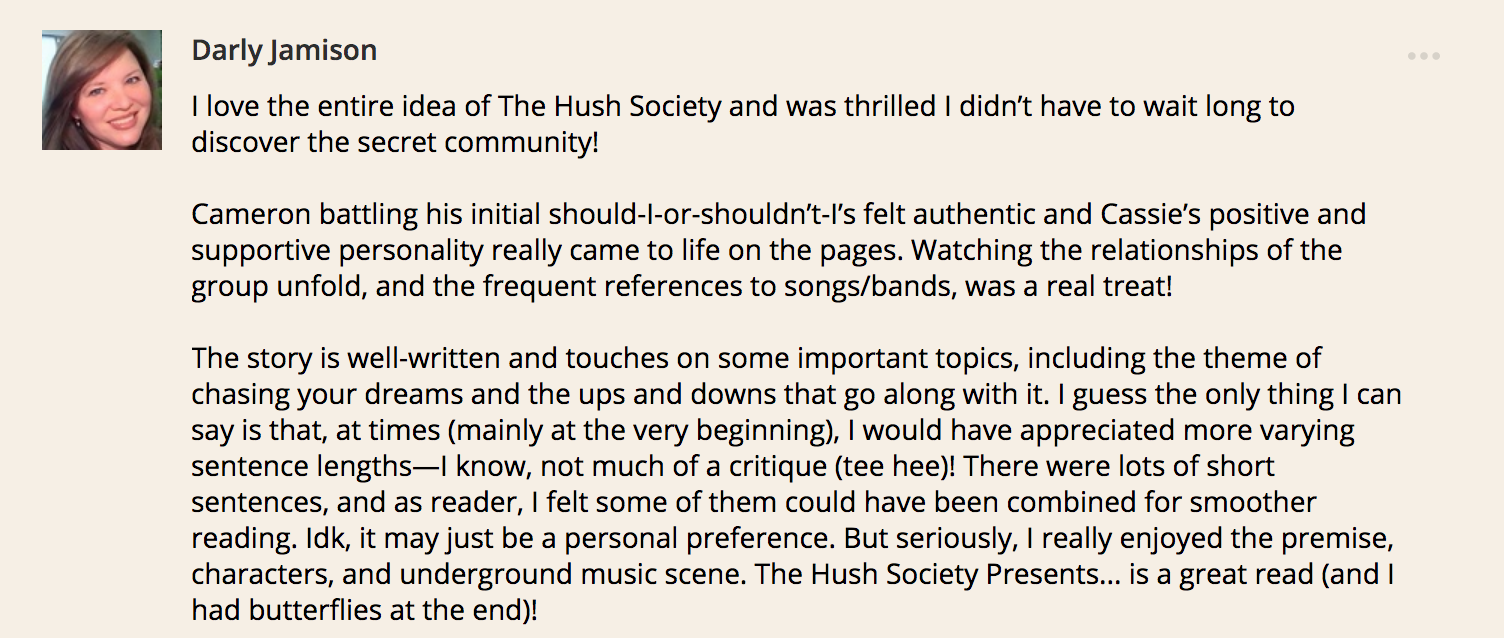 And it gave me so much hope to get back to querying. 
I resumed querying
After requesting that my story be taken down from Swoon Reads after six months (since that's how long it takes for them to select a manuscript from the site to publish), I went back to querying. 
Sporadically again. 
It was challenging to manage querying, a full-time job and my blogging side-hustle that I was hoping to eventually take full-time (2 years since launching, I did go full-time). 
The query trenches are challenging, but if you find that literary agent that loves your story as much as you do, then it's worth it. 
As for me, I hadn't found one, despite querying once more. 
So why I didn't choose to self-publish from the get-go?
It's because I wanted my books printed in bookstores not just locally but internationally. 
I also wanted an agent to represent me and hopefully get a movie or television deal for my book. 
It is an absolute dream for The Hush Society Presents… to be a movie or a Netflix series. 
My top pick for playing Cameron Evans is Aaron Taylor-Johnson during his Angus, Thongs and Perfect Snogging Days. 
While my top pick for his love interest, Cassie Cavern, is Lily Collins. 
Those were my top reasons for sticking to the traditional route of publishing with the help of a literary agent. 
The decision to publish with Amazon Kindle in 2021
So, what's changed my mind since then? 
For one, it's been well over a decade since I wrote that first draft. 
Two, I'm ready to take the publishing process into my hands. 
Third, seeing as we're in lockdown and in a pandemic (until who knows how long), physical copies may not be the way to go, so I'd rather focus on putting out a digital copy or an e-book. 
Fourth, as a way-too-honest confession, is that I'm impatient to see my story out there finally. 
I believe in my story, and I love it so much that it's time to finally put it out into the world. 
And that's how I decided that one of my top goals for 2021 is to publish with Amazon Kindle. 
So what's my plan now for self-publishing? 
The first thing I did was to purchase Ray's Your Ultimate Guide to a Powerful Book Launch. 
After devouring the book in a day, I mapped out my self-publishing plan. 
The first part of how I plan to publish with Amazon Kindle is to form a book club where I'll be asking people to read an advance copy of the book. 
I'll be putting up my book for free during launch week since my main goal isn't sales, but to get as many downloads as possible. 
The weeks leading up to my launch day, which is on February 20, I am focusing on sharing more of my publishing journey here on my blog and my social media platforms. 
READ: Top Spotify Playlists That Inspired My Book
Meet the Characters of The Hush Society Presents….
To celebrate the day my book goes live, I hosted a virtual book launch. 
How to Publish With Amazon Kindle
If you want to publish with Amazon Kindle, I've put together a step-by-step guide to help you through the process. 
Step 1: Go to https://kdp.amazon.com/. If you don't have an Amazon account and select "Sign up". However, if you already have an account, then click "Sign in" and use your Amazon account credentials to sign in. 
Since I already had an Amazon account, the latter option is what I did.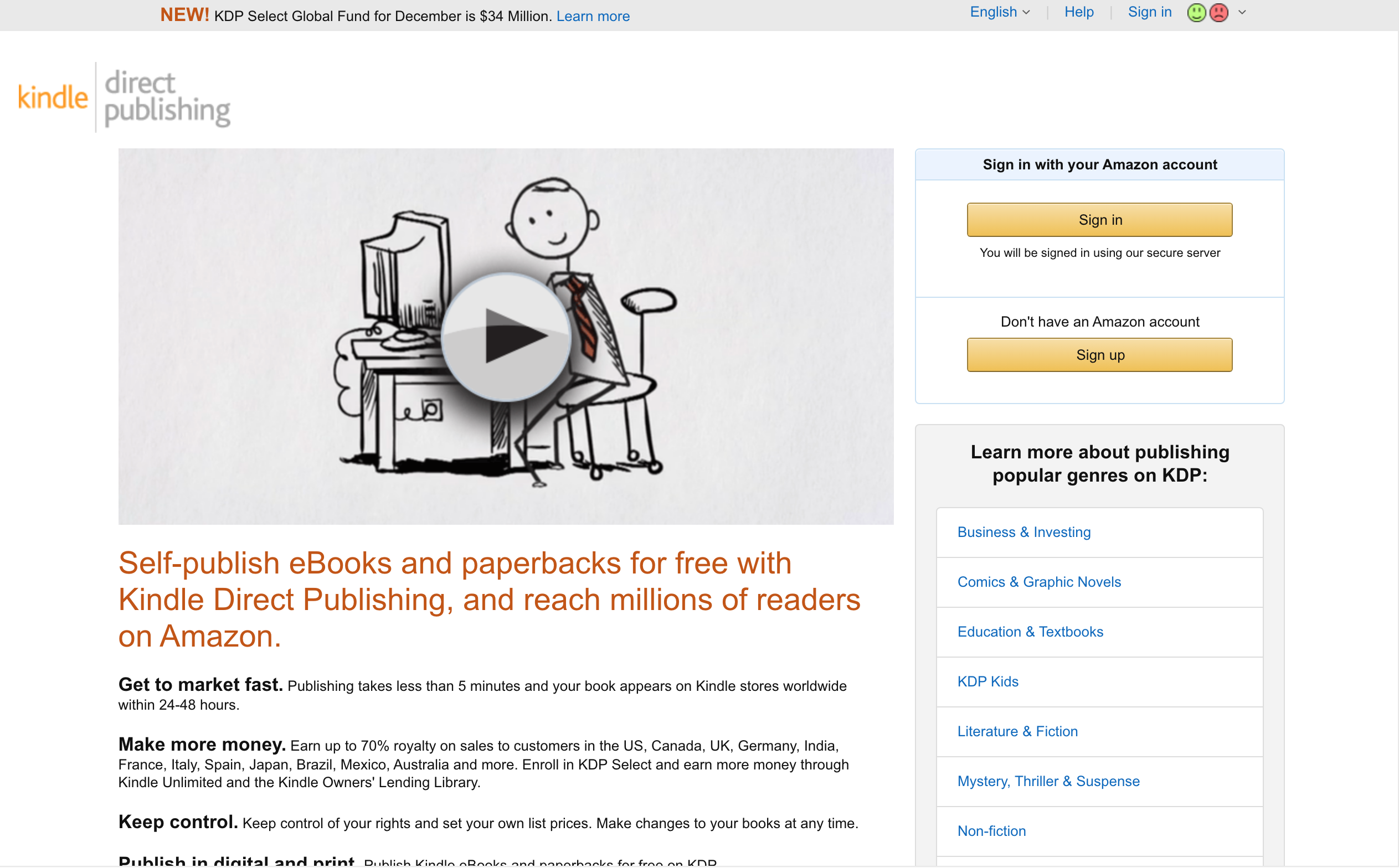 Step 2: Read the terms & conditions and select "Agree"
Step 3: On the Kindle Direct Publishing (KDP) home page, you will see a notification that says "Your account information is incomplete." Click "Update Now" to finish setting up your KDP account so that you can proceed to upload a book.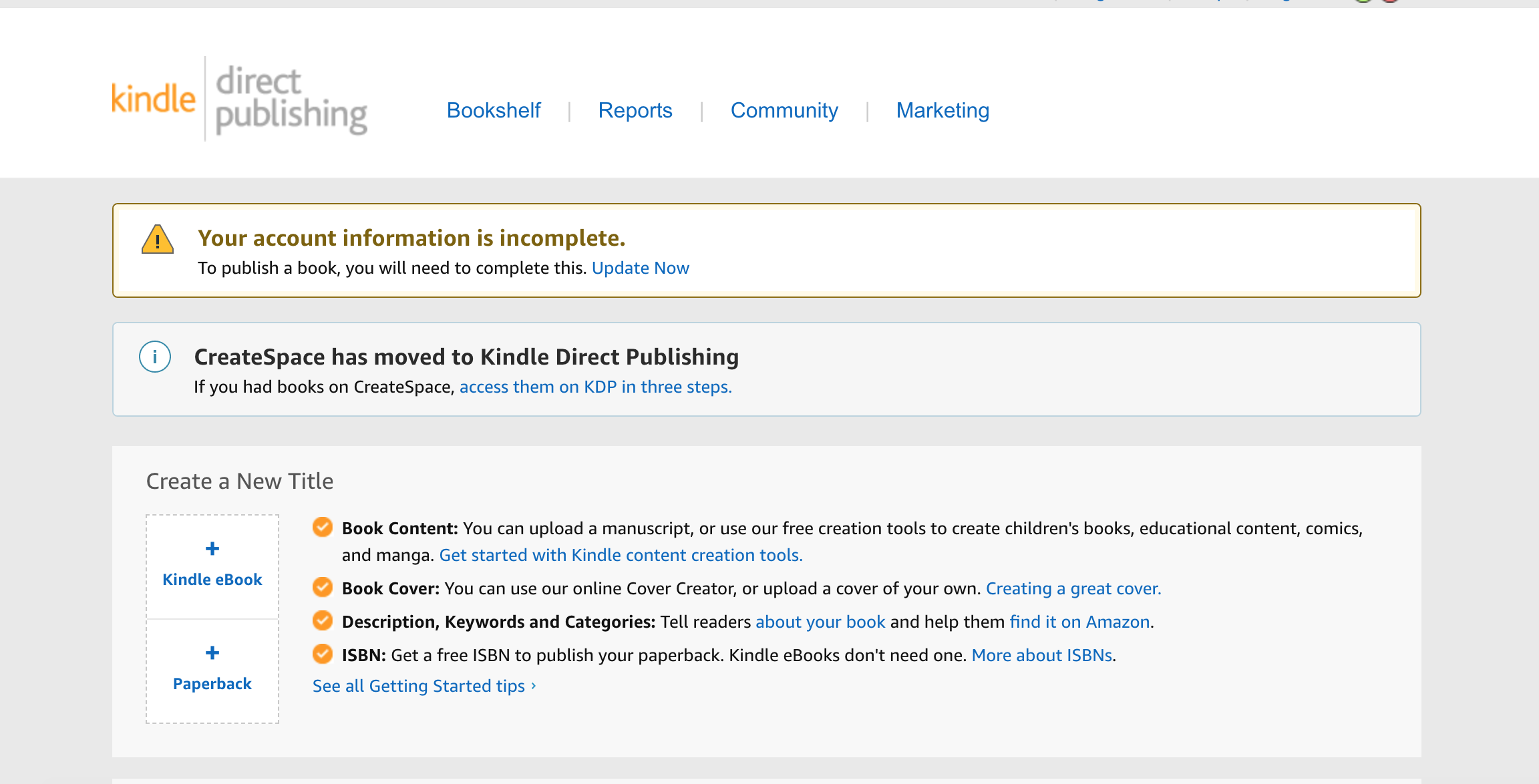 Step 4: Amazon will send you a One Time Password via text message or phone call which you have to input before proceeding to the next step.
Step 5:  Fill in the necessary details under the "My Account" page such as your address, tax information, and bank information (if your bank is enrolled with Amazon. If not, you'll be receiving your payments via check).
Step 6: Once you've filled in your account information, you can now proceed with uploading your first e-book so you can publish with Amazon Kindle.  Go back to the KDP home page and select "+ Kindle ebook" under the header "Create a New Title"
Step 7: Under the "Kindle Ebook Details" tab, you'll be asked to fill out the following: language, book title and subtitle, and whether or not your book is a part of the series. 
If your book is part of a new edition of a book, then you'll be asked to input an edition number. 
You will also be asked to fill in your author details as well as if there are any co-authors or contributors.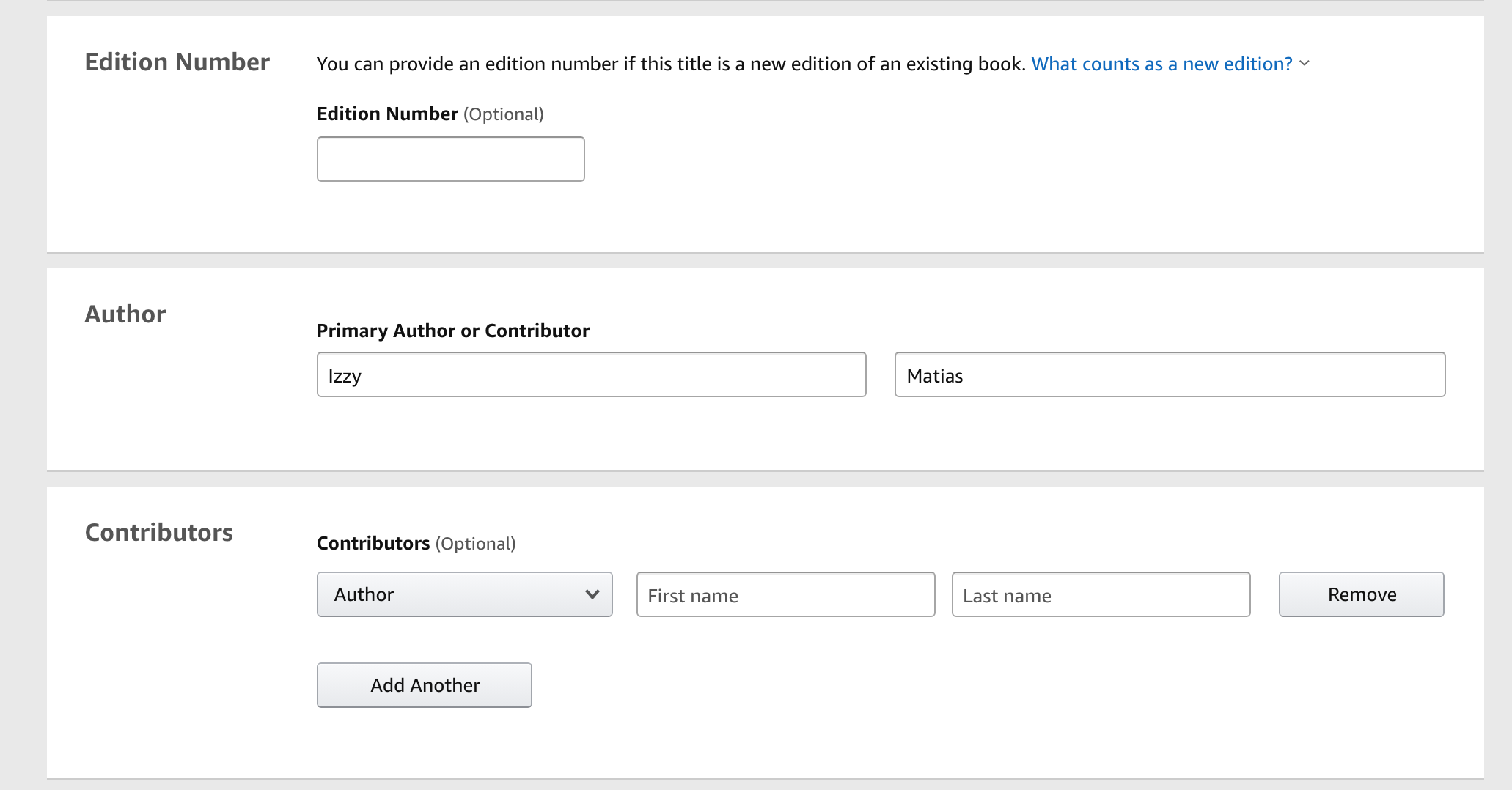 You will then have to input your book's description. Think of the description at the back of any book to catch your reader's attention. Or think of it like a pitch for your book. 
Next is to select your publishing rights whether your work is in the public domain or if you own the copyright of your book.
The next one is important because choosing your keywords will help in your book's searchability. 
After you choose your 7 keywords, next is to select 2 book categories. In this step, you can only select 2 categories, but once your book is up on Amazon, you can email them to add your book to other related categories. Here's a link to a very helpful video on how you can do this.
Next is to select the age and grade range of your book. Since mine is a contemporary young adult novel and contains some offensive language, I chose 13 to 18+.
You then have an option to make your book available for pre-order. This is what I did as part of my marketing strategy. 
Once you're done with that, you click "Save and Continue" to go to the second part of the process which is the "Kindle eBook content" tab. 
On this page, you will have to upload your ebook file and select your digital rights management. Amazon will also check for any spelling errors in your manuscript and alert you if there are any. For my book, they alerted me for the word "pun-tastic" but it wasn't a spelling error since I really meant to use that word and selected "ignore".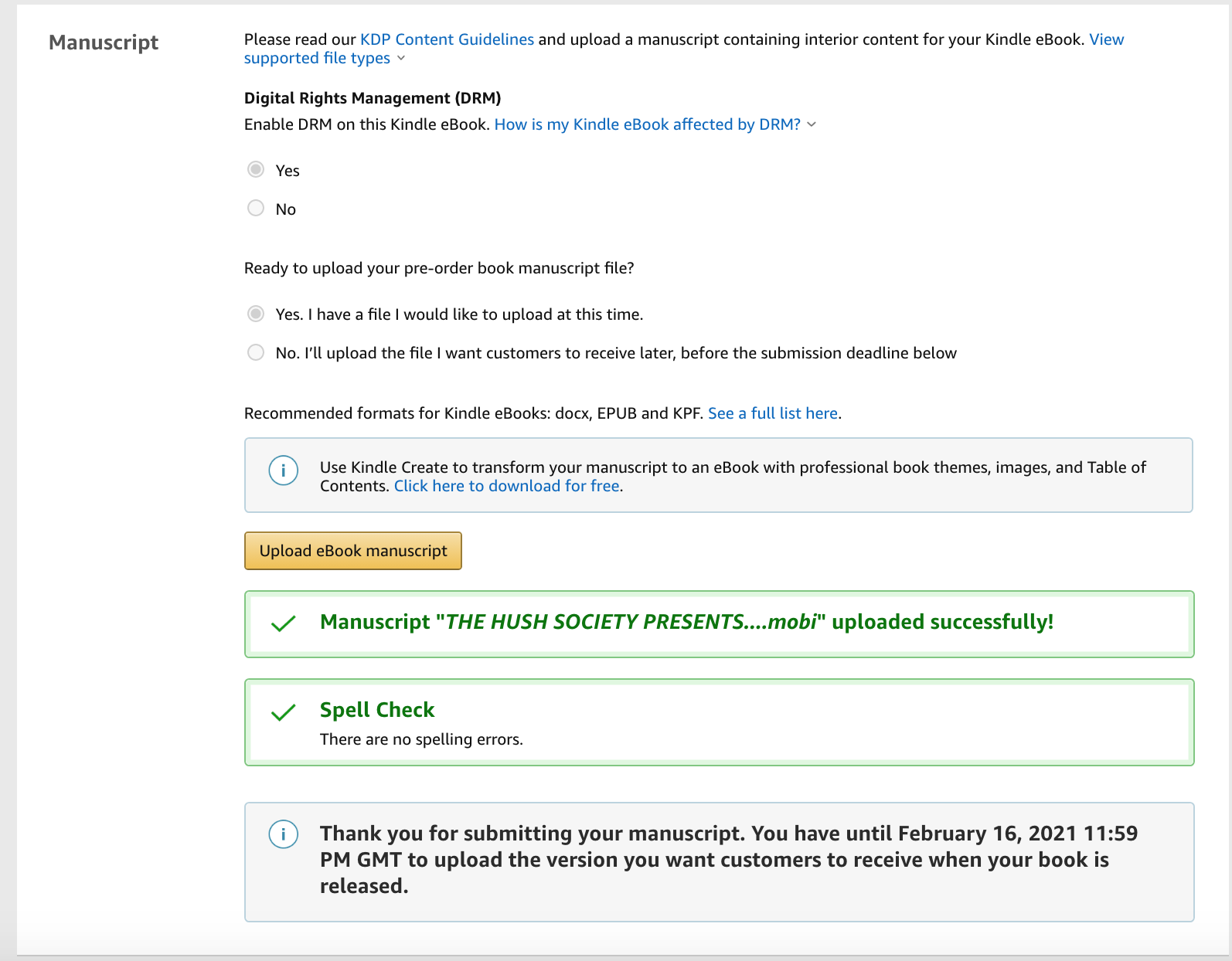 If your book is available for pre-order, Amazon will let you know when is the last day you can upload your manuscript or make any changes. 
Next is to upload your book cover. You can also preview your book with their Kindle eBook previewer. What I did before uploading my manuscript to Amazon was to convert my PDF file to a MOBI file since MOBI is the format used for Amazon Kindle. Once I had the MOBI file of my book, I then opened the file in my Kindle app on my desktop and mobile phone so I could check for any formatting errors. 
This is the most challenging part since I spotted so many formatting errors like unnecessary indentations and then blank pages in between chapters. It took me days to figure out how to fix these.
If your eBook already has an ISBN, this is the part where you have to fill it out. If not, Amazon will provide a free ISBN number for your eBook. I haven't tried it yet with a paperback version. Once I create my paperback for my book, I'll let you know if Amazon provides an ISBN for paperbacks as well.
Once you're done with this page, you click "Save and Continue" and then be taken to the third and final tab called "Kindle eBook Pricing."
On this page, you have the option to enroll your eBook in Amazon's KDP Select Program which is part of their marketing program. I opted to enroll my eBook so that I could run the free promotion. 
You will then be asked to select your distribution rights. 
And then finally, you get to set your pricing. Note that if you want to price your eBook as low as $0.99, this is only available under the 35% royalty plan. If you want to select the 70% royalty plan the lowest you can price your book is $2.99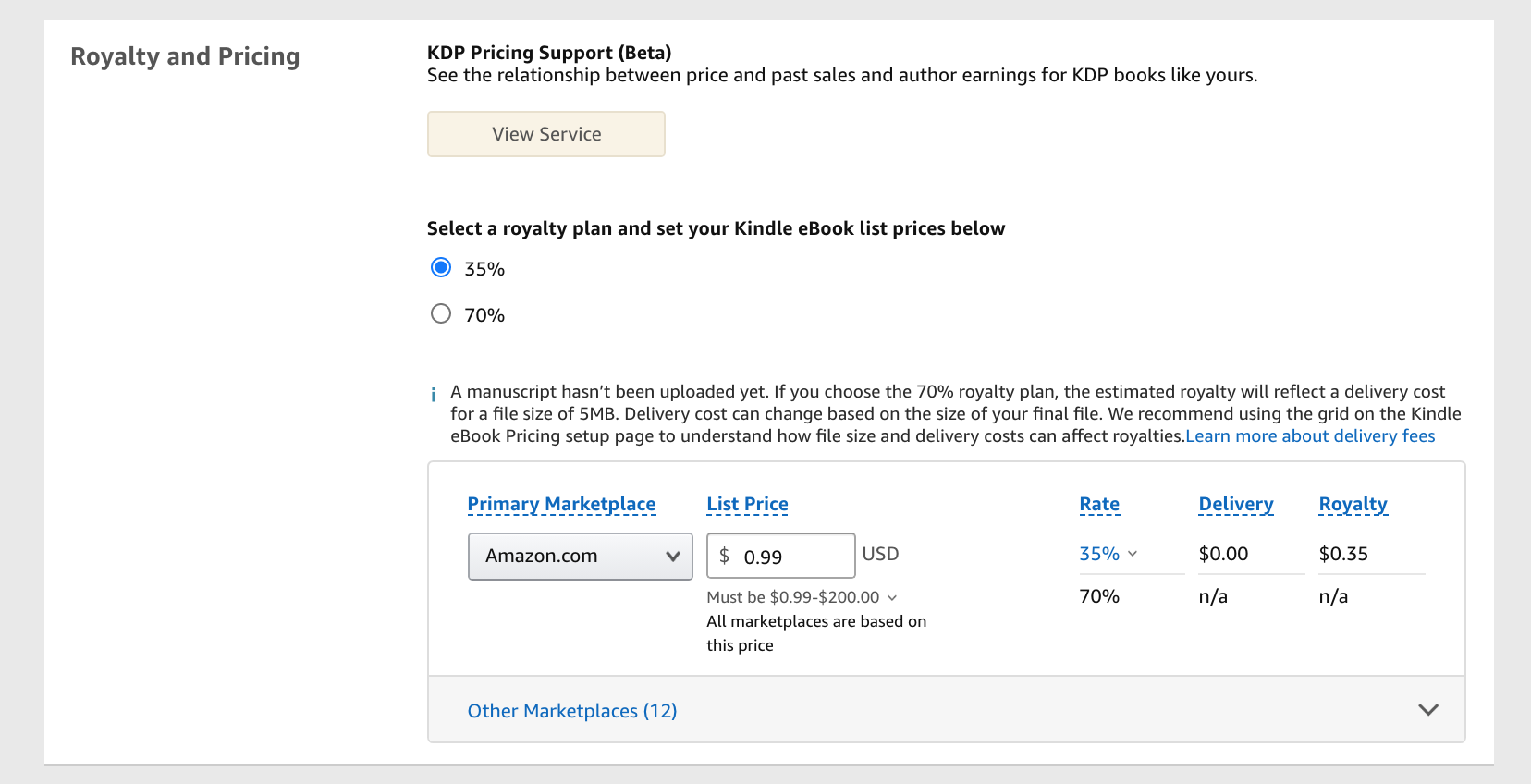 Lastly is to choose if you will allow book lending or not. 
There's also the last bit where you have to read their pre-order terms (if you signed up for pre-order). 

And once you're ready, you click "Submit for Pre-order." 
Once you do, a pop-up will appear saying that it takes up to 72 hours to approve your eBook before it goes live on Amazon.
In my experience it's taken a couple of hours for them to approve my book.
And that's it!!