Trigger warning: death of a parent, pet murder, panic attacks, attempted suicide, murder
Disclaimer: there are spoilers
In case you'd like to read a quick recap of previous episodes, you can do so here:
SAVE THIS PIN!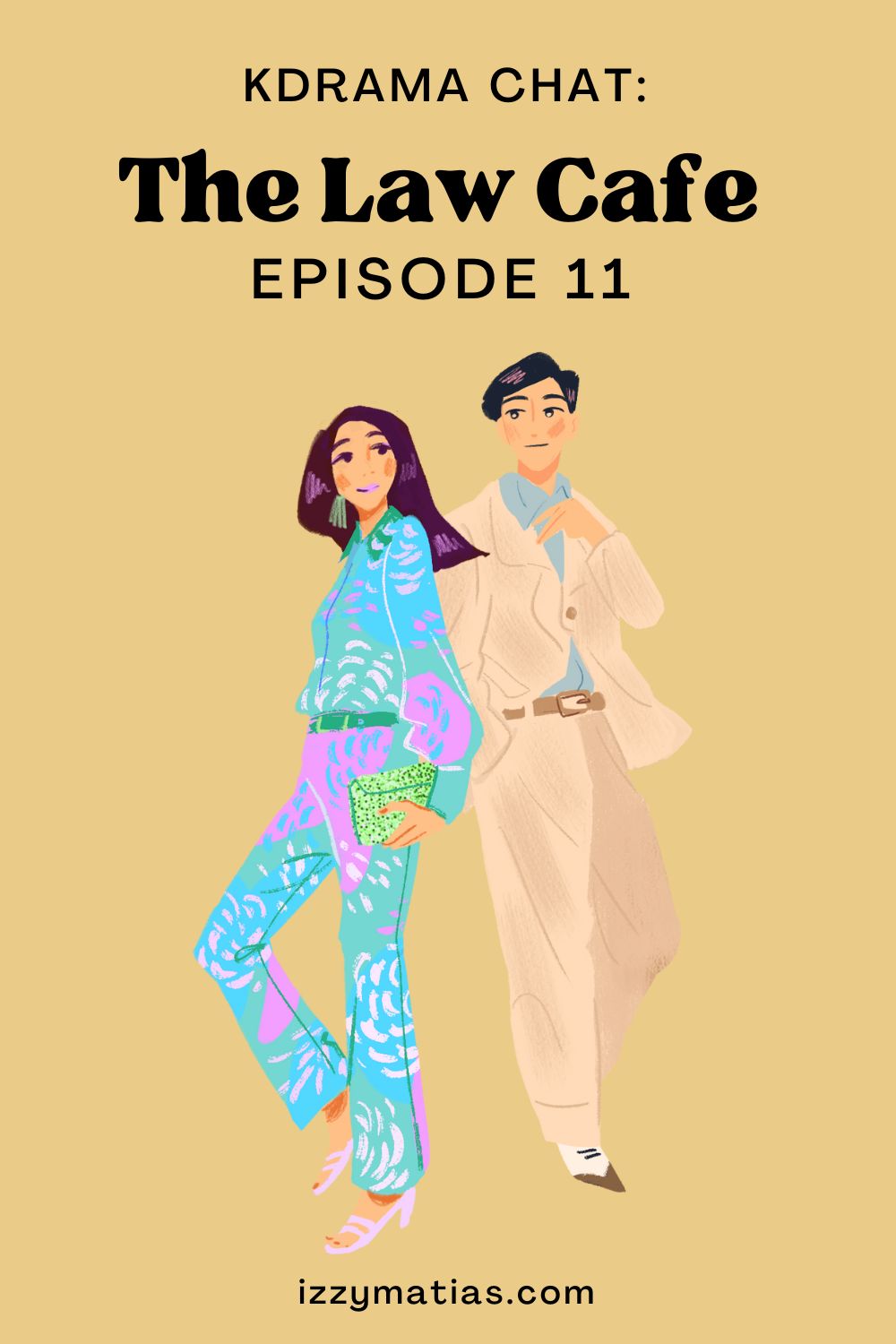 The Law Cafe Episode 11
The Law Cafe Episode 11 synopsis
According to the synopsis in Viu, "Yu Ri and Jung Ho come up with a plan to stop Pyun Woong from taking over Dohan Group. Jung Ho's mother, Yeon Ju, steps in to help. One of Yu Ri's clients, Hee Yeon, asks Yu Ri to help her solve the mysterious message that her father left behind. Yu Ri, Jung Ho, and the staff of Law Café roll up their sleeves to help her."
The Law Cafe Episode 11 reaction and discussion
We see what's in Jung Ho's secret closet. 
And he finally comes clean to Yuri about everything: all the cases, information he's been saving related to her father's accident. 
It made me excited for what's to come because we know they're working together for a certain goal and that's to stop Dohan CEO. 
It's nice to see them form a temporary alliance since they're still healing from resentment  (Yuri) and guilt (Jung Ho). 
It was SO COOL to see Jung Ho's mom act like the boss. 
As she should!! Here's to taking down Dohan CEO one step at a time. 
Conglomerate groups are so complicated. 
Dohan CEO has so many issues. 
He needs to go to therapy and so does his adoptive father. 
The adoptive father is so mean that I understand how Dohan CEO became that way, but still it does not excuse his behavior. 
It's his responsibility to choose to go to counseling and therapy and face his issues. It's for his own good too. 
Dohan CEO is slowly being taken down. Grandpa resigned and is letting a third party management take over because he doesn't want his step son to inherit the company. That's karma for you. 
This episode focuses on the inheritance case and it gave me Sherlock or Nancy Drew kind of vibes because there were so many clues that the client's dad left for her that they had to figure out that led to a generous surprise. 
It was fun to watch that and I cried when I found out that indeed her dad did love her. 
Oh no, is Jung Ho in trouble again? Like risking-his-life kind of trouble? 
Read the rest of the post inside The Content Chest plus direct links to watch The Law Cafe episode 11  
Protected Area
This content is protected.
Have you watched The Law Cafe episode 11? What do you think of it? 
If you like KDramas, you might like this guide!