Money-Saving Tips When Investing in Your Blog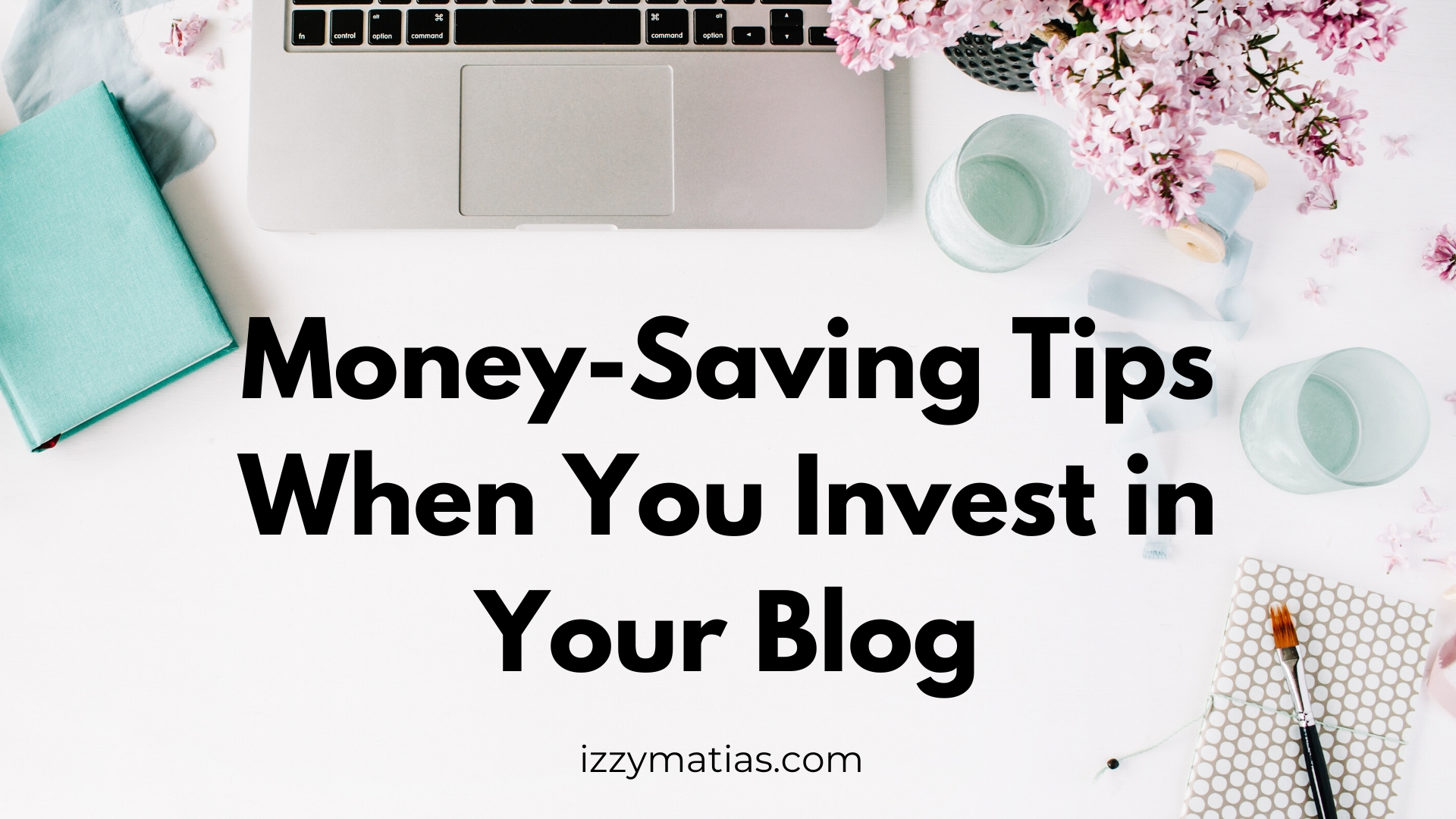 As a blogger and creative entrepreneur, it's normal to keep investing or upgrading the tools and resources you use for your blog. 
In fact, the more you level up your blogging biz, the more you'll want to invest back into it. 
When you first start out with your blog, my tip for you is to invest in the tools and resources that are essential for you. 
No need to invest in the highest offer or most expensive plan when you're just starting out. 
Why? 
Because you want to build your blog with the least capital, and once you start to monetise, then that's when you can upgrade.
And this was my strategy when I started a creative business with this blog. 
To give you an idea, I invested in a self-hosted WordPress blog with SiteGround, a domain, a premium WordPress theme, and an email marketing platform. 
To further protect my blog and creative business, I also invested in these legal templates. 
Those are some of the blogging tools and resources I use as a full-time blogger that has helped grow my blog.
I share more about these tools and how much they cost in the Blogging Business Plan Workbook–a workbook designed to help you set your blog for success with a solid foundation–inside my How to Build a Money-Making Blog course.. 
When investing in blogging tools and resources, I learned about how you can save money when investing and purchasing these items. 
These tips are for tools and resources that you are sure of purchasing already. 
If you haven't decided yet, then take the time to compare different brands and their pricing plans to really see which is the best for you. 
So let's get into these money-saving tips! 
Sign-up for free trials
While not all brands offer a free trial, sign up for those that do. 
This way, you can try the product without shelling out any cash. 
Whenever I'm about to try a new tool, I always opt for the free trial first to really see if I want to invest in it once the trial expires.
Do check if it's in the terms whether or not you will be automatically be charged once the trial ends. 
Because if you forget when the trial ends and you end up not wanting to pay for the tool, you might get charged.
This has happened to me before, and it's money that went down the drain.
Don't make that same mistake of not checking if you get automatically charged and forgetting when the trial ends just in case you want to cancel your subscription before you are charged.
Some organisations send you an email reminding you that your trial will end soon and you'll be charged, but just in case they don't or that email somehow ends up in your spam or junk folder, set a reminder for when the free trial ends. 
Compare pricing plans 
When you're sure that you want to invest in a particular tool, compare all their pricing plans to see if you can save more with specific plans.
For example, some products have an annual plan where you get an extra discount or a month or two for free. 
So for me, if I have enough capital to invest in an annual plan upfront, I will.
Because in the long run, I end up saving. 
Be sure to also check if there are any penalties for cancelling an annual plan. 
Check how long you can lock in your discount. 
After you've compared pricing plans and found the most cost-effective option, the next thing you want to do is to check how long you can lock in a discount. 
Let me give you an example to clarify this. 
When you sign up for a plan with SiteGround, they have special prices. 
What I didn't know was that I could lock in a discount for more than a year.
So after the first year of my plan, I was automatically charged $11.95/month.
If I had chosen to pay for three years when I signed up for the plan then I would have saved so much more! 
Wait for seasonal sales or pre-order period
Another way you can save money is when you are strategic about the timing of your investment. 
Does the company you want to purchase from usually have seasonal sales or annual discounts? 
Does a product have a pre-order price? 
For example, I know that some organisations discount their products during holidays and at the end of the season. 
So if, for example, I want to invest in a particular product and I know that based on the past, they've offered a summer sale, then I wait for that product to go on sale. 
Likewise, if there's a product that is released yearly, but has a pre-order period, chances are the price during pre-order will include a discount. 
Money Saving Tips In Summary…
These are the four ways you can save money when investing in blogging tools and resources
Sign-up for free trials
Compare pricing plans
Check how long you can lock in discounts
Wait for seasonal sales or pre-order period.
Want to make money blogging?
Learn the essentials in building a profitable blog with an actionable, step-by-step framework. Get access to 17 lessons that show you how to set up a blog strategically and craft your blogging business plan with the How to Start a Money-Making Blog (Your Creative Business) online course.
Want access to exclusive content?
Unlock exclusive content such as in-depth blogging guides and fun reviews inside The Content Chest membership. It's both informative and fun because becoming a better content creator doesn't have to be boring or frustrating. Join The Content Chest membership to help you build your dream blog and share your bliss.