KDrama Chat: The Law Cafe Episode 1
In this edition of KDrama chat, we talk about The Law Cafe Episode 1
KDrama Chat is a new series on the blog where we go through and discuss each episode of a KDrama as I'm watching it and share my reactions with you.
This way, we can talk about what we thought of each episode.
For this first edition of KDrama Chat, I'll be covering the romantic comedy KDrama The Law Cafe episode 1.
It's a legal drama involving two best friends who have been apart and find themselves working together despite one of them trying to stay away from the other.
Trigger warning: death of a parent, pet murder, panic attacks, attempted suicide
Disclaimer: there are spoilers
This is the Law Cafe synopsis as described on Viu:
"This is a law romance drama that depicts the story of Kim Jung Ho, a former genius prosecutor who is now a landlord, and Kim Yu Ri, an eccentric lawyer who won the past Miss Korea contest with her outstanding looks. Yu Ri can't stand injustice due to her hot-tempered characteristic, which leads her to quit her law firm and start a law café of her own. Later, she finds out that the landlord of her new café is none other than her old friend, Jung Ho. From that point, a crazy relationship that develops from friendship to love begins." – Viu.com
SAVE THIS PIN!
The Law Cafe Episode 1
The Law Cafe Episode 1 synopsis
The Law Cafe episode 1 introduces us to the cast: Kim Yuri and Kim Jung-Ho, their friends who are getting married, the community of aunts who live beside the building Jung-Ho lives, his cousin who is a doctor.
We discover that Yuri's father died and that Jung-Ho has a connection somewhat to this tragedy.
This episode also introduces us to a case that Yuri's working on that reminds her of her father's death.
We also see the beginnings of the actual law cafe.
The idea is that it is a law cafe where people pay a cup of coffee for legal advice.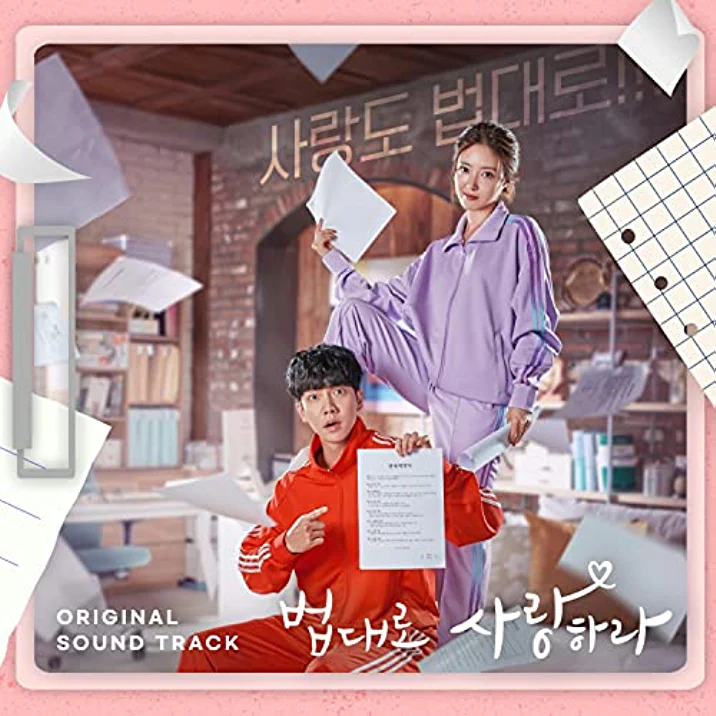 CHECK IT OUT
Soundtrack
Listen or purchase The Law Cafe's official sound track on Amazon!
The Law Cafe Episode 1 reaction and discussion
In the first episode we're introduced to the main lead couple: Kim Yuri and Kim Jung-Ho.
First, is Kim Yuri at the courthouse defending a client; and here we see that she is bold, brave and beautiful. She's not afraid to put up a fight. 
She quits her job to open a cafe where she can offer legal advice.
I was skeptical that it's a good idea when selling coffee would earn her less than what she can charge per hour as a lawyer; but we see how generous she is with her time and knowledge.
She loves to help others. Wow. She seems to be really selfless.
She's shocked when she bumps into Kim Jung-Ho, her best friend, as the landlord of her cafe.
Turns out, he quit his job as a lawyer to write webtoon novels.
When he learns that Kim Yuri wants to rent a space in his building for the cafe, he changes his mind and says no. 
Their dynamic is fun to watch. The banter about his tracksuit and her outfit was funny. 
We then learn that they've been friends since High School and we learn that they (fake) dated in College; but to me it looks like they both had feelings for each other already back then. I wonder how their relationship will unfold in this drama…
Read the rest of the post inside The Content Chest plus direct links to watch The Law Cafe episode 1 
Protected Area
This content is protected.
Have you watched The Law Cafe episode 1? What do you think of it? 
If you like KDramas, you might like this guide!